Stories
Surprise Spread-Eagle Bondage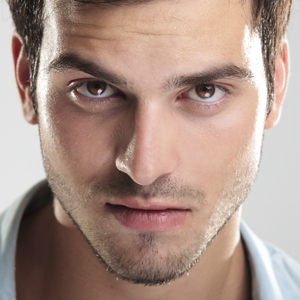 We stayed out late and drank too much. When we got home I pretty much fell down on the bed, still in my tuxedo, and fell asleep. I woke up, realizing that for a while I'd been sleeping on my back. I tried to stretch and discovered I couldn't move. My legs were both bound, splayed apart, my wrists tied to the bedposts over my head. It was then I recognized that I was buck naked, too. I was a helpless starfish!
"I see you've finally come to, Mr. Dirtydrunk," said a voice.  I recognized it as Jenny, my girlfriend. "You've been very bad! You snored all of last night like a chainsaw cutting though a running V-8 engine, and I didn't get any sleep! Now you have to pay for your selfishness."
I struggled at my bonds, but it was no use. She had me where she wanted me.
"Ok," I said, "You have my attention. What are you planning to do to me?"
Meet kinky playmates now at BDSMdate.com!
"Oh! I'm going to start by enjoying the fact that you want me, but you can't do a thing about it." She clambered up onto the bed, and she pulled her nightdress up over her head, revealing her luscious naked form to me. Her full breasts bounced over her taut belly, her twin scarlet mane and bush flaming sensually against her milk white skin.
"Mmmm, it's such a turn on seeing you like this!" She said, rubbing her hands over her nipples, reaching down between her legs and gently stroking her pussy. I couldn't help it, obviously, I felt myself getting hard.
"Oh god, I want it so bad!" I said. But beg though I might, she wouldn't touch me. She just kept pleasing herself and letting me suffer. It was incredibly cruel.
"Since you like watching so much…"
"I really do!"
"Since you like watching so much, I have a little surprise for you… do you remember the waiter from the party last night? The one I said was cute, and you got jealous? Well… since you were too drunk to notice, I brought him home last night and I let him fuck me right beside you while you were sleeping!"
"Oh, you bitch!"  
With that, the waiter strode into the room, also completely naked. He waved a playful wave to me and strode over to Jenny. Without hesitation, she sat up on the side of the bed and took his thick cock in her mouth. He put his hands on the side of her head and gripped her hair while she worked him, in and out over her lips. Her tongue twisted under his cock head in that way she knew so well.
As soon as he came, she jumped up, with the load she swallowed, and spat it in my mouth. The waiter's load burned my throat, but I swallowed it all. I was as hard as diamonds now.
"I might… might… consider taking care of you, after you watch us fuck… and maybe after you finish off our friend here in your mouth." She said.  I was so horny, I just had to agree.

That wasn't the last time the waiter came over to play, but it certainly was one of the most delightful!
Also read: Spontaneous Bondage Ideas
Tell us what you think!