BDSM Dating
4 Kinky Boss-Employee Role Plays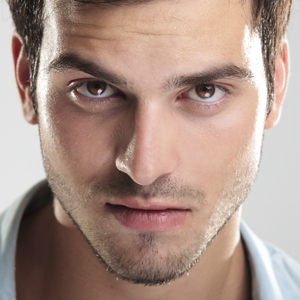 BDSM couples love role playing because it fits the dominant-submissive relationship so well. Some prefer the housewife-handyman scene, while others like the nurse/patient.
4 Kinky Boss-Employee Scenes to Role Play
1. Late Night Work Session
It's late at night. The boss and the secretary are still at the office, working on that big contract. When will it be done? The boss calls his wife and tells her he may not be home until well after midnight. "Don't wait up. Leave a plate in the fridge and go to sleep."
Meanwhile, sitting at the table, flipping through stacks of papers and comparing notes, boss and secretary decide to lighten the mood by pouring a couple of scotches. It's going to be a long night. Maybe he suggests it. Maybe she gives into the fact that the likes him a little. Their legs touch under the table and neither one pulls away. The contact is electrifying.
2. Mile High Club
The boss is taking his private jet to a big meeting in Dubai. His personal flight attendant brings him drinks, food, and the paper. He gets up to speak to the pilot for a moment. As he is walking back down to his seat, he passes the attendant in the narrow corridor outside the kitchenette.
They come together chest to chest. They pause there. He can feel her nipples getting hard through the thin fabric of her blouse. Her breath quickens. He reaches out and puts his hand on her hip. At that moment she would do anything for him.
3. Stable Afternoon Delight
Madam boss loves her thoroughbred horses. She is down at the stable, inspecting the beasts when the stable boy comes through, buckets of oats in hand. Her loins begin to tingle as she notes the natural bulge packed into the front of his pants.
"Come here, lad!" she says, "set down that bucket of oats and help me brush this horse's mane." As the stable boy works the comb through the horse's long locks, he feels the breath of the madam warm upon his neck, her hands reaching round to feel his girth through his heavy denim pants. He is growing thick under her hands. Her thighs, muscular and firm from years of squeezing equine muscle and spine between them, are ready for a new riding challenge.
4. Surprise at Sea
Captain Barnacle is in his quarters, pouring over the charts of the wild Caribbean sea, when in walks his cabin boy. The rum working on him. He looks up from his geographical endeavors, and says to her, "I always remarked, boy, on how much you look like a girl. Your cheeks are so much like roses, and you hair is in such a curl!"
"Please sir," says the cabin boy, "do not give away my secret! I am a lass, and I wanted to see the world. I made myself to look like a boy so I could travel." With this, the handsome cabin boy undoes her shirt and, unbinding her chest, allows her heavy, young breasts to tumble out.
The captain, drawing his cutlass, prepares to test his blade within the soft folds of a new sheath.
Tell us what you think!