Looking for BDSM ideas?
Welcome to our growing list of BDSM play. While this list is surely not exhaustive, it's our attempt to catalog all the types of BDSM games and activities.
With each type of play, you'll find links to articles with more information or BDSM ideas. In addition to cataloging, our goal is to inform, entertain, and hopefully inspire!
Some activities are grouped for the sake of organization and brevity.
Note that all the BDSM play listed below is always for consenting adults only. Even role-play of "non-consent," such as rape fantasy and other CNC kinks, must ALWAYS be consensual.
Any type of BDSM play requires basic BDSM safety knowledge. Many are also highly specialized or dangerous, and you should only attempt them with additional BDSM education through workshops, online courses, or a professional practitioner.
Are you still looking for a BDSM play partner? Meet others who share your kink at the Best BDSM Dating Sites.
Here we go…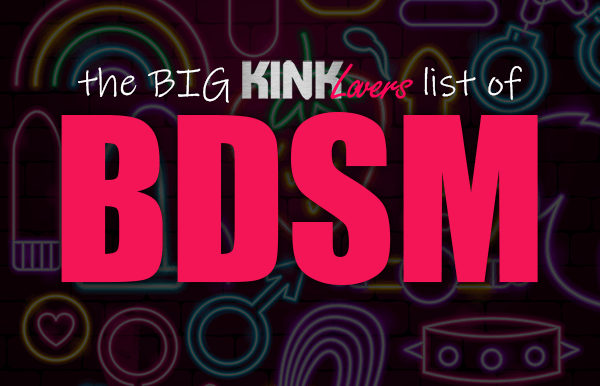 50 BDSM Ideas for Kink Connoisseurs
How many of these BDSM games have you played?
1. Age Play
Age play is for BDSMers who enjoy role-play that involves acting and being treated as if they were another age, generally younger than their actual age. It could involve a 'Daddy' dominant and his younger submissive or even touch on the taboo of incest.
Others put on their diapers and go full-on baby for a caregiver. BDSM kinks can enter the scene with spankings, punishment, and other games of dominance and submission.
2. Bondage
Bondage can be as basic or elaborate as you want it to be. Those new to bondage can keep it simple with silk scarves or cuffs. For real enthusiasts looking for bondage ideas, consider looking into specialized forms of bondage such as shibari rope bondage and mummification.
Read: Bondage Ideas: 10 Types of Bondage Play
3. Biting
Biting is another one of those kinks that's easy to give a go when you're new to BDSM. Who doesn't like a little nibble on the ear? However, in a BDSM scene, biting is generally more than a nibble, potentially leaving bite marks.
There are plenty of guides to erotic biting online, so be sure to read up before any serious chomping. We've had a couple of Kinky Confessions involving biting that you can check out here and here.
4. Breast Torture
Breasts are very sensitive and often the focus of varying forms of pain and pleasure during kinky play. Breast torture could involve bondage techniques, wax play, suction devices, whipping and flogging, nipple clamps, temperature play, and more.
Here are 6 Kinky Breast Play Tips for those just starting out. And see our Guide to Breast and Nipple Torture to add a little more sting.
5. Breath Play
Also known as erotic asphyxiation, breath play involves forms of smothering, choking, masks, and other methods of cutting off the oxygen supply. It may involve applying pressure to the carotid arteries, restricting the intake of breath directly, or even going underwater. It can lead to euphoric lightheadedness and bigger orgasms.
This type of BDSM play is certainly not without controversy as it can be extremely dangerous for obvious reasons. Do not attempt without proper education and safety precautions, and avoid autoerotic asphyxiation altogether.
6. Caning
Caning is a form of impact play utilizing a cane or stick, usually made of rattan and most often applied to the buttocks. Caning as a form of judicial or school discipline was once widespread and is still legal in some countries.
I can imagine some teacher/student role-play might be a good start for incorporating this kink. Read our article BDSM Caning for Beginners if you'd like to try.
7. Chastity
Chastity play is a game of control, usually between a dominant and their submissive. It might involve a chastity device that restricts the sub's ability to touch or use their genitals, such as a chastity belt or cock cage. It might be part of one particular scene or an ongoing game of teasing and denial.
For more details, see Tips and Tricks for Chastity Sessions.
8. Collaring
Playtime aside, a submissive in a D/s relationship will often wear a collar or be "collared." The collar symbolizes their submissive status and may even be as meaningful as a wedding ring is to others, such as in the case of those who engage in collaring ceremonies.
A collar can take many forms, even a simple necklace, when it's important to be discreet. Within BDSM play, a collar will usually have a ring that allows for restraint or the addition of a leash.
Read: 9 Types of BDSM Collars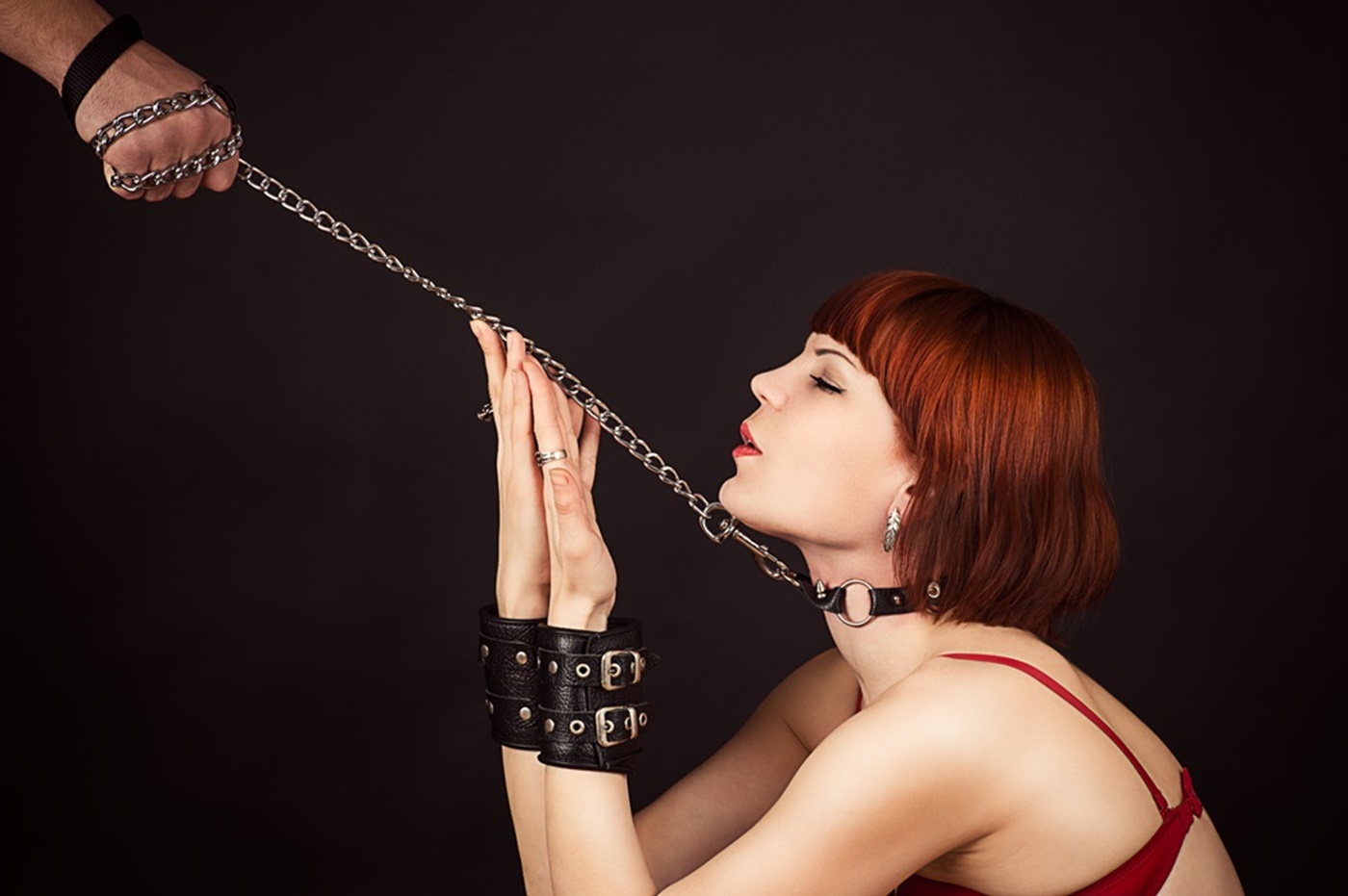 9. Cock & Ball Torture
The mere thought of cock and ball torture makes most men cringe, but CBT is more prevalent among BDSM lovers than you might realize. This kink plays on erotic humiliation, masochism, and the desire to please and be dominated.
As you can imagine, there are many ways to bust balls. This wiki page has a good listing of the various cock and ball torture devices. Other methods include grabbing, kneeing, trampling, or other BDSM games such as electrostimulation, sounding, wax, and temperature.
10. Cuckoldry
Simply put, a cuckold is the partner of an adulterous woman. But in this day and age, cuckoldry isn't really about being the victim of a cheating spouse. Cuckoldry is a form of play in which the cuckold is deeply turned-on and erotically humiliated by the exploits of his partner. He may wait at home feeling a mix of anguish and pleasure or watch directly without being able to participate.
Some may be surprised to find cuckoldry on our BDSM list, but it strongly involves domination, submission, and humiliation.
Looking for cuckolding play partners? See How to Find Cuckold Couples and Bulls.
11. Cupping
The origins of erotic cupping may go back as far as 3000 years. In this ancient practice, cups are heated before being applied to the skin, causing suction and increased blood flow to the area.
Cupping is less intense than the stimulation of bondage or flogging, but when it's done to an erogenous zone, the sensation and pressure can be powerful.
12. Domination and Submission
Most of the BDSM play types listed here involve some level of dominance and submission. Obviously a big part of BDSM, many kinky sexual games and relationships revolve around this concept.
For instance, a D/s relationship could have a Master and submissive maintaining their Dom and sub roles 24/7. At the same time, some couples will just use dominance and submissive behavior in the bedroom or choose to switch at times.
For some Dom/sub play and bondage ideas, see Domination-Submission Games for Kinky Couples.
13. Edge Play
Edge play refers to kinks that are considered more risky, such as breath play, knife play, or other controversial kinks. But it's more subjective than that.
Edge play is about pushing the boundaries or "edges" of what a person is comfortable with, or what they can handle, regardless of the scene. Because of this, safety precautions and communication before and during are essential.
Read: Edge Play: Taking BDSM too Far?
14. Electrostimulation and Electro-Play
Some kinksters love to bring devices and toys into their BDSM experience, and electrostimulation takes things to the next level.
Electro play involves toys or implements that use electricity, including EMS units, violet wants, or even an electric fly swatter!
The sensation is generally kind of prickly and not as painful or scary as you'd expect, but those expectations are part of the mental stimulation of this type of play.
Read: Incorporating Electricity into Advanced Kink Play.
15. Facesitting
There is a level of dominance at work when someone sits upon a partner's face, whether male or female. Yep, facesitting can go both ways.
Although the enjoyment of face-sitting is not limited to BDSMers, the position lends itself well to a submissive's pleasuring of their Master or Mistress.
Read Tia's post, The Fine Art of Facesitting, for some woman-on-top face-sitting tips.
16. Feederism
Those who partake in the feederism lifestyle are called feeders and feedees. In these relationships, the woman is often the gainer. Her partner encourages her to gain weight with varying levels of control.
This idea of control – controlling what another eats and how their body develops – puts this kink within the realm of BDSM.
Feederism is also related to the fat fetish, as the goal is usually to plump the feedee up to a very large size, bringing additional kinks like squashing and gut flopping into play.
17. Fire Play
Temperature play with the excitement, and danger, of flames. Fire play requires a lot of safety precautions and education, as it generally consists of applying fire near or close to the skin.
The form it takes can include a flaming whip or flogger, fire cupping, brief lighting of a flammable fluid on the skin, candle flames, or tapping the skin with a lit torch.
Fire Fetish: 4 Ways to Play with Fire offers a good introduction.
18. Fisting
While fisting isn't strictly a BDSM practice, it can often be incorporated into a scene due to the pain/pleasure element.
Fisting can be done on either sex, as vaginal fisting or anal fisting. Guys, here are our tips for getting fisted by a woman.
If you are new to fisting and would like to try it, read our introductory article, Fisting: What You Need to Know.
19. Flogging
Flogging, or flagellation, for sexual gratification, is a very old kink. While flogging has been a form of punishment throughout the ages and the world, there is evidence of erotic flogging from as far back as the 1590s.
The sensations vary from mild to intense, depending on the force and implement used.
For more on floggers and how to get started, see Flogging for Beginners.
20. Foot Worship
Foot worship doesn't refer strictly to a fetish for feet, but the worship of feet in a submissive manner.
This kink involves an element of humiliation, with the sub being "only good enough" to worship and serve at their Dom/me's feet. The BDSM foot worshiper submits to the power and beauty of their Master or Mistresses' toes, soles, and arches.
Want to show your woman how much you love and worship her feet? Start with some tame suggestions for worshipping her tender tootsies: 8 Types of Foot Worship & How to Worship Feet.
21. Genitorture
In the context of BDSM, genitorture is the infliction of pain to the genitals for sexual enhancement. Genitorture includes cock and ball torture, listed above.
Female genitorture, or pussy torture, is another variant. As with CBT, there's a whole range of possible sensations and ways to play. Wax play, electro-stimulation, caning, clamps, and clothespins are just a few.
Read: Pussy Torture: 14 BDSM Pussy Play Ideas
22. Gun Play
BDSM play that involves a gun usually falls into extreme edge play.
An unloaded gun can be used penetratively in the vagina or mouth, or as a prop for fear and danger play.
The use of a gun during sex is not without controversy, and some suggest it never be used. If you can't resist, do consider using a replica gun or toy gun that cannot be loaded and has no moving parts.
23. Hair Pulling
Hair pulling is an excellent way for those new to BDSM to experiment with light dominance and pain.
Sensations can range from a light grasp at the back of the neck, to harder pulling and use during positions like doggy style.
For more beginner BDSM ideas, see Kink Lite for BDSM Beginners and Domination Lite for BDSM Newbies.
24. Humiliation Play
Humiliation and degradation play can be a big part of kinky fantasies and BDSM games. One scenario where erotic humiliation is usually key is cuckolding, but many a slave desires to be humiliated by their Master or Mistress. They desire humiliation for pleasure, and to display an ultimate willingness to please in the context of service and submission.
Methods include verbal humiliation, use in role-play, and public or private belittlement. The psychology of erotic humiliation is complex – this wiki page is a good start for learning more.
Read: Facts about Small Penis Humiliation (SPH)
25. Ice Play
While ice play has its dangers, it's safer than fire play for those who want to get started with BDSM temperature play. Think cold water, ice cubes, popsicles, and frozen fruit.
Those are a few examples from our article, Cold Temperature Play for a Hot Summer. For tips and advice on playing with ice in particular, see Ice Play: 4 Ways to Use Ice Cubes for BDSM.
26. Impact Play
Impact play involves striking a person for the pleasure of one or both parties.
Typical impact play includes popular BDSM activities such as caning, spanking, slapping, whipping, and flogging. Punching, kicking, and face slapping can also be part of consensual impact play.
A great range of sensations is possible depending on the implement used and the level of force.
27. Knife Play
Knife play and cutting as part of BDSM is another kink that is considered risky, but between consenting partners who have done their homework, it can be highly erotic.
Considered a form of edge play or "fear play," playing with knives can be highly stimulating psychologically and physically.
Tools might involve knives, swords, or daggers and could involve drawing blood which adds to the risk.
28. Mummification
Being restricted and unable to move is the ultimate submission and turn-on for some.
Mummification is a form of bondage performed with various wrappings, including medical tapes, plastic wrap, or even using a body bag. Being wrapped up like a mummy falls within sensory deprivation, particularly if the mummified person cannot see.
Curious to learn more about this bondage game? Read Mummification Bondage Techniques and Safety.
29. Needle Play
Needle play is basically sticking a needle through the skin of someone else.
Medical needles are the only kind that should be used as they are sterile and sharp. Piercing play is a popular variant of medical needle play.
Fear, pain, dominance, submission, and S&M, are all at play here.
30. Nose Torture
Nose torture, or nose bondage, can be employed during BDSM play and punishment as a form of humiliation and pain.
In traditional Japanese nose torture, a nose hook pulls the submissive's nose open and upward, either lightly or more forcefully.
Other ways to torture the nose include wax play, clothespins or clamps, nose caning, or simply pulling and twisting.
31. Orgasm Denial
Orgasm denial can be a fun BDSM game, especially for those who like to see their submissive squirm! Frequently, this type of play involves continual arousal, either physical or mental, without being able to experience release. An orgasm may be put off until its denial is no longer bearable, or denied entirely as with the kink for ruined orgasms.
A form of power play, orgasm denial can also be used to prolong a scene or encounter and may involve bondage or not.
There are many ways to play with teasing kinks and orgasm denial, including the outer limit of chastity play.
Read: Orgasm Denial: 8 Games and Ways to Play
32. Orgasm Torture
Orgasm denial is one end of a spectrum. At the other end is orgasm torture or forced orgasms.
When you've had your orgasm, and you're simply too sensitive to bear any more stimulation? One form of orgasm torture is when a Dom forces their sub to cum again and again. Often refusing to let the submissive touch themselves, the Dom is in complete control of the orgasms and when, and if, a climax occurs.
Jamie put together some tips here: Orgasm Torture Tips for BDSM Couples.
33. Pegging
Pegging is a great way for a Domme to turn the tables on a male sub, bending him over and entering him anally from behind.
When part of BDSM play, pegging play can be a very effective form of submission and/or humiliation and gets even more interesting when combined with bondage and anal training.
Strap-on sex and the strapon fantasy have become so popular that there are even pegging dating sites now.
Here are 5 Strap-On Sex Tips for Beginners.
34. Pet Play
Here kitty kitty! Owner and pet play, animal role-play, and human pets refer to BDSM play in which a submissive plays the part of an animal for their Dom.
The fun of pet play is that it brings many opportunities to explore BDSM. Bondage and confinement through leashes and caging, kneeling and crawling before your Master, treats and punishments, plus training.
Learn more with Pet Play: All About Animal Roleplay.
35. Piss Play
Piss play is one of those kinks that fits in nicely with BDSM play, as domination and submission are clearly in effect when someone pisses on their partner's body or mouth.
An interest in "golden showers" is very common, and with some safety precautions, can easily be incorporated into a BDSM scene.
Discover some tips for adding this fetish to your bag of tricks: Piss Play Ideas for Kinky Lovers.
36. Pony Play
Pony play could be considered part of pet play, but as it can get quite elaborate and has its own set of sub-niches, pony play is regarded as a BDSM play type in its own right.
We've written about pony play in Confessions of a Kinky Pony Play Girl, but I also found an excellent resource in cPony.com. It's a site that hasn't been updated recently, but there is a lot to explore, including differences between cart ponies, show ponies, riding ponies, veterinarian play, and the various pony tack and gear used.
37. Pussy Worship
Pussy worship is precisely what it sounds like; getting down on your knees to worship at the pussy of your beloved Domme. How you worship is up to your Mistress, but this type of subservience can be incorporated into all levels of kinky relationships.
From light massage and oral – to face-sitting while in bondage, vagina worship is wide-ranging.
Read Pussy Worship: How to Serve a Woman's Vagina.
38. Rape Fantasy
Common among both women and men, the fantasy of being forced to have sex or engage in sexual acts is called rape play or forced sex role-play.
In attempts to understand the rape fantasy, many have ascribed reasoning such as guilt or repression to why someone would enjoy this kink. But simply, consensual rape play is yet another game of dominance and submission, involving force and role-play, and sometimes bondage. In a kink context, it is ALWAYS consensual.
Should You Indulge Your Kinky Date's Rape Fantasy?
39. Roleplay
Here at Kink Lovers, we love roleplay and coming up with new ideas for BDSM games and scenes. Roleplaying involves acting out a role or imagining your BDSM play happening within a particular "scene."
Classic examples include doctor and patient, officer and criminal, teacher and student, or even animal and owner as with pet play. You can see that these role-play ideas all consist of an authoritative Dom role and a submissive role – ripe for further BDSM games. Role-play is a great way to let your imagination run wild!
Read: BDSM Roleplay Ideas and Scenarios
40. Scat Play
Those into scat play are excited about incorporating feces into their sexual experiences.
As a fetish, scat play is technically known as coprophilia, and coprophagia refers to the practice of eating your own or a partner's excrement.
Scat play is risky because feces often contain bacteria and possibly parasites, but there are "toilet slaves" out there who are very eager to please a dominant in this way.
41. Sado-Masochism
S&M is a broad category of play. It encompasses any kind of play that involves sadism and masochism.
Sadism is the sexual enjoyment of inflicting pain, humiliation, or suffering upon another. Masochism is the other side of the coin, in which a person derives sexual pleasure from their own pain. As you can see, these two serve as the motivation for many a BDSM encounter.
42. Sensation Play
Sensation play is any form of kinky play that incorporates the deliberate use of sensation. Examples of sensation play include tickling, spanking, temperature play, biting, scratching, and sounding.
Whether light or intense, sensation play is a way to explore the enhancement of the senses, erotic anticipation, and a whole gamut of physical experiences.
Holly provides our readers with some Sensation Play Ideas for Beginners.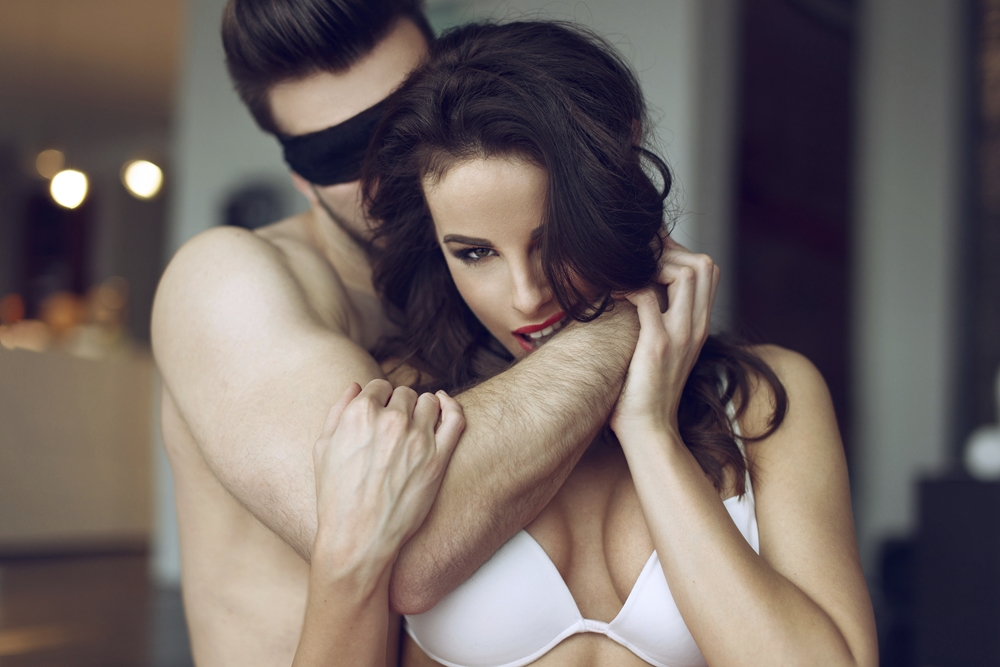 43. Sensory Deprivation
Sensory deprivation play is the act of "removing" one or more of a person's senses so that the remaining senses are heightened.
Typically this can be done using a blindfold or earplugs. While blindfolded, a person may have an enhanced experience of touch, smell, and hearing, so this type of play pairs well with sensation play.
It also creates anticipation and excitement when a sub can't see or hear what their Master will do next! Explore Sensory Deprivation Play for Couples.
44. Self BDSM
Most forms of play on our BDSM list revolve around what one partner can do to another or sexual games that can be played together. But not every kinky person has a playmate at their disposal, and some would prefer to play alone anyways.
Solo BDSM and self-bondage encompass ways that someone could safely experiment and enjoy BDSM play on their own.
One of our most popular articles for BDSM ideas here at Kink Lovers is Solo BDSM: 5 Ways to Play Alone.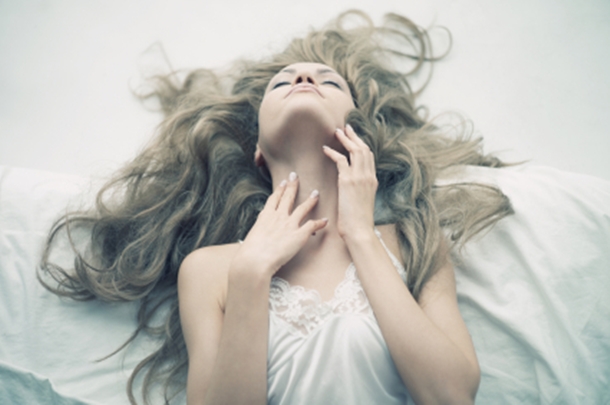 45. Sounding
Sounding involves putting a thin metal rod, called a sound, into the urethra. Urethral sounding isn't as painful as it sounds, and can be quite pleasurable as there are many nerve endings within the urethra. The sound can even touch the prostate, which can be orgasmic.
Here are some beginner sounding tips.
46. Spanking
We all know what spanking is and probably learned about them from a young age. However, erotic spanking goes well beyond punishment and is where pleasure and pain meet.
There is so much within this type of impact play: paddles, crops, open-hand, over-the-knee (OTK spanking), light, or extreme.
Spanking is so popular, and we have written so many spanking articles that a spanking hub of all Kink Lovers spanking posts is forthcoming.
Interested in meeting others who share your spanking kink? Check out Spanking Dating Sites that Work.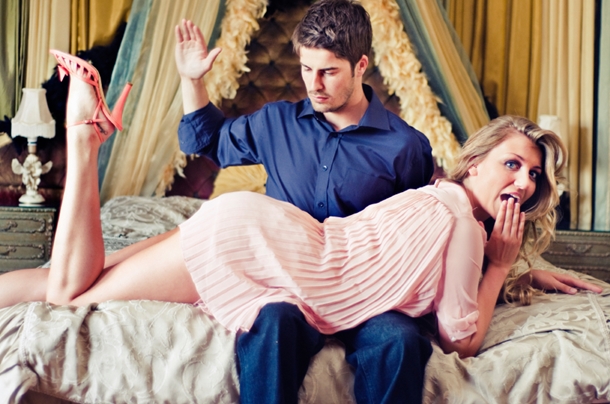 47. Suspension Bondage
Suspension bondage is advanced BDSM. A submissive can be put in bondage and suspended fully or partially, and in this way are put into a very helpless state.
Practitioners of BDSM suspension must know what they are doing, as it can be very intense and comes with risks. A couple of good resources online for those who'd like to learn about suspension and bondage in general are the Duchy and Rope Connections.
48. Tickle Torture
Getting tickled when you are tied up and unable to squirm away can be delightful or absolute torture depending on the circumstances. In fact, tickling was used as an actual form of torture in ancient China, particularly on nobles because it leaves no marks.
Want to incorporate some forced ha-has into your BDSM and bondage play? Try these 4 Tickle Torture Tips for Kinky Couples.
49. Wax Play
Wax play combines fire, heat, pain, suspense, and anticipation. What's not to love?
This kink involves dripping wax from a candle onto a submissive's skin. Depending on the candle, this type of temperature play can range from a warming sensation to extremely hot. Burns can result, so education and precaution are essential, as always.
Here are our Wax Play Tips for Beginners.
50. Whipping Play
Last but not least on our BDSM list is whipping. Whipping can be an incredibly intense form of impact play. Great care, through education and practice, must be taken before incorporating whips into your play, as they can leave welts or even cut the skin.
But once you know what you are doing? Your sub can be standing with their hands bound above as your bullwhip strikes and slithers around their body, or you apply a quick snap of a flicker whip across their bottom.
Read: BDSM Whipping: 9 Types of Whips
---
What are your favorite BDSM kinks?
If there's something you think we should add to our list of BDSM ideas and activities, please use the comments to let us know. Or just share a few details about your favorite type of play or BDSM fantasy.
The BDSM list above pertains to play and kinks under the BDSM umbrella. You may also want to check out our complete list of fetishes.
Ready to play but need a partner? See How to Find a BDSM Partner.
Enjoy! xo Lola