Learning about BDSM and getting started is an exciting time for those new to kink. Discovering new turn-ons and ways to play with domination and submission can be exhilarating. It may seem like a big game of trial and error as you try on different kinks, explore the world of fetish, and meet new partners who are also interested in the BDSM lifestyle.
But do you really need BDSM education or training outside of the bedroom?
What is BDSM Education and Why is it Important?
Some forms of BDSM play may seem like a no-brainer to beginner kinksters. However, even basic activities that you may think are simple, like spanking or pegging, have important safety considerations.
There are also much more advanced forms of play involving bondage, impact, sensations, and more that require deeper knowledge to ensure there is no lasting or unwanted damage. These BDSM activities and more extreme fetishes require more knowledge than what can be ascertained while watching a scene play out on a porn site, or in the heat of the moment when trying something new.
Where will you get this BDSM education?
In this article you'll find our listing of BDSM education resources from around the web.
You can join BDSM education sites with memberships that give you access to expert tutorials, or sign up for an online course or local workshop. There are also plenty of online resources for kinky people that don't cost a cent.
BDSM Education is Not Just for Beginners
Learning about BDSM though online courses or video tutorials should be on every BDSM beginners to-do list, but what about BDSM veterans and those with more experience?
The fact is, we are always learning in life, no matter if we consider ourselves a newbie or an expert. The world of kink is incredibly vast with so much to see and do, and so I encourage fetishists and BDSM lovers of all levels to keep learning, experimenting, and finding new ways to play.
In fact, I think those who already know the basics of BDSM and have some experience can really benefit the most from additional learning. It's at this point that one can really dig their teeth into a new topic or learn some advanced BDSM skills to wow their partner during their next scene.
Still looking for a local BDSM play partner? Take a look at our favorite spots for BDSM dating:
10 Reasons You Should get a BDSM Education
While keeping yourself and your partners safe is one of the most important reasons to educate yourself, there are many benefits of going to BDSM school.
Learn BDSM safety. Understand the rules of consent and how to use safewords.
From basic to advanced, many types of BDSM play require skills that must be learned and practiced.
Gaining and improving skills will make you a better lover.
Open your world. Discover kinks and BDSM activities you may never have found otherwise.
Gain more insight into the emotional and mental aspects of BDSM.
Learn how to conduct yourself beyond the sexual act. Study relationship dynamics and aftercare.
Learn how to incorporate D/s elements into your relationship, even outside the bedroom.
Improve your communication skills for better sex and better relationships.
Meet new friends and potential partners through workshops and classes.
Be titillated and turned-on. Kink education isn't there to get your panties wet.. but hey, it might happen.
Where to Learn about BDSM Online
Kink Lovers provides a wealth of information for those exploring fetish, BDSM, and kink in general. We offer guides, tips, and ideas, and try to cover as much ground as possible, which has been considerable over the last 8 years. However, we recognize that we cannot meet all the learning needs of our kinky readers, and the world offers a plethora of amazing BDSM educational resources.
Here you'll find links to a variety of kink and BDSM learning resources from around the web.
I've also thrown in some information on where to obtain BDSM gear such as bondage rope or kinky sex toys, and links to online communities and dating sites where you can connect with other kinky people. After all, practice makes progress!
Browse through the full list or skip to any category with the table of contents below.
---
BDSM Online Education
These are our favorite BDSM education sites for learning about specific techniques or topics from the comfort of home.
Kink Academy
KinkAcademy.com is a membership site for kink education, and hosts a massive library of over 2000 sex education videos. Topics covered include specific forms of play such as rope bondage and electricity play, but you'll also find teachings that cover polyamory, fantasy, body worship, safe sex, sexual addiction, and so much more.
Kink Academy is an excellent resource for those who can't or prefer not to attend live workshops, and all skill levels are represented. To get a taste, take a look at their free videos, or read our Kink Academy review to learn more.
School of Squirt
That's right. There's a sex education site just for those looking to learn the art of female ejaculation. Jakob and Laura run the School of Squirt, are passionate about squirting, and love helping others reach new heights of pleasure and excitement.
Would you like to learn how to squirt, or how to make your partner squirt? View their introductory video and learn about their pump-release technique here: School of Squirt: Triggers. Watch until the end of the video to access their excellent course that will make a master of female ejaculation in no time.
Shibari Academy
There's bondage, and then there's shibari bondage. Shibari is a form of rope bondage that originated in Japan, and is as beautiful as it is kinky.
ShibariAcademy.com has a couple options for those who want to take their bondage skills to the next level and learn the art of shibari. For those who are curious and want to learn more about shibari right away, access their completely free Shibari 101 Course.
If you already know that shibari is for you, and you're interested in being certified as a shibari practitioner, consider their Shibari Certificate, touted as the most comprehensive shibari course online.
Shibari Study
ShibariStudy.com is another shibari education site, which features a large variety of bondage classes for all types of shibari play.
Shibari Study is the home of world-class instruction on shibari bondage and features excellent video tutorials ranging from beginner to advanced techniques like those involving suspension bondage.
For unlimited access they offer monthly and yearly memberships, but those who are just curious can begin with a 7 day free trial.
Remedial Ropes
No video tutorials here, but at RemedialRopes.com you'll find dozens of articles devoted to bondage safety and risk awareness education. A must read for anyone new to bondage or wanting to deepen their understanding. Topics include nerve damage, circulation issues, communication, and bondage positioning.
The Duchy
TheDuchy.com is another great resource for those into bondage. I love how the video tutorials are organized based on skill levels and various bondage techniques.
While you can view most of their bondage tutorials for free, The Duchy also offers a membership as well. It provides additional member-only and behind-the-scenes tutorials, and access to their private community Discord server.
---
BDSM Video Tutorials on YouTube
Here are some kink and sex education channels on YouTube that you might find helpful for online BDSM study. There are likely many more, but this list should get you started.
Morgan Thorne BDSM
Morgan is a professional Domme and her long-running YouTube channel offers a wealth of information. Topics include BDSM basics, skills training, community, bondage tutorials, flogging, and dominance. There's a lot of good stuff here for all levels, and especially for aspiring dominants. Visit Morgan's YouTube Channel
Evie Lupine
Evie Lupine is a peer educator on BDSM, kink, and alternative lifestyles. A great channel for learning about BDSM play and D/s relationships. Evie often responds to subscriber questions and is an excellent resource for both those new to kink and seasoned players. Visit Evie's YouTube Channel
Watts the Safeword
A YouTube channel out of San Francisco by two guys who like to have a bit of fun while breaking down stigmas and answering questions. Check out their playlists, where you'll find topics such as 'Kink Education' and 'Bondage Tie Tutorials' among others. Visit Watts the Safeword on YouTube
The MP Experience
What's the MP Experience? MP is Madame Posh, a femdom, educator, and lifestyle coach who also discusses pro-black topics and issues. This is a good channel for people interested in learning more about rope bondage, and female-led relationships. Visit the MP Experience on YouTube
Milkwebs
Adorable videos about little space, BDSM, self care, and more. A good one for submissives and littles. View Milkwebs at YouTube
---
BDSM Classes and BDSM Workshops
While I'd love to list all the organizations that offer local kink and BDSM classes and workshops, gathering a complete and current list would be nearly impossible. Nor is it helpful to see links to classes that are located nowhere near you.
Instead let me offer a few tips on how to find BDSM courses in your own local area.
How to Find In-Person BDSM Classes Near You
Here are some ideas for finding current information regarding local workshops and classes for BDSM education:
Check local sex toy shops, dungeons, and sex clubs. Many will either have a listing of local classes on their websites, or offer their own.
Look for group and forum postings on BDSM and fetish community sites such as FetLife.com and BDSMdate.com.
Do a google search for "BDSM classes" or "BDSM workshops", including the name of your city.
Once you find a local organization or person who offers classes, be sure to sign up for their newsletter or keep in touch somehow, to keep abreast of upcoming events and workshops.
---
Where to Buy BDSM Toys & Gear Online
Stockroom
Stockroom.com has been around a long time and is my go-to when I want to buy BDSM gear online. More than just a store for sex toys, Stockroom is like a candy store for kink lovers. Shop for bondage gear, hoods, fetish wear, electro-sex toys, gags, whips, BDSM furniture and much more.
Read: BDSM Furniture Ideas for Your Home Dungeon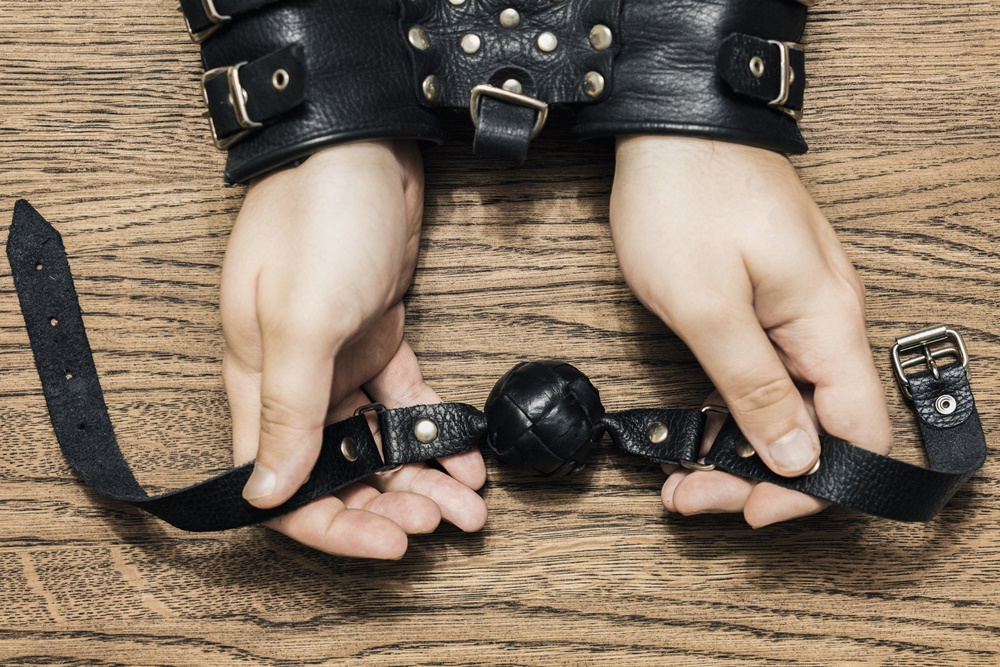 Lovehoney
Lovehoney.com is very popular these days and for good reason. They operate in many countries around the world, ensuring speedy delivery and appropriate currency options regardless of where you are.
While it looks more like your run-of-the-mill sex shop, they do have a lot of the kinky toys, gear, and accessories that BDSM practitioners are looking for. Check their bondage section for the kinky stuff.
Twisted Monk
TwistedMonk.com sells what might be some of the best bondage rope in the world. Their signature ropes are made from hemp (which is especially ideal for shibari rope play), and dyed in a variety of colors to match your mood and preference. You'll also find bamboo, cotton, and electro-conductive rope.
The great thing about Twisted Monk is that you'll also find rope bondage how-to tutorials, information about rope care, and further links for bondage education. Although they are based in Seattle, this bondage shop delivers worldwide.
---
How to Meet Kinky People
Solo BDSM is a thing but sometimes you want and need to "practice" with a partner. Sub or Dom, here are some ideas and suggestions on where to meet other kinky people like yourself, who are interested in exploring BDSM.
Your Local Munch
A munch is when a bunch of kinky people get together in a more vanilla setting. Leave your fetish wear behind and sit down for coffee with local kinksters, and discuss topics relevant to your community, lifestyle, kinks, or simply about how your day is going. While a munch is not about finding BDSM hookups, that's not to say you won't meet new friends or potential partners.
Learn more about the BDSM Munch
To find your local munch, try an online search for city+munch, or check local BDSM listings on social networks and forums.
Kinky Dating Sites
If you're looking to find kinky people who are eager to meet up for dating and relationships, BDSM dating sites are the perfect place to start. Leave mainstream sites behind and try niche sites that cater to specific kinks and desires.
We've broken down all the different kinky dating sites out there in our popular guide:
Kinky Dating Sites: The Kink Lovers Guide
On the best sites, like BDSMdate.com, you'll not only be able to create a dating profile and find local dates, but enjoy many of other features. Discover member-created groups, topical chat rooms, chat with streaming video, and personal blogs. Lots to see and do.
BDSM & Kink Social Networks
Another option for meeting people into BDSM is to join a social network. Of course, Facebook has all sorts of kinky groups and pages about BDSM. However you might be more comfortable exploring on a more kink-dedicated network like FetLife.