Are you new to bondage and looking for tips and how-to? Welcome to our Guide to Bondage for Beginners.
Bondage has become so popular that some consider it mainstream or even kink light. The "B" in BDSM has made its way into mainstream films, books, billboards, newsstand magazines, and nary an eye is bat.
Bondage is for everyone, not just for those into the BDSM lifestyle. Many bondage games and techniques can easily be enjoyed by tame partners and absolute beginners.
Kink has this way of extrapolating, branching out, crossing over. There is so much to explore that usually, one thing leads to another before you know it you find yourself in love with bondage play.
Read: Why People Like Bondage and Being Tied Up
How to Get Started with Bondage
Bondage is a good place to start if you're new to BDSM. Once you have your bondage gear and the right partner, all you need is creativity, trust, and a little imagination.
Your Bondage Partner
For bondage play, you need that special someone, someone who trusts you enough to let you tie them up and try new things, and the other way around. Beginner bondage should happen with someone you have established trust with in the bedroom and in other areas of your life.
Before the fun starts, talk about what you don't want to happen. Invariably, once one of you is tied up, the other will try something you may not have talked about. "Stop, I don't like that." should suffice. Some lovers use coded safe words.
All this sexual experimentation will only build more trust.
Likely, there's one of you that prefers to do the tying, and maybe that's okay because the other prefers being bound). However, never refuse your lover the opportunity to reverse roles. Even as a true submissive, I've enjoyed tying up a few game lovers over the years. If you like to grow, switch things up!
Still haven't met your bondage partner? Consider our list of the Best Bondage Dating Sites.
Basic Bondage Restraints
Fancy bondage gear is available, but why not get the creative juices flowing by taking a walk around your home, with a fresh pair of eyes. You'll be surprised how many things you can find that work just as well as a hundred dollar pair of handcuffs.
Look for DIY bondage restraints in your kitchen (rope), garage (cables), bedroom (nylons), and closet (ties, scarves, belts). You can build your own beginner bondage kit this way.
Of course, the pendulum can swing to the other extreme where serious bondage lovers might use suspension bondage devices, racks, and swings. But we're just getting started.
Read: BDSM Restraints: What to Know
Plan Your Bondage Play
Now that you've found your gear and you have a lover that is keen to try a little bondage, let's fire up the imagination.
Where's this going to happen? If you have a headboard then you're okay, and futon bases work, too. If not, you may have to spend a tiny bit of cash on something like drawer handles to mount in strategic places. But not all bondage requires your submissive to be tied to something.
Taking your play outside the bedroom can also be fun, but for a long night comfort is important.
What ever you decide on, always have a plan. There is nothing worse than being tied up and having your Dom hem and haw about what he wants to do. A sub wants to feel at at their Dom's mercy. They don't necessarily want to know what he's going to do, but want to know that he knows what he's going to do!
So what are you going to do once you've tied your lover up? The possibilities are endless.
Read: Bondage Roleplay Ideas and Scenarios
What to Do When the Restraints Are On
Now let's say you've got your bondage restraint of choice—rope, handcuffs, ties, scarves, cables, bondage tape—and you have a willing lover who wants nothing more than to be tied up and lie helpless before you.
What do you do NOW?
1. Play Sensory Games
This is for couples who are new to bondage and just like to have fun with their kinky play. The game is to blindfold the bound and run a variety of objects (you can find everything you need in the kitchen!) across different parts of the bound body. They can try to guess what objects they are or just enjoy the stimulation.
Think ice cubes, melted chocolate, feathers, blindfolds, brushes. Start a collection that you can keep close at hand, if bondage becomes your thing.
Read: Sensation Play for Beginners
2. Kiss and Caress
You may just want to lavish your lover in tender loving ways once you have her bound before you. She can feel like a captive princess while you, the dashing prince, only have good intentions. Bondage is often a part of a bigger story, a roleplay, that works to drive the plot.
3. Tease and Tickle
Here you can find some BDSM middle ground. Tickle torture is its own fetish that not everybody loves, that's for sure. But you can play around with it to explore thresholds. Bondage does not always include sex, but when it does, it can produce super explosive results. It's the perfect scenario to edge your bound lover into peaks and valleys of ecstasy.
4. Punish
A lot of people who are afraid to try bondage see it solely as a disciplinarian practice. It's not, but it can be a very good way to dominate and administer sexual punishment between consenting adults.
You can tie her up and spank her, with or without a blindfold. You can tie her up and withhold orgasm. It's about using your imagination, but also about respecting boundaries and agreements.
Read: 8 Orgasm Denial Games to Play
5. Reward
On the flipside of punishment, you have rewards you can administer to your faithful submissive. Maybe she deserves an hour of oral for being such a "good girl." Or you want to feed her decadent treats, licking what falls onto her naked body. Or maybe you give her an erotic massage that lulls her to sleep while bound.
Whatever you decide to do while your lover is tied up should be followed by some BDSM aftercare or subspace that relates to what was practiced while they were bound.
Beginner Bondage Tips
Ready to take it to the next level, but not sure how? Here are some bondage tips for beginners that want to learn rope bondage techniques and more advanced bondage methods.
Seek Out an Experienced Bondage Partner
It's the most practical way to enter into the world of bondage and BDSM, but it's also the hottest. Getting initiated is a rite of passage, and it can feel intense and profound.
You can be led into BDSM on a leash, or if your thing is to dominate, you can find out how from a submissive who is willing to instruct you.
It all depends how extreme your kink gets. You don't need a specialist to indulge a few mild restraint whims for hanky panky. But learning the ropes from someone who is experienced with safety and pleasure is a great idea.
Read: How to Find a BDSM Partner
Communicate Openly
There's nothing worse than going on six dates with a kinky girl only to find out she's into furry dress-up and has zero desire to don a red-latex bodysuit and beat you to a pulp.
Don't assume a person's kinks, and remember there are millions, so even if you are looking for a date on kinky dating sites, it's still helpful to express what yours are on your BDSM profile.
Consider a Bondage Professional
There are professional BDSM practitioners who provide sex, instruction, or both. Some Doms are "full service" and some provide services in training, props, safety, etc. These are private coaches or experts who can share their experiences with bondage beginners.
You might think it's not as sexy or romantic if you hire a person, but a few sessions to find your way can give you confidence and answer all your questions in a nonjudgmental atmosphere.
Read: How to Learn Shibari Rope Bondage
Attend Bondage Workshops
If you can't find workshops in your town for bondage beginners, Google the nearest big city, and take a weekend vacation to a kink workshop. You'll find friendly, approachable, class-room or yoga-retreat style workshops from two hours to weekend intensives.
Read: BDSM Travel Guide: Plan a Kinky Vacation
These are great opportunities to meet others into bondage and kinks, and also get practical experience with stuff like making knots and safe whipping practices.
There are lots of short and full-length films that are instructional too. They are great, but the in-person opportunity affords an interactive experience.
Get Your Bondage Education the Right Way
Kinky novels, erotica, porn, and movies can be exciting and educational, but take them all with a grain of salt. Get your advice from bondage videos that are designed as workshops or instructionals.
Read: BDSM Education: Learn Bondage Online
BDSM erotica and porn are people's fantasies, not safety playbooks. You can find out all kinds of stuff, but some of it is pure imagination and totally unsafe in practice because it's in the mind, not meant for real life. Some is unrealistic, and some is impractical if you don't know what you're doing.
Use bondage stories and erotica to enhance your repertoire once you get some hands-on experience with the basics.
Read: Bondage Positions and Techniques to Try
Be Open Minded
You have an idea of what bondage and BDSM is all about. So do each of the people you will meet along your journey to a deeper understanding of kink and human sexuality.
Your ability to listen is key. When someone tells you what they want, it's your responsibility to keep your mind open enough to take it to heart.
There is plenty of time for sharing what you know and want, but sometimes someone else ignites a spark in you by identifying something about you that you never even knew about yourself.
Bondage is about more than just physical locks and keys, in fact, the key to unlocking your full sexual potential is the strength to maintain a truly open mind.
Read: Self Bondage Ideas for Kinky Solo Play
Beginner Bondage Safety
Safe Words Are Not Optional
For some strange reason many beginners, the people who would need them the most, choose to act as if safe words are optional. They are not.
Anyone with even the smallest amount of bondage experience will require anyone participating in the scene to establish a clear, easy to recall and simple safe word.
Knowing a safe word doesn't interrupt the sensuality of a scene if you establish it hours or even days beforehand. Choose something obscure like "orange" which is very unlikely to ever come up in the context of the scene itself – and be prepared to stop immediately the moment anyone utters it.
Read: Safe Words in BDSM Play
Test Bondage Devices and Restraints Beforehand
Before you try a new bondage device, try it out privately first! The only way to know if something is safe, secure, and ready for play together is to strap into it, pull on it, push it, and twist it with at least ten times the force you would expect from someone using it in a scene.
There simply is no excuse for a sharp edge, loose pulley, stuck latch, or other mechanical failure when someone else is depending on you to have done things right in the first place.
Read: How to Be a Good Dominant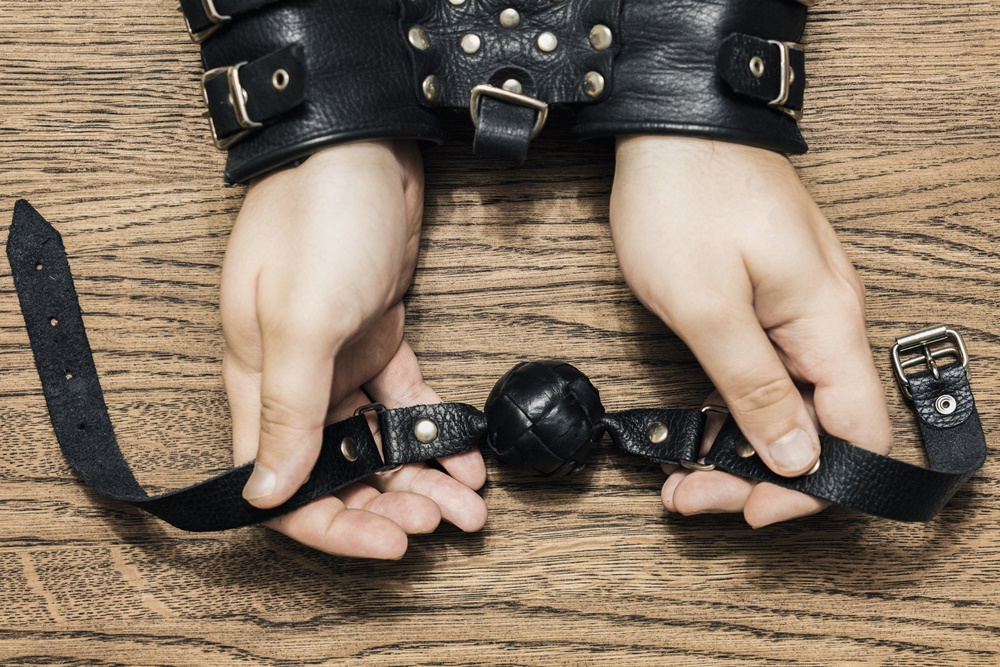 Get Feedback and Pay Attention
During bondage play, keep checking in with your partner and watch for signs of pain or circulation issues. There can be serious consequences, including nerve damage, when bondage restraints and ropes are tied too tight.
Do not leave your lover bound without you present.
Read: Bondage Ideas: Big List of Bondage Play
We'd love to hear your bondage experiences or beginner tips in the comments below.