Curious about self bondage? Follow our tips for safe and sexy solo bondage play.
Getting restrained, getting tied up, and being bound can—without a doubt—be a truly powerful erotic experience. Which explains why bondage, and self bondage, is one of the top things that so many people want to try.
Here's the thing: bondage is also one of the riskiest sexual practices there is, with the real possibility—if it's not done correctly—of seriously hurting the person being bound.
Read: Bondage for Beginners: How to Get Started
Because of this, bondage really shouldn't be attempted unless those involved have taken BDSM classes, and read all kinds of informative articles. You must understand not only the pleasures, but also the problems that can come up when restraining someone, or being restrained.
But even though there are risks playing with another person, self-bondage can be done safely and, best of all, be a lot of sexy fun!
And when you're tired of getting tied up alone, you can always try our favorite Bondage Dating Sites.
Self Bondage Ideas and Tips
Some ideas and important considerations for those attempting self bondage.
1. Be Able to Get Out of What You Get Into
It's easy to think of bondage as being total restraint, but when you're playing all by your lonesome, always make sure you can easily—and we mean easily—get yourself out of it.
For example, don't use bondage gear or rope, which can be extremely difficult to deal with if you have to get out of it in a hurry. Instead use Vet Wrap (also called self-adhesive bandages) which can be stretched and easily torn. Also, be sure to give yourself plenty of slack so one hand can reach the other.
2. Don't actually Tie Yourself Up
Another great self bondage technique is to not restrain yourself but, instead, have something like a bit of rope you can grab hold of and pull against—but isn't actually tied to your body. This way you can have that delicious sexy resistance that's key to good bondage play, but you can also easily get out of it when you're done.
Read: Why People Like Bondage and Being Tied Up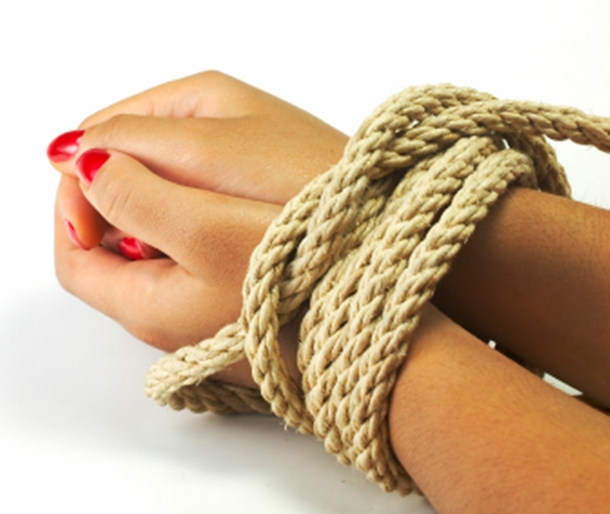 3. Have a Safe Word
Since you're going to be playing with, and by yourself, you obviously can't have one, right? Ah, but you can!
All you need to do is have a good friend on standby when you're engaging with self bondage. Just tell them to come over, or call for help, if you don't call or text by a certain time. That way if something does happen, you'll know that this person will send someone to help you out.
4. Try Non-Bondage Bondage
Being restrained is about limiting movement, but that doesn't mean you actually have to be bound. Instead, you can do honor-bondage, which is forcing yourself to not move by mind power alone. It can take practice but the end result is totally safe—and a lot of fun!
Read: Predicament Bondage Basics and Ideas
Bondage can be a huge turn on and lead to some amazingly erotic play, but it's not without risks—with, and especially without, another person doing the tying up.
But if you play it smart, and safe, you can have all the self bondage pleasures you can imagine… for a long, long, long time.
For more solo BDSM ideas, see Solo BDSM: 5 Ways to Play Alone