When getting started in BDSM experimentation and other forms of kinky play, a lot of people assume that you have to obtain expensive, fancy equipment and accessories to get the most of out of bondage. But the amount of enjoyment you get out of our exploration has more to do with your imagination and the way you interact with your partner than it does with the gear you use.
To enjoy bondage, you don't need to invest in over-the-top restraint systems, and you don't have to become an expert in tying rope knots. If those things appeal to you, then go for it, but if you'd like to experiment with bondage – before taking the plunge on that level – start with something simple, like a good old pair of handcuffs.
Bondage gear is varied and found in high end shops to things you have around the home.
Bondage Restraints
Whether you're in a 24/7 Master/Slave relationship or just like to roleplay the parts, BDSM gear and accessories will always enhance your experience. If you're just starting out, you may not want to spend a fortune until you know how far you and your partner are interested in exploring. The good thing is many of these items can be bought inexpensively or improvised with what you may already own.
1. Handcuffs
There are many types of handcuffs for sex play, from pairs that are like those used by law enforcement to cuffs that are padded and fur-lined to provide greater comfort. When the person being restrained is new to bondage – you or your partner – it's probably best to use gentler and more comfortable cuffs at first. If you crave more intensity, you can move on to more complex bondage restraints.
One of the great things about handcuffs is that they are portable and flexible in terms of their application. It's easy to use cuffs to secure limbs to bed posts, table legs, chairs, and anything else that is narrow enough to clasp one cuff around. Many kinky women like the idea of being able to carry cuffs in their purse while on a date… just in case!
Read: 12 Metal Bondage and Metal Play Ideas
2. Bondage Tape
Bondage tape is cheap and easy. The best thing about this bondage tape is that it sticks to itself and not your skin or hair. It was perfect for tying my wrists together (above and behind my back) and my ankles. You can wrap it around your limbs and then to a fixture but that will use a lot more tape. It holds very strong and doesn't tighten once it's on, so it didn't leave any marks which can be a problem with a lot of bondage restraints.
Bondage tape can also be used for a mummification bondage and blindfolding. Note: It is not designed for weight-bearing suspension bondage, to cover one's mouth or nose, or to be wrapped around one's neck.
3. Spreader Bar
A spreader bar is a simple way to keep your submissive's legs apart. They can also be used between the wrists, and many spreader bars have additional loops on them for further restraint.
4. Bed Restraint System
If you'd like to have your bondage bottom firmly restrained to the bed, consider an under the bed restraint system. These attach under the mattress or to the bedframe, with velcro straps for wrists and legs. This type of bondage restraint is perfect for spread-eagle positions.
Read: Bondage Positions and Techniques to Try
5. BDSM Collar and Leash
These can be used to walk your slave around or tie them up. Many slave/master relationships are celebrated with collaring ceremonies. The slave wearing their special collar at home and in public symbolizes their commitment to the relationship.
Read: 9 Types of BDSM Collars
6. Bondage Cage
Some masters have cages that can be used for a variety of BDSM punishments. Size may depend on the severity of discipline.
Bondage cages can be made from various materials and constructed at home or purchased through specialty shops.
Read: BDSM Cage Play and Bondage Cage Types
7. Bondage Sleepsack
Bondage sleepsacks and BDSM body bags provide all the confinement a master could want. Specially designed in various sizes and fabrics from nylon to latex to leather, they also come with designated holes and zippers for easy breathing access to various body parts. Sleepsacks are not recommended to beginners or claustrophobics.
8. Bondage Hoods
These can be full head coverings with openings only left for sight and breathing. Others may have removable patches or zipper openings. If you're not ready for this all-encompassing mask, there are many eye masks and blindfolds that are great for sensory play.
Read: Encasement Bondage and Total Enclosure Kinks
9. Ball Gag
For some, bondage isn't complete unless the submissive is also restrained from talking.
Ball gags are a popular item with many BDSM enthusiasts and are available in a variety of sizes and colors. Comfortability should be a consideration when selecting a gag for your slave.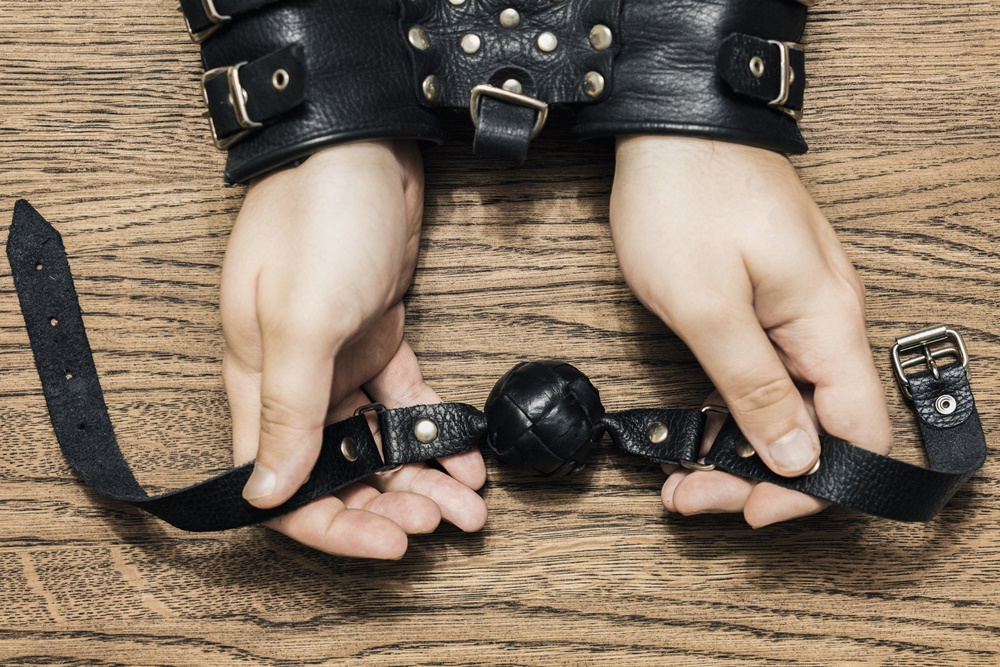 10. Silk Ties and Scarves
The gentlest of BDSM restraints, silk scarves and silk ties are great when you want to keep things light and comfortable.
11. Ropes
Perhaps the most iconic BDSM restraint, ropes are versatile and can be used to tie your sub up, and also to furniture for chair bondage. Bondage rope play can be as simple as tying your subs wrists behind their back, or elaborate as in the case of Japanese bondage, or shibari rope play.
If you have a length of real rope around, obviously it will work as a restraint. Just be aware that standard rope is a lot more coarse than the kind of rope that adult shops carry, which is specifically made for bondage.
12. Bondage Swing
Add a little more fun to your bondage routine with a bondage swing! Like regular sex swings, these BDSM restraints allow all kinds of new positions and angles for your love-making, while keeping your submissive firmly in place.
13. Neckties and Belts
One of the more popular means of restraint among bondage beginners and dabblers in bondage, neckties are something that a lot of guys have handy. They aren't sufficient to hold someone who is really straining intensely against their bounds, but they work great if what you want is a gentle, comfortable restraint to use for light BDSM play.
If you want to experiment with light bondage to add zip to your sex life, there's no need to immediately invest in complicated or expensive bondage restraints. Making creative use of common household items allows you to broaden your sexual horizons without tapping too far into your bank account.
Read: 5 DIY Bondage Scenes with Household Items
14. Blankets or Sheets
They aren't much good for creating a secure and tight bond, but for gentle restraint, twisting a bed sheet or thin blanket can provide enough resistance to keep your partner in place as you tickle, flog or otherwise stimulate them. Just don't expect it to hold them in place through sterner sexual punishments.
Sheets, and even latex sheets, can be used for mummification bondage as well.
Read: Mummification Bondage Techniques and Safety
15. Bungee Cords
With their combination of flexibility and strength, cleverly knotted bungee cords can withstand more motion and strain than neckties but are still gentler on the skin than metal handcuffs or plain rope.
What to Know before Using Restraints
Who's Doing What
Is your fantasy to tie up your lover or someone you meet on a bondage dating site? Or do you want to submit to a dominant woman? Are you just interested in playing around and switching roles?
These are all questions worth asking before you grab the rope you've purchased at the hardware store from your tickle trunk of toys.
Choice of Restraints
Speaking of toys, there are so many kinds of bondage restraints that it's important to weigh the pros and cons while also considering what you are trying to achieve and how experienced you are.
A novice may want to use a silk scarf and lightly wrap it around their lover's wrists to play with the feel of bondage. Someone with more experience may envision silver studded leather wraps, but their budget dictates that they pull a tie from their closet.
Consent and Safe Words
Ideally you want there to be a certain level of trust between you and your partner. But realistically that's not always the case. I've let men I haven't known very long to tie me up. There may have been a roommate in the other room to allay my fears or I've met enough of his friends to feel comfortable.
No matter what the relationship, long-term or casual, you want to make sure this is something you are both one hundred percent into. I recommend having a safeword that the restrained partner can use to stop whatever is going on and/or to be released from the restraints immediately.
What Is Going On during Bondage?
Tying someone up is titillating, but what follows is really the juicy part. A lot of people don't get beyond the restraint part of things when they fantasize. Imagine tying up the sexy redhead you met online, and then acting awkwardly because you didn't have a plan.
Do you want your lover blindfolded? Is she going to lie on her back while you explore sensory play? Do you want her over your knee for spanking? Or maybe she wants to tie you to a chair for some interrogation role play? Planning is key here, from both sides.
Read: BDSM Predicament Bondage Basics and Ideas
Transition Time
Trust, consent and safe words, boundaries and limits—all of these are important, but so too is the comedown. Depending on the intensity of what else went on besides restraining, you may want to provide subspace or aftercare.
With someone you live with or have been with for eons, you may easily transition to throwing your clothes on and going out for a bite to eat. But with a new lover you may want to talk about the experience—what you loved about it, what you didn't, and what you'd like to try the next time if there is one.
Read: Bondage Ideas: Different Types of Bondage
What else would you add to this list of bondage restraints? What's your favorite?