Curious about rope bunnies and how you can find one for bondage play?
The rope is an easy-to-find, handy prop in the fetish arsenal—something any sexy toy box could have at the ready. And to go with that, you'll need a rope bunny—a lover who loves to be tied with rope.
What Is a Rope Bunny?
The rope bunny is someone who loves to be tied up. She is a submissive, yes, but specifically she enjoys being restrained during sex play. She may be aroused by the rope itself, by the ritual of shibari bondage and other rope tying arts, by the sensation of sex while restrained, by giving up control to her dominant, or all of the above.
Usually "rope bunny" references someone who is INTO being tied up and ropes, rather than a passing curiosity or occasional rope play.
Read: Why People Like Bondage and Being Tied Up
Who Controls the Ropes?
The counterpart for "rope bunny" is often referenced as "rope artist" or "rigger."
Read: BDSM Rigger Tips: Getting Started with Rigger Kink
Is the Rope Bunny always Female?
Technically speaking a rope bunny is not always female, although it isn't a term that has caught on widely for male rope lovers, including gay male submissives who love being tied with rope.
I do hear it on occasion, but it tends to be playful such as "it's my turn to be your rope bunny today, baby" rather than consistent or self-identifying terminology. This may be because "bunnies" retain stereotypical feminine connotations from the whole Playboy thing.
Any rope "bottom"—the one receiving the ropes may be referred to as a rope bunny, but the terminology is usually referring to female subs who enjoy rope play.
Read: Breast Bondage 101: Tit Bondage Types and Tips
Is "Rope Bunny" a Derogatory Term?
Some BDSM community members object to the term "rope bunny" because they find it sexist or demeaning. They may find it too cutesy for serious submission or have other objections. For this reason, some fetishists will use the terms "rope sub," "rope bottom," or even "rope slut." Men who don't find "rope bunny" suitable for their own expression often use "rope sub."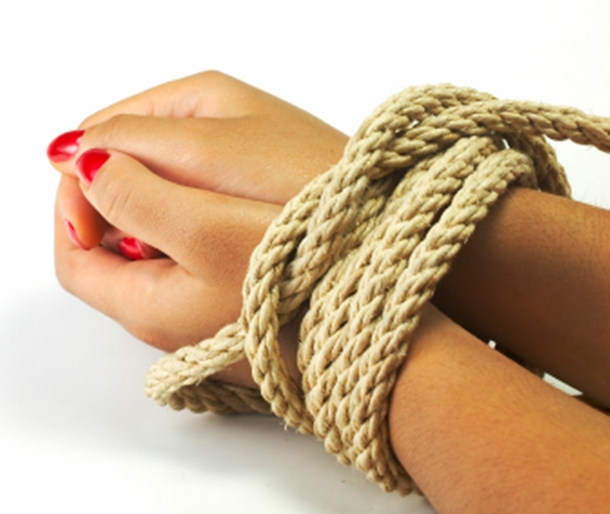 In my opinion, of course, others can use whatever language that works for them. I could get into an argument over why "rope slut" or a vast vocabulary of kink language and acts are degrading, controlling, and humiliating (and sign me up, baby!) but to each their own.
The Twisted Monk rope blog feels very strongly that it reflects dangerous ideas about women being passive, cute, harmless, and objectified and that riggers or rope tops who use this term see their passive partners as "interchangeable pieces of meat."
I personally find the term "rope bunny" to be affectionate and sassy. I have a very playful attitude towards sex and I see "rope bunny" as playful but also beautiful. I would only tolerate something harsh like "rope slut" during an intense scene and not in everyday life.
Read: BDSM and Bondage Roleplay Ideas
Where to Find a Rope Bunny
1. Bondage Dating Sites
You can meet rope bunnies anywhere you meet women, and especially anywhere that you meet kinky women. Fetish parties, kinky nightclub events, and on kinky dating sites.
You can request a rope bunny in your BDSM profile, but likely before you do so, you'll need rope artist and rigging skills to show off to attract her. Or you can express that you are new to rope play and interested in learning more about rope arts from top to bottom with a like-minded lover.
Read: Best Bondage Dating Sites for BDSM Lovers
2. Bondage Events
Many cities have rope bondage meetups or shibari education events. These are important resources for kink lovers interested in rope play because it is not just about tying someone up—it's about artistry, and crucially, about safety. (Rope bondage can be very dangerous and requires knowledge of anatomy, pressure points, and other safety measures.)
Such bondage events introduce you to people, specific to your kink and interest, who you can learn with as a way to bond and connect.
Read: How to Find BDSM Events and Have a Good Time
3. Bondage Education
The best way to find your rope bunny is to become a skilled rope artist. You can begin your journey by studying and practicing rope tying and rope safety with skilled rope artists, attending meetings and BDSM workshops, and practicing with submissive rope lovers in very safe circumstances.
Read: Bondage for Beginners: How to Get Started
When you become a great rope artist or rigger, you'll become known for prioritizing her safety and pleasure, great artistry, and you'll easily attract many rope bunnies.
In the meantime, play lightly and safely with kinky lovers as you experiment and grow, and attend every rope event you can.
Read: Bondage Ideas: All Types of Bondage Play
Are you a rigger looking for a rope bunny? Please share in the comments.