Just the Tips
Things to Do While You're All Tied Up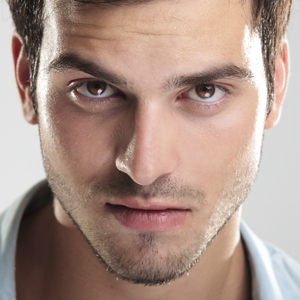 If you find yourself tied up, you might think there's nothing you can do—seeing as you can't move and all. Actually, though, lots of fun can happen for people who find themselves bound up in ropes, chains, straps, scarves, padlocks, and duct tape (to name but a few).
Helplessness can be incredibly hot. For one thing, you are giving total control of yourself over to another person. They can touch you any way they like. They can tease you, or please you, and there isn't a thing you can do about it.
If pain is your thing, then being tied up can add an incredible amount of suspense to the game. The anticipation of a pinch, a smack, or a riding crop across the ass becomes that much more intense. There is nothing you can do to stop the blow from landing. There is no way you can jump out of the way of hot wax pouring down on your skin, on your nipples. Your master has all the power and all you can do is wait until they decide to punish you… or spring you out of your bonds.
Bondage Techniques and Positions
If being a voyeur, or a cuckold is your thing, then being tied up is sexy as fuck. Just imagine that your lover has you completely restrained. You can't move. Suddenly another person enters the room. Your partner is about to fuck someone else in front of your eyes and you can't leave even if you want to. You have to stay there and take in the show. It is a unique and sexy punishment. Will you get any satisfaction after? I guess it's up to the other two to decide if they want to have mercy on you.
Even if you prefer things to be gentle, bondage can still be amazing. A feather tickle can be agonisingly fun. An ice cube can take on epic powers. Just the decision of where and how you will be kissed, licked, or fucked becomes a grand mystery. You can always add a blindfold for extra excitement.
Being tied up can also be part of rape fantasies, too. Rape fantasies can be very hot when they happen between people who have trust. A lot of people find the idea of someone grabbing them, and then tying them up and having their way, really sexy. No matter what, it is about giving up control, and letting someone else take charge. It's about the thrill of helplessness.

Feel free to experiment, and have fun! Just remember that safe words matter and this kind of love should always be between consenting adults.
Meet bondage enthusiasts now at BDSMdate.com!
Tell us what you think!