Home alone and no one to play with? Get ready to push your limits with solo BDSM.
What's a kinky single to do? Flipping through profiles at your favorite BDSM dating sites, or settling in for another night of endless internet clips isn't always enough to satisfy your kinky cravings. You need to get some action now!
Maybe you already have a date for Friday, and who knows – it might pan out and you'll meet that sexy submissive or domme you desire.
Read: How to Find a BDSM Partner
But in the meantime, you need a little playtime.
Why not experiment with solo BDSM? There are plenty of challenging and exciting ways for you to stimulate yourself in the comfort and privacy of your own home.
1. Self-Bondage: All Tied Up
Whether you're a Dom or a sub, you probably love the feel of ropes.
For Doms, self bondage is a great way to practice your technique. If you don't have ropes handy there are plenty of other things around the house you could try, including, belts, scarves, or bandages.
Tying yourself up can be tricky but with a little creativity it can be more exciting than you think. For an extra kick, throw a little flogging in, that's if you have a free hand.
For safety's sake, make sure you don't get yourself into something you can't get out of, and be aware that using gags can be dangerous when you're alone. If you want to a try a ball gag alone without risking suffocation, try a whiffle ball with a scarf threaded through for a breathing passage.
Read: Self-Bondage Tips for Solo Play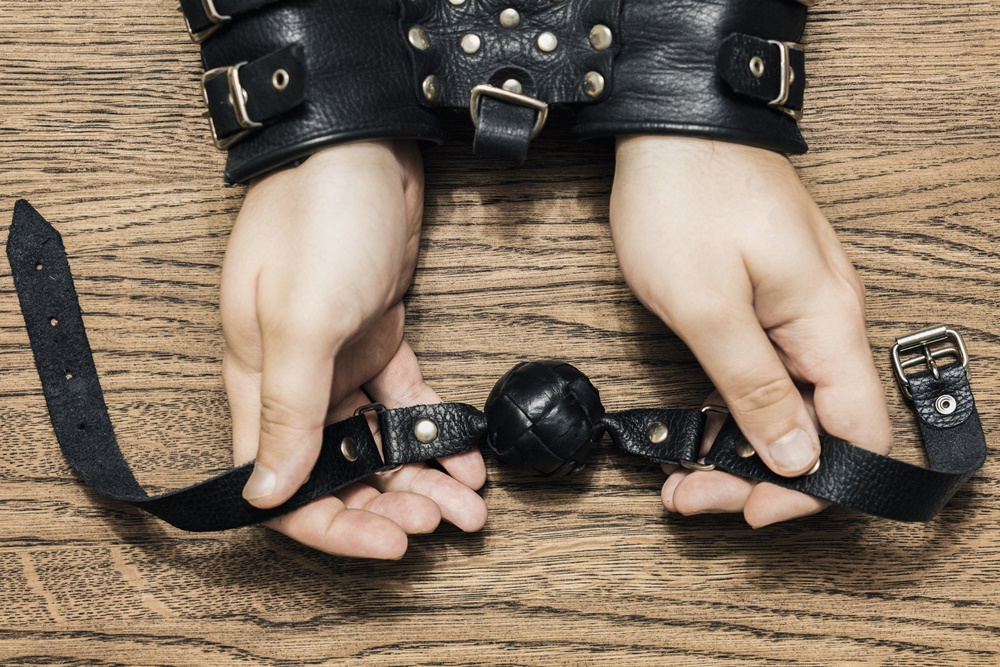 2. Self-Orgasm Control: Will of Steel
When you control your orgasm, you can achieve and maintain a high level of arousal for a prolonged period of time before coming.
Sounds great, right? What delicious torture! It can be very intense to tease yourself into hovering just a notch before climax, and when you finally decide to let yourself come, the orgasm is often bigger and better than usual.
Even if you would normally be the one to tie and tease your partner, there's always value in learning to control your own orgasms.
Alone, you have total control over the speed, feeling, and level of pressure. Try masturbating until you reach the plateau phase just before climax, then slow down just enough to avoid orgasming. Keep yourself at this level as long as you can before ultimately coming, or deny yourself altogether for some good ole orgasm denial.
Make the clock your master – once you slow down to avoid climax, vow to keep yourself in blissful torture for a prescribed amount of time. I'm guessing even 3 minutes would be an eternity!
3. Self-Flagellation: Not Just for the Devout
In need of a little punishment? Try flogging yourself! For some, flogging is all about the pain, but most will report that the real excitement comes from the release of endorphins. You'll find it easy to whip your back and legs and with a little practice you'll also be able to get at your backside. For those new to flogging, please read BDSM flogging basics and important safety information.
Don't have a flogger? Order your own flogger here or watch Joosep demonstrate how to make your own:
4. Self-Genitorture: A Little Pain with Your Pleasure?
Is CBT kink your thing? Don't wait for a mistress to stomp on your balls or put you on a very tight leash. It's do-it-yourself time!
CBT can range from edgeplay to more sensual acts. Take that tie off of your neck and wrap it tightly around your cock and balls. Or pick up a ball stretcher to really expose your nuts to light whipping, dripping wax, or icy sensations.
Need some inspiration too, ladies?
Consider clamps, clothes pins, mousetraps, or chopsticks with elastics. Throw in a bit of pussy paddling and spanking for good measure. Just remember to keep the circulation flowing and the temperature at a level that is safe.
Another self BDSM option for both sexes? Read our His and Her Guide to Nipple and Breast Torture.
5. Virtual Sex: Get it Online
You can be alone at home and still find a playmate to interact with online. Here's a suggestions that will really fire up your solo BDSM.
BDSM Dating Cams
Whether you intend to meet in person or not, you can join a BDSM dating site with live video and audio chatrooms to make new friends, and have really naughty webcam sex.
Read: Best BDSM Dating Sites
Top or bottom, BDSM cam sex can be very good. If you're a sub, find a dominatrix or very dominant woman who can cook up a scenario and tell you what to do.
For Doms, it can be a real buffet. I recommend spending time in the open chat rooms and asking people about their limits and interests before experimenting with some video chat.
Hopefully you'll also meet someone local so you don't have to top yourself forever. These sites are good value, usually costing under $30 a month to be part of a thriving BDSM community.
For and eyeful and some immediate satisfaction try BDSMDate.com.
Solo BDSM Bonus: Spiff Up Your Kinky Skill Set
I personally hate homework, but improving your submissive or domination skills can end up paying dividends in a way that advanced geometry never has!
I think that the flagellation, self bondage, genitorture, and orgasm control mentioned above are not only great erotic self play ideas, but also serve as excellent practice for future endeavours with a partner. You aren't going to be doing this BDSM thing on your own forever, are you?
So consider all your self BDSM play as a way to work out how you'd like things to be done to you as a submissive, and how you handle denial, pain, and pleasure. If you're usually the Dom, then consider these solo BDSM techniques as a way to test out sensations and perfect your skills.
Read: How to Explore Kinks when You're Single
You might even take some time to do more online research once you're spent time with the self BDSM ideas in this article. While you're alone you could also improve non-sexual skills such as how to properly shine up your mistresses boots, or look up new ideas for sensation play, or positions to try with a lover.
Read our BDSM Education Guide to explore some online learning, or expand your BDSM repertoire with ideas from our list of over 50 Types of BDSM Play.
What are your thoughts? Who's tying themselves up and who's teasing themselves to new heights of ecstasy? Dare to share?