Looking for femdom ideas to put your male submissive in his place?
Femdom, or female domination, is a new-ish buzzword for an ancient passion. And femdom ideas for kinky play abound!
Take inspiration from these ideas for your next femdom play session. With each suggestion on our list, you'll find links to more femdom tips, how-tos, and ways to play.
Are you still looking for your femdom partner? See our favorite Femdom Dating Sites.
Femdom Ideas
Browse through all the femdom play ideas below, or jump directly to your favorite flavor of female domination:
Femdom Humiliation Ideas
1. Small Penis Humiliation
SPH, or small penis humiliation, is femdom play that is popular whether or not the male sub is humbly endowed.
2. Femdom Sissification
The sissification and sissy boy kinks are femdom humiliation ideas. Dress him in baby clothes or women's clothes, and emasculate him.
Read: Sissy Boy Submissives and Dominant Women
3. Bathroom Control
Giving up control over decision-making in every area, including biological function, to our domme, is not for everyone (and this can be dangerous, so take caution). But there's something wildly intoxicating about her having complete power!
Read: How to Be a Good Domme for Your Sub
4. Sexual Degradation
It's super erotic for lots of us on either side of sexual degradation- name-calling, criticism, mockery.
Read: Degradation Kink and How to Play
5. Cuckolding
The male cuck will watch as his female partner has sex with another man, and he often won't have any say in the matter. She will enjoy humiliating him in this way.
Read: Cuckold Roleplay Ideas to Try
6. Cum Cleanup
An extreme humiliation form of cuckolding, degradation, and sissification occurs when a dominatrix calls on her male sub to "clean up" by tongue after a hot stud makes his mark on, in, or around her.
Read: 7 Ways to Enjoy Your Cum Fetish
7. Anal Dildo Play
Some men feel most exposed and humiliated by ass play. A femdom humiliation idea is to force the sub to masturbate with his ass hole, or to submit to her with various-sized dildos.
Read: Essential Femdom Toys and Gear
8. Piss Play
With piss play, the femdom will subject the submissive to humiliation and urination, on his face and body.
Read: Piss Play Ideas for Kinky Lovers
9. Wet Pants Humiliation
Conversely, she will humiliate the sub by forcing him to wet his pants, at home, or worse, when out and about. This command can take charge at random, or by phone or text.
10. Forced Feminization
Forced feminization femdom is an extreme femdom sissification practice, that moves beyond sissy boy dress-up and involves complete feminization.
Feminization can involve shaving, makeup, hair, and clothes for emasculation. And in extreme cases surgical reassignment or castration, which we suggest you keep in the realm of fantasy!
Femdom Punishment Ideas
11. Orgasm Denial
If you want to be a punishing femdom, the ultimate punishment is to deny his release and relief.
Read: Orgasm Denial Games and Ways to Play
12. Choking
Edge play, or breath play such as choking, can be part of female domination. Although both must be practiced with ultimate safety precautions in place.
Read: BDSM Breath Play Basics
13. Spanking, Flogging, Paddling
Spanking and other forms of impact play such as flogging, whipping, and paddling are a classic femdom punishment ideas for the bad little boy in all of us.
Read: Impact Play Tips, Tools, and Safety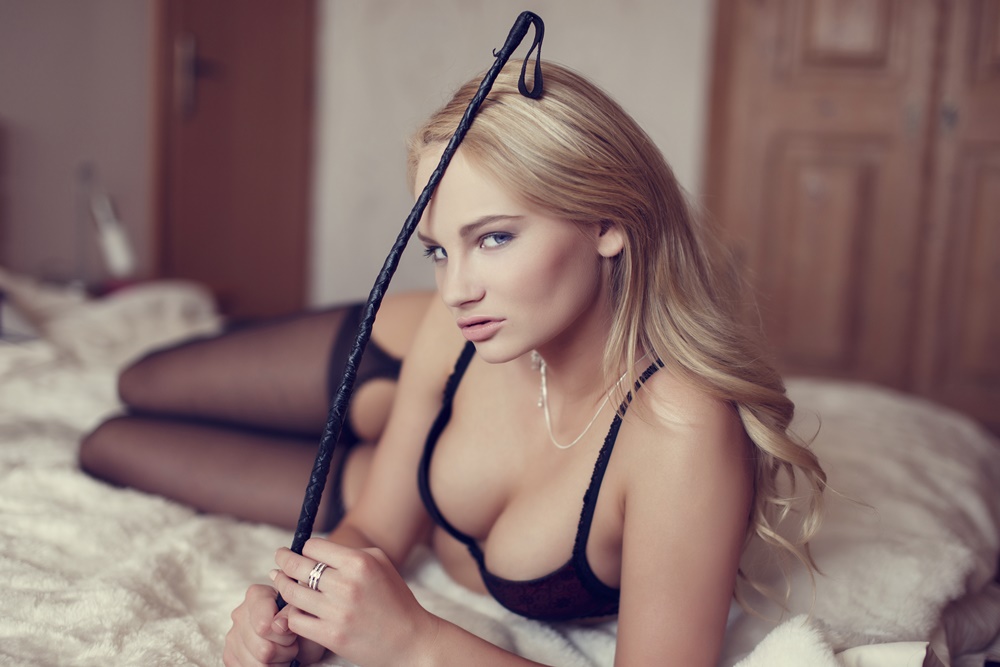 14. Naked Humiliation
Leaving him naked and vulnerable, or parading him around in his birthday suit, can be a fun femdom punishment idea.
Read: CFNM: Clothed Female Naked Male Kink
15. Dildo and Strap On Fellatio
Being forced to lick and suck on a dildo or her strap-on cock is the ultimate punishment.
Read: How to Find Strapon Lovers
16. Denial
Femdom ideas aren't just in the bedroom, for those in 24/7 femdom relationships. Punish him by denying or controlling food, his phone use, or playing video games.
Read: BDSM Training: A Guide for Beginners
17. Human Furniture
If he can't behave himself, he may just have to spend the evening as a table or chair where she can put her feet up.
Read: Human Furniture Fetish Ideas
18. Puppy Play
If he wants to be your dog, give him what he wants. Puppy Play kinks can be playful and sweet, but if he's been a bad dog, he might have to use newspapers or drink out of the toilet because you said so.
Read: Pet Play: All About Animal Roleplay
Femdom Bondage Ideas
19. Chastity Bondage
Nothing takes place without her say so, not even playing with yourself. Use your words, or chastity devices.
Read: Male Chastity Play and Cock Locking Devices
20. Financial Femdom
For some guys, bondage isn't complete unless he's literally slaving away for her all day at work, so she can live in luxury while he toils.
Read: Findoms and Financial Domination Relationships
21. Rope Bondage
Classic and beautiful restraint kinks like shibari rope bondage are excellent femdom bondage ideas.
Read: Bondage for Beginners: How to Get Started
22. Handcuffs and other Bondage Accessories
The tried and true BDSM restraints, such as handcuffs and ball gags, work well for female domination.
23. Pegging
Far and away one of the most popular sex plays for both femdom and dominated sub is pegging.
Read: Femdom Pegging: 15 Ways to Supercharge Strap-on Sex
24. The Silent Treatment
With this femdom idea, he can't say a word until she says so. Or, she ignores him until she feels like interacting.
25. Leash and Collar, on All Fours
Commanding him to accompany her on a leash and collar, on his knees, is a common and hot femdom bondage idea.
Read: 9 Types of BDSM Collars
Femdom Torture Ideas
26. Cock and Ball Torture
Pleasure and pain mix exquisitely with pinching, slapping, crushing, poking, caging, piercing, and other ways of torturing his cock and balls.
Read: CBT Kink: Cock and Ball Torture
27. Ruined Orgasms
Ruined orgasms, as well as orgasm denial and orgasm control, can be a femdom torture idea.
Read: How to Ruin an Orgasm in the Name of Kink
28. Sensory Deprivation
Not being able to control sight, sound, or movement can be torture. Use a sensory deprivation hood, or extreme bondage like mummification, or lock him in an empty room.
Read: Sensory Deprivation Play for Couples
29. Chores
Why should she have to do anything herself? For this femdom idea, the submissive is not only her sexual slave but also a domestic slave.
Read: How to Be a Good Femdom Slave
30. Forced Orgasms
A femdom can deny, control, ruin, and edge orgasms, and force them as a form of extreme bondage and torture.
Read: Forced Orgasm Ideas for BDSM Play
Gentle Femdom Ideas
Femdom is popular with extremely kinky lovers and can be a very intense fetish! But there is lots of room to play with gentle femdom ideas.
Gentle femdom is good for those who want to please their partner but don't aspire towards sexual domination. These ideas are also good when both parties enjoy mild female domination but aren't looking for extreme kink.
31. Foot Worship
The foot fetishist and the submissive alike can agree on the beauty and power of worshipping at the feet of a goddess. Femdom foot worship can be done in stilettos, thigh-high boots, pumps, or strappy sandals.
Bare feet is just the thing for one of our readers who shares his tale of of femdom foot worship in this article:
Femdom Foot Worship and Executrix Play
32. Spanking
Spanking can be lighthearted and playful, a great gentle femdom idea, and sometimes a stepping stone to more serious impact play.
Read: How to Give a Kinky Spanking
33. Femdom Roleplay
From seductive stepmother to power-mad CEO to doctor and patient, role plays are tried and true ways to wade in or dive into any frame of mind.
Read: Femdom Roleplay Ideas for Submissive Men
34. Pussy Worship
Pussy worship via prolonged cunnilingus or oral service on command is a win-win, I say.
Read: Pussy Worship: How to Serve a Woman's Vagina
35. Woman on Top
Let her take what she wants when she wants it.
Read: 5 Kinky Woman On Top Sex Positions
36. Mommy Femdom
Nurturing and loving, this type of femdom is the all-powerful mommy!
Read: 5 Mommy Fetishes and Kinks
37. Dress-up
When she dresses the part of a goddess, latex queen, or slut in charge, he'll naturally assume the position he belongs in.
Read: Dominatrix Outfits and Femdom Clothing Ideas
38. Sensation Play
Not all kink is painful. Play with other sensations: hot and cold, prickly and soft, wet, fuzzy, tickle torment, and more.
Read: Sensation Play and Ideas for Beginners
---
I hope you've enjoyed these femdom ideas and found something new to try!
If you want to dive in to even more BDSM activities, read through our big list of more than fifty Types of BDSM Practices.
Interested in meeting a femdom or submissive guy to play with? I share ideas for meeting femdom play partners in How to Find a Dominatrix Near You.
Do you have any femdom tips or ideas to share? What's your favorite way to play?