Cuckold humiliation is an essential aspect of the turn on for many who practice cuckolding.
Humiliation play is intensely erotic for lots of kinky BDSM people, and cuckolding—the kink where a man's wife seeks outside sex because she isn't satisfied at home—is a popular humiliation kink.
For some cuckolds and cuckoldresses or femdoms, the idea or practice of cuckolding is humiliation enough. But for many, cuckold humiliation is an elaborate and varied part of the cuckold kink.
If that's you, you may be looking for a variety of cuckold humiliation ideas.
Still looking for local cuckold partners? See our favorite hotwife dating sites.
26 Cuckold Humiliation Ideas
There are many ways to humiliate a cuckold or submissive, including verbal cuckold humiliation ideas, public cuckold humiliation ideas, Big Black Cock cuckold humiliation ideas, and more.
Take in the whole list of cuckold ideas, or skip to your flavor of cuckold humiliation:
Voyeur Cuckold Humiliation
Visual witness of cuckolding is exquisite torture. A cuckold can be forced to watch his wife getting fucked by her bull!
1. Cuckold Humiliation Sexting
A cuckold sitting at home alone and horny can be humiliated with a barrage of sexts from his wife, teasing him with the blow by blow of what she's doing and what filthy things her bull is doing to her.
Send your cuckold texts and occasional pictures of you screaming in ecstasy, wet from excitement, or your bull's massive cock.
Read: Hotwife Texts to Send to your Cuckold or Hotwife
2. Make Him Watch
Even better, invite your bull over for a fuckfest and humiliate your cuckold with a live show. Let him see every inch of the action as your bull penetrates you in every orifice.
Read: How to Find a Bull for Your Hotwife
3. The Camera Man
Humiliate your cuckold by ordering him to film the live action. Make sure he gets closeups so you can replay your pleasure over and over.
4. Cuckold Porn
Make a video while you're doing all the things you don't do at home, and play it on repeat whenever you want to tie him up and humiliate him later.
Sissy Cuckold Humiliation
Don't let him forget he's not man enough to satisfy you.
5. Dress Him Up in Women's Lingerie
Since he's not man enough, humiliate him with feminization. Try dressing him in your finest teddies, negligees, stockings, and thongs. Maybe they're still soiled from your wet and wild juices from your latest session with your bull.
6. Sissification
Little girls are made of ribbons and spice and everything nice. Dress him in ponytails and bows, ballerina tutus, white patent leather Mary Janes, Minnie Mouse polka dots, and other little girl outfits. Force him to wear these around the house, or out shopping, or watering the garden—your call.
Read: Forced Feminization and Sissification Kinks
7. Begging for a Pegging
Sissification means treating him like the pussy that he is. He needs to be penetrated like a woman. Strap on a harness and dildo, force him onto his back, and tell him to spread wide while you take him. He won't take it like a man!
Read: Pegging Positions that Feel Amazing for Both
Cuckold Chastity Humiliation
What could be more humiliating to a cuckold than never getting any when you give it up to your favorite bull?
8. Chastity BDSM
A cuckold craves submission and control. Be the guide he needs by controlling his sex life. You decide when he gets to play, and how. He can only jerk off with your permission or your desire. He only gets to fuck you, if he's lucky, on your terms when you determine he can.
9. Cuckold Chastity Cage
Order him to wear a chastity device on his dick so that he can't sneak a feel when you're not looking. You have the key, you decide when to let him out.
Read: Male Chastity Play and Cock Locking Devices
10. Orgasm Denial and Control
You decide when and if he gets to orgasm, whether through masturbation, a pity fuck, or getting fucked by your strap-on—or bull.
Read: Orgasm Control and 9 More Orgasm Kinks
Femdom Cuckold Humiliation
Female domination means the woman controls her male submissive, in the bedroom and beyond.
11. Shop Til You Drop
Of course your cuck should pay for everything—you're the queen, and he's lucky to be your husband. Ask him to help you pick out some silky stockings and a nice lace bra that you're going to wear to drive your bull wild.
Read: Tips for Kinky Lingerie Shopping
12. Are You Sitting Down?
Make your cuckold sit down to pee.
13. Mani Pedi
Take him for a nail and toe painting that he can wear all the time or make him learn to do his own just the way you like it. He can rock his manicure when cleaning up your bull after sex!
14. Suck Off!
A hot humiliation tactic is strap-on dildo fellatio—make him suck you off.
Read: Femdom Ideas: 38 Ways to Dominate a Male Sub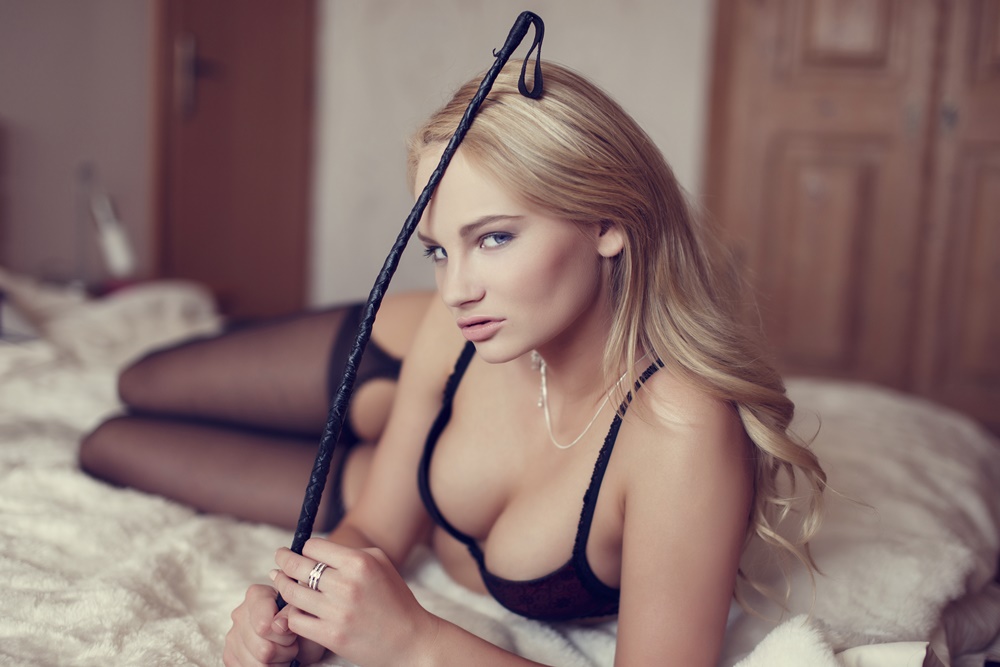 Small Penis Humiliation
Cuckold humiliation often revolves around small penis humiliation, regardless of what his size is.
15. Remind Him He's Not Enough
Make sure he never forgets his cock is too small. Let him know you can't feel anything.
16. Laughter Is the Best Medicine
For you! Laugh at his tiny dick, and mock him for not measuring up.
17. Make Him Wear Penis Enlargement Devices
Expect the cuckold to use a penis extension sleeve, and to try different enlargement toys.
Read: SPH Kink: 6 Small Penis Humiliation Ideas
Public Cuckold Humiliation
Cuckold humiliation ideas are intensified if they take place publicly.
18. Rock the LBD
The femdom or cuckoldress can wear a little black dress or sky-high stilettos to show off her assets to aspiring admirers at restaurants and museums.
19. Bad Dog!
When your cuckold has been uncooperative or just whines too much, scold him, and do it in front of strangers or his friends.
20. Date Night
When he's out with the boys, show up on a hot date of your own. Or book an extra table and make him eat alone when you are on a steamy night out with your bull. Make sure you're all over each other and that he can overhear your dirty conversation.
Verbal Cuckold Humiliation
The psychological aspects of cuckold humiliation are key to erotic pleasure and pain. Cuckolding does not always involve real-life "cheating" and can take place entirely in fantasy. Or the cuckold humiliation practice may be non-sexual.
Read: 5 Cuckold Roleplay Ideas to Try
21. Tell Him Everything
Telling the cuckold what went down in dirty detail—true stories, or fantasy fucking.
22. Belittle Him
Whether you degrade him verbally for his useless small dick or dorky manners or his pathetic hope that you might want to fuck him later, words are weapons.
BBC Cuckold Humiliation
A specific kink for Big Black Cock is often part of cuckolding, related to racial taboos, small penis humiliation, and so on.
23. Watch BBC porn together
Watch while mocking his small penis. Fantasize about taking his huge black cock.
24. Show Him How It's Done
Let him watch you get your ass rammed with his BBC, especially if your cuckold never gets anal.
Read: All about the Big Black Cock Fetish
Cuckold Cum Humiliation
The ultimate in cuckold humiliation is making him perform cleanup.
25. Rub His Face in It
Just in case his eyes have been deceiving him, or you've been exaggerating your flings, you can rub his face in the cum evidence, quite literally, to drive home your bull's bullseye.
Read: 7 Ways to Enjoy Your Cum Fetish
26. Cum Cleanup
Your cuck can clean up your bull's cock, shower off your pussy, wipe the cum off the sheets, and take care of the laundry.
The most humiliating act a cuckold can do is to lick clean your bull's cock, your pussy, and the soiled linens.
Read: 35 Hotwife Challenges and Dares from Mild to Wild
Let's hear it from cuckolds and their queens. How does humiliation factor into your relationship? We want details!