Want to know more about femdom pegging play? Looking for ideas and inspiration?
It can take time to find the right strap-on harness and pegging dildo, the right pegging positions and submissive poses, to find what works for both Domme and sub. But once you do, femdom pegging often becomes a regular part of their kinky play. And why not, if it feels great for both!
Pegging may be part of your routine, but you don't want it to become routine! Imagine thinking about your to-do list while getting it from behind? To avoid this from happening, shake things up with the full variety that female domination can offer.
15 Femdom Pegging Ideas
If you still need a pegging partner to try out all these kinky ideas with, be sure to check out our favorite pegging dating sites.
1. Femdom Chastity Pegging
Chastity play can be a big part of a femdom's game, controlling when and where and how her sub has sex—masturbation and with her.
Chastity pegging is a surefire way to supercharge femdom pegging and involves him wearing a cock locking cage or other chastity device while she pegs him with a strap-on, so he cannot touch himself but only be stimulated by his domme.
Read: Chastity Play: 4 Reasons It's So Hot
2. Feminization Pegging
Humiliation and degradation come into play with feminization pegging which may be part of sissy training.
A femdom might use verbal insults or admonishments to remind her sub who's boss in the femdom relationship while pegging him with a strap-on. He might be forced to wear feminine clothing like a skirt she can lift to take him from behind.
Read: Forced Feminization and Sissification Kinks
4. Forced Pegging Play
Forced pegging is but one kind of consensual non-consensual (CNC) kink that dommes and subs engage in.
CNC kinks are agreed upon, sometimes in BDSM contracts, ahead of time so that the play is not ruined by time-out talks. The femdom can force her sub to take a good pegging as punishment, reward, or in a kinky role play.
Read: CNC Kink: 10 Examples of Consensual Non-Consent Play
4. Bondage Pegging
Another way to take your femdom pegging to another level is to tie your sub up before the fun begins. There's nothing more satisfying for a femdom than having her submissive at her sexual disposal.
Tied up with his ass in the air, she can peg him without any hands getting in the way or sudden movements. She may want to add a ball gag to the mix to minimize his verbal protestations.
Read: Pegging Positions that Feel Amazing for Both
5. Orgasm Control and Edging
A femdom will want to control how good the pegging feels, and how soon her sub comes. To supercharge the pegging experience for both, she can pull out when she feels he is close to orgasm, only inserting the dildo again when she feels he can take more. Edging over and over will lead to a maximum cum explosion.
Read: Orgasm Control and 9 More Orgasm Kinks
6. Orgasm Denial
If you're a femdom who loves to edge your submissive, why not take it to the max, and not let him come at all!
Your sub will hate you for it, but only for a little while, until he pleads for another round of pegging. Slide it in and give him a taste, but then strut around him, waving your dick while he begs you to peg him. Sadly, he will have to wait…
Read: Orgasm Denial: 8 Games and Ways to Play
7. Pegging Roleplay Scenarios
If your femdom pegging routine has become just that, role playing can add all kinds of fun and games to the mix. You can bring other toys and gear in, act out classic D/s scenes that involve medical fetishes or BDSM torture. Taking on other personas can lower inhibitions that will take your kinky sex to new heights.
Read: Femdom Roleplay Ideas for Submissive Men
8. Pegging as Punishment
Even though pegging is something that feels good, it can also be used as a BDSM punishment, especially if a submissive isn't all that into it.
Maybe you only peg him when he's a bad boy or has failed to follow your rules. Maybe the pegging punishment is less gentle than usual and involves some deep thrusting.
Read: 10 Ways to Be a Good Femdom Slave
9. Combine with CFNM Kink
Adding the Clothed Female Naked Male (CFNM) kink to femdom pegging will up the humiliation factor. A fully clothed woman dressed in head-to-toe femdom gear (think latex and leather, stilettos, mask) can take absolute charge of a pegging scene when her sub at his most vulnerable, completely naked.
Read: CFNM 101: The Clothed Female Naked Male Kink
10. Pegging Small Penis Humiliation (SPH)
Small penis humiliation works perfect for femdom pegging because no doubt her swinging dick is much bigger than his. She can literally smack it on his ass to remind him, before sliding it in one inch at a time. All the while she can verbally insult his tiny cock that fails to satisfy her. Ouch.
Read: SPH Kink: 6 Small Penis Humiliation Ideas
11. Add Spanking or Flogging
When you've got someone's ass splayed right before you, fucking it is but one thing to enjoy. Take that femdom pegging experience to another level, by bringing out your spanking tools and favorite flogger. Own that ass, and leave your mark.
Read: Flogging for Beginners
12. Have Him Suck a Dildo
Femdom pegging involves a good boy submitting to your big ass cock and whatever else tickles your fancy. Watching your sub suck on a dildo, moaning and drooling will please you to no end. It's turning the tables on classic double penetration, and he must obey.
Read: Strap-On Dildo Guide: 9 Types of Pegging Dildos
13. Femdom FMM Threesome
Why not have two subs there to command, and peg? Femdom pegging is double the fun with two men present. Forget sucking a dildo, you can order these subs to suck each other off for your pleasure. Tie them up, spank them, and peg them. Just remember to use separate dildos for each, for safe sex.
Read: 15 Threesome Ideas for Kinky People
14. Sensory Deprivation
A simple way to ratchet up a femdom pegging scene is to put a blindfold on your sub and engage in some sensory deprivation play. Nothing builds excitement more for a submissive than the anticipation of not knowing what is going to happen next. Have him also wear ear plugs if you don't want him hearing you prowl about or change to the BIG dildo!
read: Femdom Ideas: 38 Ways to Dominate a Male Sub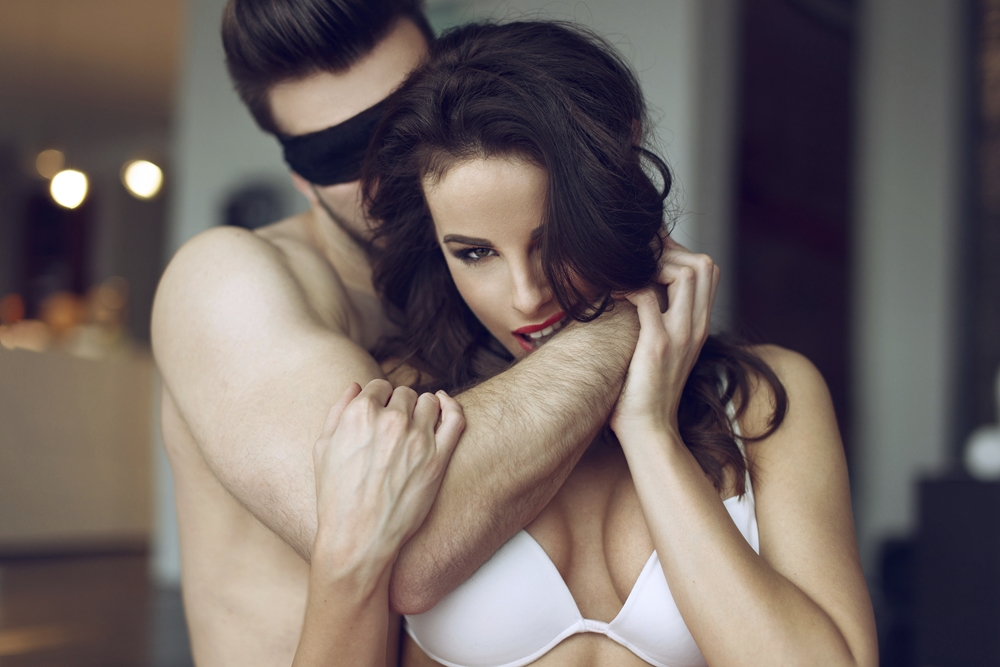 15. Gentle Femdom Pegging
An intense femdom pegging experience doesn't always mean going bigger, being more dominant, or administering harsher punishments, especially if that's your norm.
Gentle femdom is its own style and has its place in all kinds of D/s scenes, including pegging. A gentle pegging experience can be sensual and sexy and a perfect way to introduce your sub to pegging or into a new D/s relationship.
Read: How to Find a Femdom Near You
What's your femdom pegging fantasy? Dare to share.