Curious about CNC kink and looking for consensual non-consent examples?
No doubt you have heard or read about common kinks or fantasies that seem to contradict ethics or the boundaries of SSC play. (Safe, sane, and consensual.)
Maybe one of your girlfriends confessed that she fantasized about being raped, a widespread female fantasy. Perhaps you saw a video where a submissive was forcefully pegged after shouting "no" very clearly, and you weren't sure if a line had been crossed.
You may have also reasoned that we all have dark fantasies, but the fantasy of rape is of course a whole different ballgame than actual rape. A woman who fantasizes about rape play and being overpowered is actually controlling the whole scenario, from who does it to where and when. It isn't really rape anymore, even if you both pretend it is.
The rape fantasy is a good example of what is called consensual non-consent, or CNC play.
Let's take a closer look at the meaning of CNC kink, and ten examples of consensual non-consent play.
What is CNC Kink?
Consensual non-consent kink, or CNC play, happens when someone gives their consent in advance, and then is free under certain terms to resist, say no, struggle, and act out as if they are being taken against their will.
Such consent is sometimes called meta-consent or blanket consent, meaning "comprehensive" consent is given in advance of a play session, or entirely to a specific person or persons.
A submissive will often give comprehensive consent to their domme to "do with me what you want, when you want."
Read: Should Sexual Consent be Implied or Expressed?
Boundaries, limits, and other possible terms will be established discussed in detail. Perhaps the sub does not give consent to anal penetration with another person, or to be kidnapped and bound when they are at work. The boundaries may be sexual activities that are not allowed, time frames, or circumstances.
Usually safe words or safe gestures are also understood so that consent can be revoked any time.
Read: Boundaries to Discuss in BDSM Relationships
If we use our CNC play example of a rape fantasy, and a woman asks a man to participate in this fantasy, it becomes consensual non-consent.
However, let's say he calls a friend and asks him to come over while she is restrained and rape her. Now it is rape, not consensual non-consent. Because she did not consent to sex with or rape fantasies with the second man.
David J. Ley explains in Psychology Today: "The ideas of CNC are an exploration of power, and the eroticization of completely giving up all power, and putting oneself completely in the hands of another. While this idea is terrifying for some, for others that terror translates into a powerful erotic rush."
10 CNC Kink Examples
Consensual non-consent is where we control how our darker fantasies will be played out..
1. Love Slave
Perhaps the most common consensual non-consensual kink is more commonly known as submission in BDSM. The master and slave relationship, or dom-sub, or top and bottom, or sadist and masochist, and many other names and styles are a familiar staple of kink and BDSM. Power dynamics in sexual relationships and acts are arguably the very backbone of kink.
Someone who volunteers to be submissive, a slave, a masochist, or a bottom to someone is essentially giving consent to your power play. It works the same—a sub gives verbal consent and sometimes written consent to a dom or domme. The terms are communicated—what is desired or allowed, and there are safe words or gestures like a tap that can release them if they are uncomfortable or not loving it.
Read: How to Find a BDSM Slave or Master
2. Humiliation and Cuckold Kink
Some submissive lovers get off on humiliation, which could be physical and sexual, or psychological. If a sub wants to be abused, neglected, mocked, or tortured, they must give consent in advance, either at the time of the play before it begins, or a blanket consent to a specific lover.
A very old form of CNC kink is the cuckold kink, always popular. Basically, this is where a male is humiliated by a lover screwing around. He feels like he isn't man enough and she needs other lovers to be satisfied, but he gets off on the humiliation or the idea of her getting fucked elsewhere.
Being a real cuckold is a big ouch. But cuckold kink is incredibly hot for many couples who love opening the bedroom door—for her.
Read: Cuckold Humiliation Ideas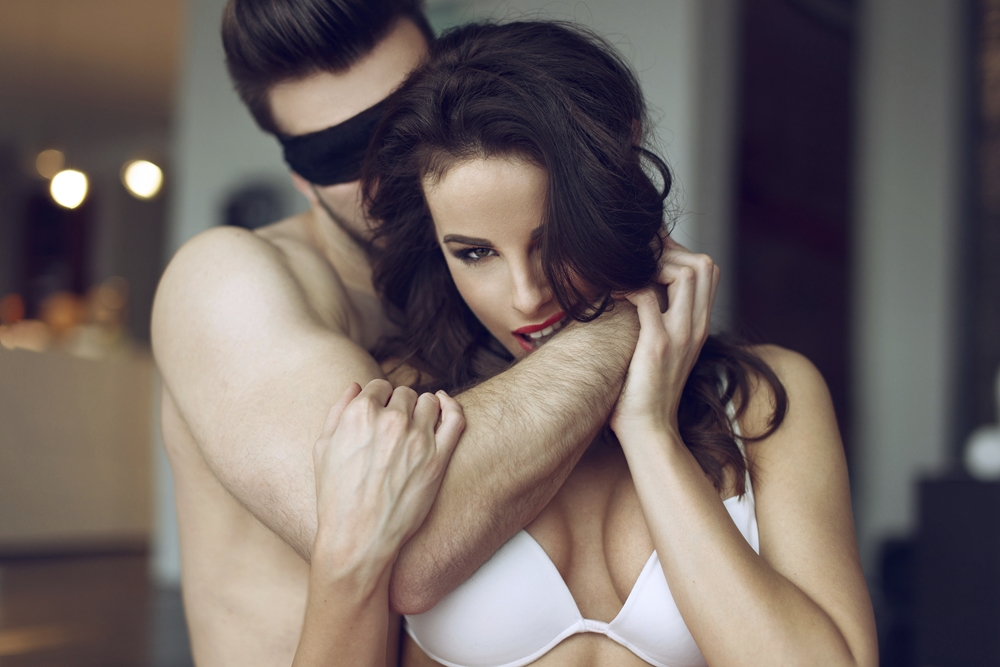 3. Femdom/Sissification
Some would argue that female domination is as old as kink itself, and they have a point—goddess worship, male sex slaves, and the thrill of submitting to a dominatrix are popular kink staples. But there has been a surge in recent years of specific interest in sissification and extreme femdom submission. Basically, a man consents to being dominated, abused, enslaved, tortured, or humiliated by a goddess or mistress figure.
Femdom and sissification are humiliation plays aimed at masculinity. A man is mocked for a small penis, made to dress up as a female or baby, sometimes forced to cater to a domme's male lovers. The terms of such a relationship are necessarily navigated in great detail.
Read: Find a Femdom Seeking Submissive Men
4. Penis Humiliation
One specific humiliation of sissification but also of other BDSM plays is penis humiliation. This can involve mockery, disgust, or physical abuse. Consent is given before play or in general to a lover.
Read: About Small Penis Humiliation (SPH)
5. Rape Play
Rape is a very common female fantasy and men, too, fantasize about rape. But many, if not most, women, fantasize about being ravished, overpowered, surprised, abducted, or made into a sex slave.
Their fantasy is not reality, first of all, so role playing a rape does not change that. She gives consent to play out the fantasy with a trusted partner, which is not the same thing as a random brute that stalks her on the bus, that she did not choose.
Read: Should You Indulge Your Kinky Date's Rape Fantasy?
6. Group Sex
Another CNC kink example may simply be consenting to sex with other people in advance. During sissification rites, a domme may bring in her male lover to humiliate her submissive through anal penetration. He consents to this in advance.
You may enjoy being coerced or manipulated into a threesome.
You might like to say no, no, no, but really do want your wife's girlfriend to sit on your rock hard dick.
Read: How To Find Group Sex
7. Incest Kink
Family and step-family incest are extremely common porn fantasies and you'll often see seduction videos or "Mommy made me" scenarios.
Role playing incest power struggles is a common CNC kink.
Read: Incest RolePlay: Mother Son Fetish
8. Sleep Fetish
Many married couples or long-term lovers have an implied consent arrangement when it comes to "sleep sex".
For example, if a hookup date starts things up while I'm sleeping he'll get a bloody nose, but a live-in partner understands that I am "available" while I'm sleeping. I find it extremely erotic to wake up to being touched or him jerking off and fingering me. It's a lovely way to be roused from sleep—aroused, you can say that again!
Read: Sleep Fetish Tips and Facts
9. Authoritarian Role Play
Another CNC kink example is roleplaying with a dominant in a "position of "power", an erotic power dynamic.
Some common role plays that explore this are age play, doctor and patient, teacher and student, seduction by another man's wife, boss and employee, and prison guard and inmate.
Read: BDSM and Bondage Roleplay Ideas
10. Abduction Fantasies
A powerful erotic scenario and CNC kink example is the idea of being taken against your will. This can include the full narrative and context of an abduction. It could be alien abduction, or ISIS, or a local perv who picks people up in his white van with dark windows. Playing abduction games with full costume and props can be incredibly hot, with adrenaline making it addictive. The drama of it feels like you're in a movie.
Clearly consent has to be given about matters like "when can this take place" and "can the kidnapper send another driver" and limits to the scenario that might trigger the abductee.
Read: Sexual Roleplay: A Guide for Beginners
CNC Play in the BDSM Community
While many women—and men—may find it difficult to ask for and admit to a desire to be overpowered, kidnapped, raped, abused, or humiliated, the CNC kink works both ways. It is also difficult to ask for and fulfill your fantasies if you like to be the one in control.
Dominating and overpowering another person sexually and controlling them can be incredibly exciting for any top, but even in the open-minded kink communities, looking to fulfill such fantasies can have someone branded toxic or abusive.
Read: Edge Play: Taking BDSM too Far?
Yet CNC kink is really just the same old BDSM as it's always been, and really, the same old vanilla. Human sexuality is all about the dance of seduction, power, and submission.
In the old Marilyn Monroe song, "Do It Again," she coos "I may say no, no, no, but… do it again…" There was the uproar about the Christmas song, "Baby It's Cold Outside," because it was about a man begging to come in from the cold and she was telling him no.
The game has always been about chasing that consent. Only when one party takes what they want before the consent is finally given is it non-consensual!
The dance itself, seduction itself, is about this push-pull dynamic. Even monogamous married couples are all about, say, him begging for weeks. Or on the flip side, a married friend of mine admitted that she likes to be taken by surprise and has an ongoing arrangement that if her husband is horny, he can take her while she's sleeping.
Read: BDSM and Total Power Exchange Relationships
CNC Kink Controversy
Is consensual non-consent an oxymoron? It is controversial in both kink and vanilla communities. Some are on the side that claims it is dangerous to dabble in non-consent because being kinky and identifying with the kink community implies being "ethical," and a huge part of that is consent.
On the other hand, some advocate for what they see as an obvious right to sexual pleasure and identity however it manifests. Giving consent to non-consent is always consent, and partners must abide by the consent boundaries, so denying an adult their autonomy and right to sexuality is wrong.
Read: Ethical Kink: 7 Values for Responsible Dating
The main CNC controversy is whether someone can really give consent in advance or comprehensively. Some say such fantasies are in and of themselves the products of grooming, abuse, or disordered thinking.
The idea is that if a man loves to be humiliated and take pain from his mistress, it must be because his mother or someone else harmed him. But autonomy advocates would say, "so what if this is true?" After all, does he not have his right to his sexuality, however it may play out? If he wanted to be tenderly touched and held, is that not also because he was harmed by his home and childhood?
Read: Healing Through Sexual Role Play
Remember, all CNC kink must first entail communication, then boundaries and limits that are adhered to—something real-life non-kink seldom practices. This is obviously a big difference, because such discussion immediately changes non-consent to true, authentic consent. For most sexual transactions, consent is actually guessed at, not spelled out.
Read: Why Kinky Sex Is Safe Sex
Do you have a CNC kink? Please share your thoughts or experiences in the comments.