Are you curious about, or want to be a gentle femdom? Take a closer look and get some gentle femdom ideas to try out.
Femdom is a new expression for one of the oldest turn-ons in the book. You could say that female domination for the sexual pleasure of women is one of the great gifts to the sexual pleasure of men! Gentle femdom, or GFD, is one variation.
Femdom is a whole world of kink, with a range of practice and play from vanilla to BDSM. Those who are not into extreme kink or into giving or receiving pain may also be into femdom. Painless femdom practices abound, and painless female domination play is sometimes called "gentle femdom."
What Is Gentle Femdom?
Gentle femdom or GFD is female domination, either as a sexual play or as a lifestyle relationship, but without the extremes of pain, humiliation, harsh punishments, and degradation that some femdom fans are turned on by. It can be perhaps best understood as caring domination.
Female domination is not dependent on pain or on extreme kink practices. While many femdom fetishists as dominant or submissive parties are turned on by sadomasochism, extreme humiliation, sissification, and emasculation practices, all of these can be mild, moderate, or even avoided, depending on the taste of the domme and her submissive male. In other words, these can be gentle femdom!
Gentle femdom may often focus on female power play using more nurturing roles for the female dominant, such as nurse, mother, doctor, teacher, and so on. Roleplay is an important part of gentle femdom and female domination in general for many. By playing as mother, nurse, or teacher, a femdom can assume a great deal of power and authority over her sub while using only mild pain and punishment tactics.
Read: Femdom Roleplay Ideas for Submissive Men
In the role of caregiver, she has control and may use nurturing techniques or withhold them to exert her authority rather than pain. Gentle, or soft femdom play often uses milder versions of pain, punishment, humiliation, and discipline.
The softer version appeals widely to both men and women who find femdom natural and exciting but who are not hardcore in their tastes.
Read: Find a Femdom Seeking Submissive Men
Why Practice Gentle Female Domination?
While femdom is often associated with rougher play, there are many more who are just as into femdom and may not have called it that due to its kinky association with hardcore fetishism. GFD or soft femdom works better for these lovers.
Female Domination is Natural
Many men and women and many nonbinary folks too see female sexual power as totally natural, and in fact, may view patriarchal hierarchies that suppress female power as a response to this natural state of sexual power!
While men are traditionally stronger and more likely to be CEOs or presidents, the reality is that women's power is almost mystical. Women hold the power over life and death, and both mother and whore reign over their respective stratospheres.
There is no heterosexual man on earth who does not find the idea of the woman initiating sex, craving sex, or demanding what she wants insanely hot.
So many lovers might practice gentle femdom because it is the natural state of sex in their minds.
Read: Why You Should Let Her Dominate You
A Gentler Form of BDSM and Roleplay
Gentle femdom also appeals to those who enjoy role play and power play but who aren't aroused by inflicting or receiving pain, or who find S&M kinks a turn-off. Not everyone finds ritual catharsis or arousal from pain and violence, even in playful simulations.
Those who enjoy kinky creativity but are more attracted by caregiving, nurturing, affection, role play, and non-painful kinks will find much to satisfy their bodies and souls in gentle femdom.
Read: Want a Femdom Wife? Help Her Become a Domme
Gentle Femdom can be Empowering
Gentle femdom can also be fun, exciting, and even cathartic or transcendent for women dipping their toes into power.
Gentle femdom for women coming out of submission or painful experiences of real bondage and violence is empowering. Without pathologizing all kink, it is still realistic to acknowledge that most sex is a stage where we process big issues and social and personal patterns.
Gentle femdom will also appeal just as much to any kinky lovers or fetishists who are into all kinds of BDSM practices, including S&M, bondage and discipline, sissification, and more, just not to the extremes.
Read: BDSM Ideas: The BIG List of BDSM Play
10 Gentle Femdom Ideas
There are as many gentle femdom ideas as there are femdoms and subs. Here are a few to get started with, but use your imagination and your unique kink profile to explore this wonderful world.
1. Mommy Play
Role play with a loving mommy figure is a popular form of gentle femdom. Mommy rewards good boys for perfect authority rather than just punishing them.
2. Nurse Role Play
Another kind of role play that is popular in gentle femdom is female doctor or nurse play.
Read: Doctor-Patient Role Play Ideas
3. Foot Fetish
Worshipping feet and controlling a male sub with sexy feet, boots, stilettos, and sandals is one of the most common kinks across the board, and it's pain-free and hot!
Read: Foot Worship Ideas: How to Adore Her Feet
4. Dress You Up in My Love
Cross-dressing or mild humiliation by wearing women's clothing is an old taboo for guys and therefore a common fantasy. Handling women's lingerie and wearing her intimate attire is a jolting thrill and puts the command in her hands.
5. Gentle Femdom BDSM
BDSM always ranges from very mild, such as holding his hands above his head while she mounts him, to extreme, such as mummification. Loosely tying a lover's hands with a scarf or blindfolding him with that same scarf can be a gentle expression of extreme possibilities.
Leash, collar, rope arts, and all kinds of bondage and possession games can be mild to moderate and wildly exciting.
Read: BDSM Roleplay Ideas and Scenarios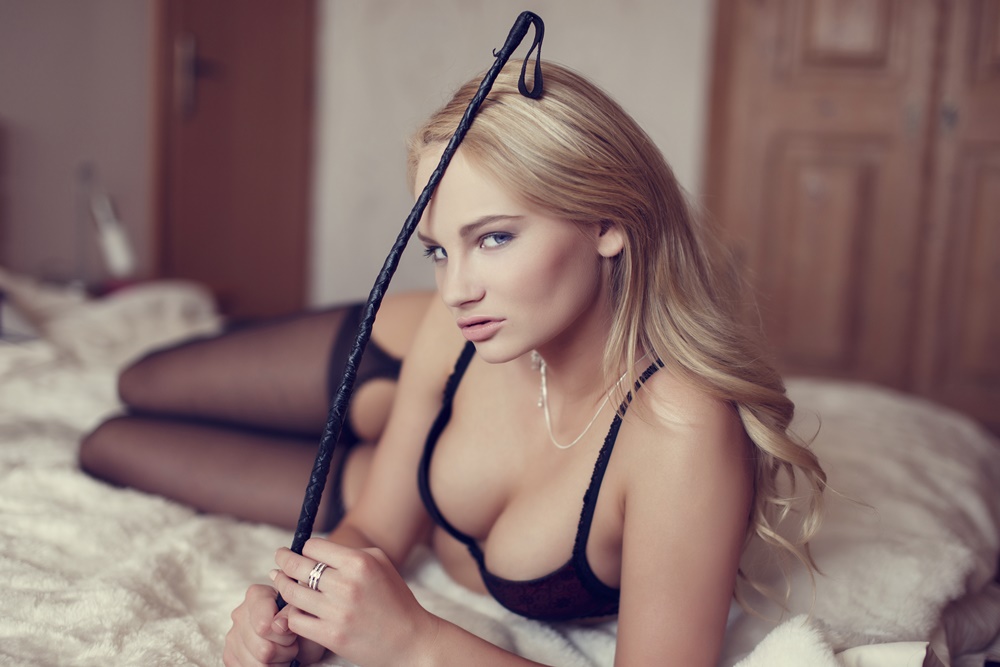 6. Spanking
While the art of punishment can be intense, spanking is a playful flirtation that is popular with both vanilla and kinky lovers.
7. Non-Sexual Femdom
Gentle femdom can extend to a lifestyle or occasional games. Female domination can include following her orders and commands and instructions—from what you're allowed to do on your day off to choosing your clothes.
Read: 4 Types of Female-Led Relationships (FLR)
8. Female Exhibitionism
You worship while she performs.
10. Orgasm Control
Orgasm control, orgasm edging, orgasm denial, and the ruined orgasm are all orgasm kink plays that can be part of gentle female domination.
Read: Orgasm Torture Tips for BDSM Couples
9. Female Voyeurism
Follow her instructions when she wants you as a private dancer. Maybe she wants to watch you pleasure yourself.
Fore more femdom ideas, read: Femdom Ideas: 38 Ways to Dominate a Male Sub
Do you enjoy gentle femdom? Tell us how you play.