Are you building or furnishing your BDSM dungeon?
If you have a designated sex room or BDSM dungeon, you may already have dungeon furniture and other S&M props like whips, restraints, and wardrobe items in place. If you are just starting to create your dungeon, or need more BDSM furniture, you may be looking for dungeon furniture ideas.
There are lots of pieces of bondage furniture that you can use to train your slave, bring pleasure and pain to your submissive, and explore all kinds of BDSM play.
10 BDSM Dungeon Furniture Ideas
Here are ten BDSM furniture ideas for your home dungeon!
1. Saint Andrew's Cross
The St. Andrew's Cross is a staple of dungeon furniture. It is a piece of standing BDSM furniture, human sized or larger, and X shaped. It is often made of wood, steel, or aluminum.
The Saint Andrew's Cross is so named because Saint Andrew was crucified on a cross in an X formation rather than a t formation.
The St. Andrew's Cross is also known as the X Cross, the X Frame, the saltire cross, or the saltire.
The purpose of the St. Andrew's Cross as BDSM furniture is for standing bondage of a submissive. It is usually fixed to a wall or specially designed with supports that allow this dungeon furniture to be free standing.
It comes with built in loops, rings, and caches for various restraints that allow the dominant to easily bind their submissive or slave to the cross. The submissive can be facing the cross, a great bondage position for whipping and spanking, or facing their dominant, for front side torture and punishment play.
Read: Sexual Punishments for Your BDSM Submissive
2. BDSM Cages
Cages are a staple of BDSM furniture in dungeons. Human-sized cages are the ultimate way to restrain, train, confine, and punish your slave.
A cage is exactly what it sounds like—a box shape of metal bars that confine and trap. Cages are generally used to trap, confine, house, or transport an animal. BDSM cages are designed to fit a human slave or submissive inside.
BDSM cages can be puppy cage-like or special jail cells replete with house furniture such as a coffee table, so the dominant can enjoy their morning coffee while keeping a close eye on their submissive.
Read: How to Find a BDSM Slave or Master
3. Stockades
A stockade originally referred to a kind of security fence or fort, devised with posts to secure soldiers or booty from the enemy. It kept people in and people out.
The concept was made more personal to imprison someone in a portable way—by building a wooden device to put the prisoner's head and hands through, a person could be restrained and handicapped anywhere. Often, the prisoner would kneel, with their head and hands held in place with a grooved device and a matching side lowered down to lock them into place.
A BDSM stockade is a kind of dungeon furniture that will lock a slave or captive's head and make it immobile. A hanging dungeon stockade can tether someone in a standing position by cuffing their neck. They can also be in a kneeling position and have their head restrained by a floor stockade.
Elaborate BDSM stockades are built to place a submissive on all fours and restrain their neck, while also using metal bars that can chain feet and hands. They may be equipped with spreader bars, scavenger's daughter style torture devices, and a penetrating or impaling device with a dildo for fucking.
Read: Tips for BDSM Without a Dungeon or Gear
4. Bondage Horse
A bondage horse is BDSM furniture for a submissive to straddle, like a horse. It comes as a padded barrel, or as various bench-styled equipment that can be straddled, with steel loops for restraints. Some are curved or adjustable for various positioning.
Read: Bondage Ideas: Types of Bondage Play
5. Suspension Bondage Frame
A suspension bondage frame can be a simple steel tripod or a more elaborate construction, built to hold human weight, and allowing for various ropes, chains, and restraint devices. The submissive can be suspended by simple handcuffs or in various hanging positions, full body or body parts.
Read: Suspension Bondage for Advanced BDSM
6. Spanking Bench
A spanking bench is BDSM furniture that supports the weight of a human submissive with ass facing up, and allows for the option of various kinds of restraints.
Read: Best Spanking Tools to Use in BDSM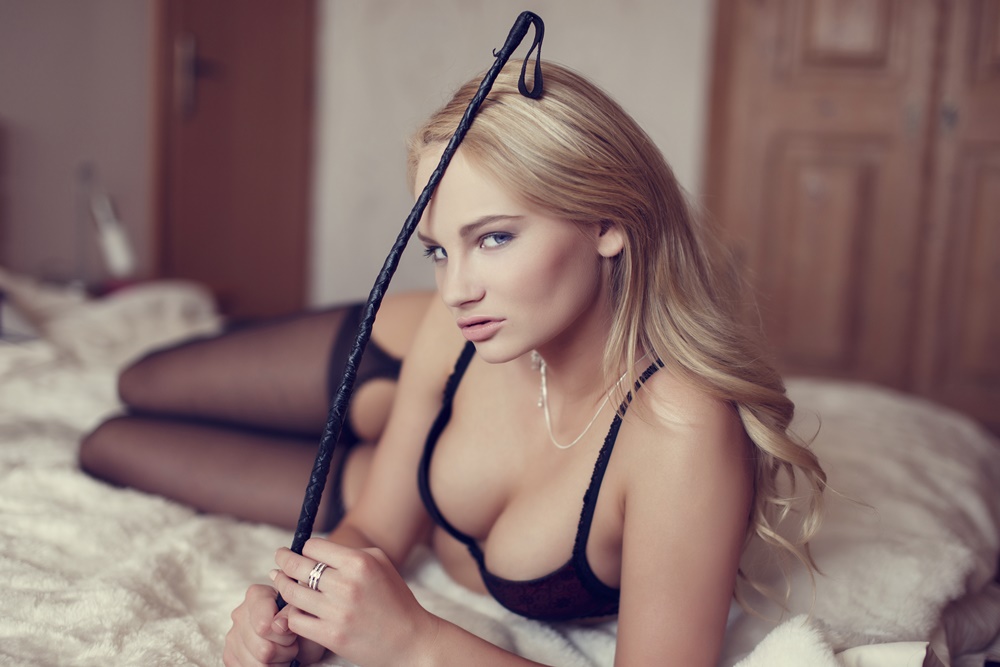 7. Vacuum Bed
The ultimate in bondage and discipline is total bondage of the whole body, a mummification style experience with latex. The vacuum bed delivers whole body bondage, with air holes for safe breathing.
Read: Mummification Bondage Techniques and Safety
8. Sex Machine
The sex machine has a moving, penetrating mechanism that attaches to a dildo. It's considered a more heavy duty piece of BDSM furniture that many kinky couples love to furnish their dungeon with.
The sex machine can be a simple framework that supports a mechanical penetrator, and it can also be part or attach to another type of dungeon furniture such as a stockade. The sex machine can be mechanical, electrical, or robotic, controlled by a computer!
Usually, the dominant can change the dildo attachments to larger or alternate-style dildos.
Read: Kinky Ways to Use a Dildo with Your Lover
9. Slings and Swings
Slings and swings are part of all kinds of sexy rooms. They can offer accessibility for people with disabilities or pain, or be part of a repertoire of dungeon furniture.
A simple sling can help support someone. Or it can be more sophisticated, solid and secure, to completely suspend human weight. BDSM furniture sex swings are designed for various styles of restraint and bondage.
Read: Bondage Restraints: Types of Bondage Gear
10. Dungeon Bed
The BDSM dungeon bed is the ultimate in dungeon furniture. It is a modern, handsome looking bed frame for your mattress, but can support swings and slings and human suspension. It is equipped with versatile bars for all kinds of bondage, and steel loops that ropes and locks can be affixed to.
By moving the mattress aside, it turns into a cage or offers standing and sitting bondage options. It is an investment that offers versatile alternatives to other furniture and is more discreet when not in use, as well as a space saver for those who don't have room for all of their BDSM furniture desires.
Want to take a look at the best in BDSM furniture?
View Dungeon Furniture at Stockroom.com
Do you have a dungeon or enjoy BDSM furniture? Dare to share!