Looking for sexual roleplay ideas? That's great!
We write a lot about roleplay here at Kink Lovers, and this article puts together some of our favorite roleplay scenarios and ideas. You'll also find links to many other roleplay resources for those with specific kinks.
Pretending is fun, especially in the bedroom. Dressing up and acting out imaginary roles increases arousal and is a great way to shake things up. Pretending to be someone you're not can be very freeing, and allows couples to shift their power dynamic safely.
Explore our list of sexual roleplay ideas:
Classic Roleplay Ideas
To get started, try one of these classic sexual roleplay ideas.
1. Doctor-Patient Roleplay
Your patient has come to you with worries that something isn't working down there. She hasn't been able to get wet in a long time, no matter who she's with.
You ask her what she thinks you can do to help, and she suggests you take a look down there. You're only too eager to oblige, but still hesitate, you wouldn't want to seem unprofessional. A thorough examination follows.
Read: 4 Doctor-Patient Role Play Ideas
2. Hitchhiker Roleplay
Have her call and tell you where to pick her up at a specific time after work. When you drive out to meet her, she'll be standing on the side of the road, pretending to hitchhike (wearing an extremely enticing and outfit).
Pick her up and play strangers, slowly flirting and becoming familiar as you drive. Eventually, you pull over in a secluded spot, jump in the back seat, and get it on like wild animals!
3. Prisoner Of Love
Dust off that sexy police outfit or go out and buy your woman one. Trust me, there is nothing sexier than playing prisoner to a dominating policewoman.
Get locked in your "cell" and be punished for bad behavior. A great scenario for sub/dom and bondage play.
Read: Femdom Roleplay Ideas for Submissive Men
4. Teacher Student Roleplay
Your student has come to your office after hours displeased with her mark. She worked very very hard on her paper and you refuse to change it. She breaks down in tears, and pleads with you. She will do anything for you to change her mind. Anything? You act offended that she thinks you would sleep with a student, but you can't help yourself. Try reversing roles.
Pretend you're in a classroom and one of you (playing student) has behaved very badly. This opens the play up for some light corporal punishment, spanking, scolding, etc. You can also play the college professor tutoring your student and slowly move from mathematics to the art of seduction. Totally hot!
5. Kinky Sleep Roleplay
I love playing the role of the sleeping lover where my woman finds me unconscious and starts to have her way with me. I pretend to wake from dreaming into a sexy reality. Make sure you take turns though, it's only fair.
Read: Sleep Fetish: Somnophilia Tips
6. Sexy Robot Roleplay
One of you pretends to be a robot who is completely under the control of your creator. The robot will do anything their creator orders.
The possibilities are endless with kinky robot roleplay!
7. Fitness Instructor and Client
She has come to the studio in a very skimpy outfit, short shorts, and a teeny t-shirt. She's already sweating before you begin.
She's complained about her lack of flexibility and you are more than helpful with stretches and bends. Your hands run themselves along her warm, lithe limbs. You suggest she take off her shirt, so you can make sure she is using the right muscles.
8. Photographer and Model Roleplay
A housewife has come to your studio to take photos in lingerie to give her husband, hoping to spice up her marriage. She's brought a teddy to wear, but you suggest a few things you have on hand – a lace bra and thong. She reluctantly agrees.
While taking pictures, you encourage poses, each sexier than the next. Her repressed needs can't be denied as she eventually becomes naked, encouraging you to pose with her.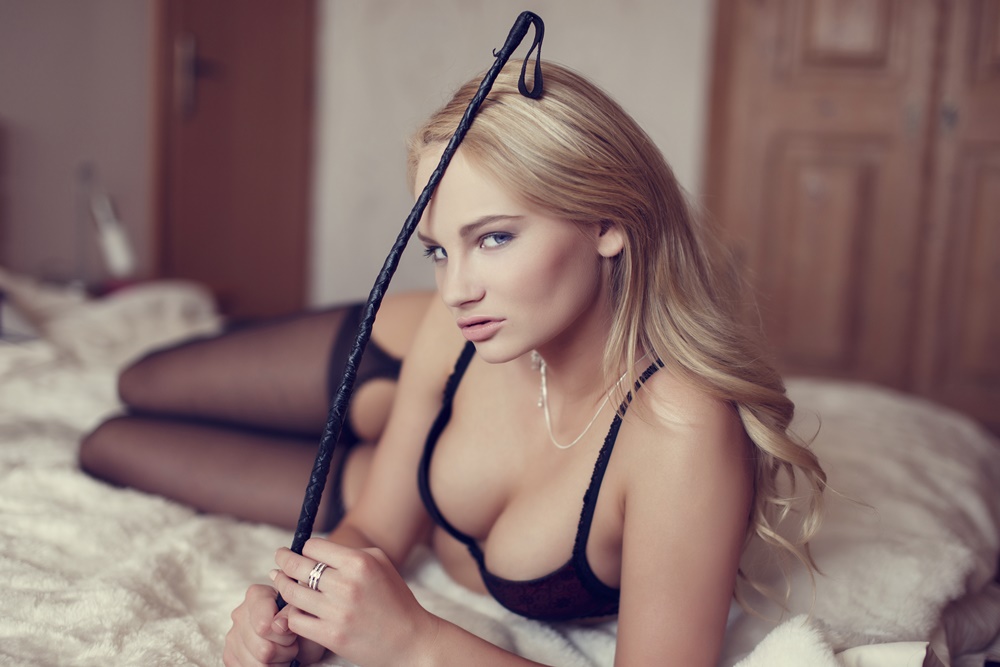 Roleplay Ideas Around the House
If you've been living with your partner for years you may find your sex has become routine. Roleplay is a great way to liven up any relationship, and bringing your play to other parts of the house can result in sex that is anything but routine.
Here are different roleplay scenarios to try in each room. And you can easily switch the dom-sub roles depending on who likes to take the lead!
9. Living Room: Real Estate Agent Roleplay
Your client has come to the house for a tour and is very interested in what you have to offer. She dresses sexy and suggestive, no panties under her fitted skirt. Her see through blouse is unbuttoned low.
You give her a tour, room to room, explaining the benefits each one has to offer as a sexual playground. After you've shown her the layout, you ask her which room interests her the most. Or perhaps you offer a deal on the house if she submits on the rug in front of the fireplace.
10. Office: Boss Employee Roleplay
The accountant was late again with her sales report and needs a little discipline. Spanking her over the desk is one way to show her who's boss.
Read: 8 Kinky Boss-Employee Role Plays
11. Bathroom: Lonely Housewife Roleplay
Nothing beats the good old roleplay of the plumber and housewife scenario.
The handyman rings to fix the leaky faucet in the tub, but to his surprise, a horny housewife awaits naked in the shower. Good clean fun ensues!
Pretending to have an unexpected encounter is what makes this classic roleplay scenario so hot.
12. Kitchen Roleplay: Restaurant Owner and Chef
The cook wants to show her boss just how good she is with her tools. This is a perfect role play to get kinky with food.
Read: 7 Kitchen Kinks for Hungry Lovers
13. Basement: Burglary Roleplay
A masked man awaits an unsuspecting woman who goes down to the basement to fetch the laundry. She is bound to a chair and ravaged for hours.
14. Garage: Car Salesman and Client
A slippery salesman takes a potential buyer out for a test drive and things get a little flirty when they return. He offers a huge discount if she's willing to get it on in the back seat.
Next Level Roleplay Ideas
Sexual roleplay is all about the imagination, so in essence, you don't really need a whole lot of bells and whistles to create and act out a scene. Sometimes you don't even need a partner. A lot of people like to engage in solo roleplay when they masturbate, even voicing the role of an imaginary lover.
But sometimes adding a few extras or taking things a step farther can really elevate the intensity of your roleplay experience, so why not?
15. Add Roleplay Costumes and Props
It's a role play, right? So think of being on the stage.
It's rare that you see an actor out of costume or without props, and hey, toys are always fun. It's easier to pretend that you're a policeman with a badge and a pair of handcuffs. A lace bra and garter underneath isn't a bad idea either.
Read: Roleplay Costumes and Accessories
16. Public Roleplay
It's one thing to act out your fantasies in the privacy of your home, but quite another to roleplay in public. I'm not saying you have to get it on in a shopping mall, but you can act out a scene with discretion.
Maybe your lover is playing an investigator who is following you. When he catches you in the parking lot, he whispers, "Miss, you have to come with me," before a little romp in his car.
Another simple roleplay is to agree to meet in public, but when you are in public, approach each other as though you were strangers. It's a game of pick-up all over again.
Can you seduce somebody who is allowing themselves the freedom to be flirty and free again? Will you be shot down by your own partner? Will either of you lie about what you do to impress the other? How far will the game go?
Read: 9 Public Sexual Roleplay Ideas
17. Threesome Roleplay
This may already be something you enjoy, either threesomes or group sex.
With more than two you can engage in a wider variety of sexual roleplay with more people participating. And if there are exhibitionists or voyeurs in your group, it's a great time for those who like to be watched or those only interested in observing from the sidelines.
Read: Threesome Ideas for Kinky People
18. BDSM Roleplay
A lot of people start out with very simple roleplays, without all the frills of props and costumes, or even any BDSM activity. But as you get to know your lover or feel more comfortable expressing your fantasies, you'll find you might want to explore a kinkier side of yourself.
This might include spanking, bondage, flogging, or edgeplay. Go wild and play safe!
Read: BDSM Roleplay Ideas and Scenarios
19. Reverse Roles
It's easy to get comfortable when it comes to roleplaying with a partner. Maybe you're always the student who needs to learn a lesson from your teacher, or your lover always plays the employee who needs to be reprimanded for their missed deadlines.
Whatever your usual routine may be, think about switching roles. Seeing things from a partner's point of view can be very enlightening in any kind of relationship.
Read: BDSM Role Reversals
20. Voyeurism Roleplay
If one of you is a natural exhibitionist, there are many ways to incorporate the voyeur kink into roleplay. One of you watches the other, without being seen. What will the performer do in order to entice the dirty pair of eyes lurking in the cupboard, under the bed, behind the window out in the dark?
It could be as simple as changing or taking a shower. It could be as complex as fucking a stranger while your lover watches, taking the kink into the realm of cuckoldry.
Read: 5 Cuckold Roleplay Ideas to Try
Roleplay Ideas Inspired by Famous Characters
If you love pretending in the bedroom, try one of these role plays to bring your favorite character to life.
21. Princess Leia
Princess Leia is a famous damsel in distress and a major icon. Nothing says hot like a woman with two buns in her hair who is dressed in a long flowing white gown. Add a laser pistol to the equation and the XXX factor quadruples.
Because Princess Leia was a main player in three blockbuster films, there are a lot of great quotes you can use to add to the fun like "Help me _____ (add name) you're my only hope!" or "I'd sooner kiss a Wookie!" depending on your scene.
And don't forget: she was in chains… perfect for some bondage play!
22. Batman
Batman wears a black leather bodysuit, mask, and cape, and is loaded with all kinds of gadgets like handcuffs, french ticklers, and vibrating cock rings!
Batman's cool demeanor and gruff voice are perfect for anyone who wants to play the Dom.
Things will most likely get a little aggressive while in this costume as you may feel the compulsion to impose punishment on those who don't obey. Referring to things as The Bat Pole or Old Chum is a definite bonus to this adventure.
Read: Pet Play: All About Animal Roleplay
23. Lady Macbeth
The raven himself is hoarse/That croaks the fatal entrance of Duncan/Under my battlements./Come, you spirits./That tend on mortal thoughts, unsex me here,/And fill me from the crown to the toe top-full/Of direst cruelty!/make thick my blood…"
For dramatic types, a Shakespearean tragedy can be recreated right in the bedroom. Add a tube of red massage oil to represent the blood, a knife or two, and a white nightgown.
24. The Terminator
The Terminator roleplay scenario can be played out while in public for added effect. Dress in all black, dark sunglasses, and portray a serious attitude. You then can "pretend" to stalk your lover before whispering in her ear "Come with me, if you want to live."
A little bondage mixed with a blindfold and sensory play would be a perfect happy ending.
25. Smurfette
Remember this oh-so-cute cartoon character? Smurfette grew up as the only lady in a village of nerdy smurf dudes. A great idea for group sex.
Just imagine, the evil Gargamel has a captured Smurfette. She is bound and gagged and the only way he will release her is if her pals from the village help to ravage and satisfy her needs.
Blue body paint would really bring this roleplay to life.
What famous character have you played in a sexy role play, or would like to?