Urethral sounding can seem a little scary, though some kinksters might not even know what it is yet!
What is Sounding?
Basically the gist of it is pretty simple: it's all about inserting things into the urethra. Many things kinksters will read about sounding online are for men, but women can enjoy it as well. The objects can be rigid or soft.
Why do people enjoy urethral sounding? Well, it's a new sensation that is very unique. However, it is a delicate form of BDSM play requiring care and expertise. Here are some tips for you and your partner to explore sounding safely and sexily.
Sounding Tips
Buy Sounding Toys
You will be much happier if you use sex toys designed for urethral insertion rather than looking around your home to find things that look like it might fit in there. Sex toy companies have done the research for your safety and comfort.
View Sounds and Dilators at Stockroom.com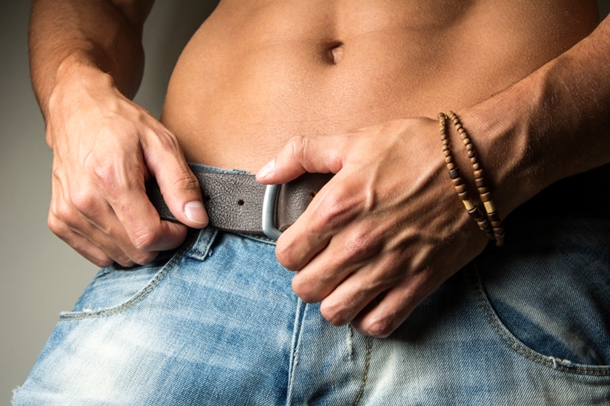 Use Sterile Surgical Lubricant
Using sterile lube will prevent infections in the urethra or bladder, which are prone to infection if irritated, especially in women.
"The urethra is much different from the other sexual orifices like the pussy or anus," explains Emma, a sub and a doctor who told us all about sounding. "First of all, it's smaller, and it's only used to having liquid flow through it. Sounding is really safe and fun, but there are precautions that need to be taken for maximum enjoyment."
Be Gentle
You essentially want the sound to "fall" into the urethra. Any forcing can cause irritation or even minor abrasions. If you have to force the urethral toy in, then it's not the right size.
Start Medium
With the urethra, you actually want to begin with an average-size sound that will fill but not stretch the urethra. Anything too small might also be uncomfortable.
Your Genitals Might Feel Weird – Don't Worry
After playing with sounds, especially for the first time, you might feel a little weird down there for a few hours or a day, and that's okay. If it lasts too long, or if you start to feel otherwise not great, it's probably time to go to the doctor to check things out.
Enjoy this new area of sexual discovery in a safe and caring environment. If you're not experienced, it may also be wise to speak with your doctor before engaging in sounding play for the first time.
We'd love to hear from you if you've tried sounding as part of your BDSM play.