Fetishes
Leather and Latex Fetishes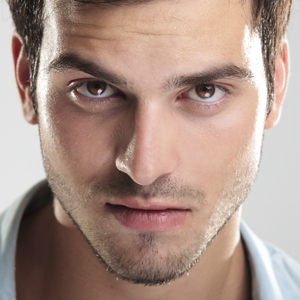 Leather has obviously been around a lot longer than latex and PVC. In either case, the idea of getting up into a latex or leather outfit is a kind of personal transformation. It's a way of taking on a new personality.
Meet fellow fetishists now at BDSMdate.com!
Leather, or to a greater degree latex, can be like a second skin. A very shiny second skin. You can enhance and at the same time conceal your sexuality by covering yourself, yet having all your curves and bumps totally visible. Some people go for bright colors, which can be fun and sexy, but the real go-to shades are red, and more importantly, black.
A woman who gets into black leather or latex, can instantly go from mild mannered to dominatrix. The costume and the vicious sexiness of it can make her feel like she radiates sexual power. Men will grovel and beg at her feet. They will lick her boots just to have her smile at them, or whip them across the ass, more likely!
Men, meanwhile, used to being dominant in their normal lives, may enjoy the helplessness of being in a costume that somehow restricts them. Their face is covered, their cocks are wrapped up, and they are somehow chained in a way that immobilizes them. The coverage of the tight costume allows them to drop the real world, and have the stimulus needed to get into the helplessness and humiliation.
It doesn't stop with BDSM, though. Some people get into wet suits, hazmat suits, rubber medical uniforms, and even body bags. You can make a hell of a sticky mess when you're in latex, PVC, or leather, and still have an easy cleanup. 
Leather has older roots. People love the smell and sound of the material as it moves. It's been a huge element of gay culture for at least the last century. The whole subversion of masculinity, of the biker look of the 1950s, plays out in the many ways leather can be worn.
The macho leather look was a way that gay men broke out of the traditional stereotype of the "effeminate" homo that had endured for so long. That said, there are plenty of leather lesbians, too.
Leather, latex, and PVC all have similar fetishists attached to them—especially if you're talking about their use in BDSM. These materials all look slightly different and have unique properties, so different people get attracted to each. 
For example, PVC can be very shiny and look wet when it's worn. Some people find that sexy, but don't get into the slightly duller properties of leather and latex. It's really all about what gets your juices flowing when you're exposed to it.
What fabrics and materials turn you on?
Tell us what you think!