Learn about medical fetish and the vast world of medical kinks.
What is a Medical Fetish?
Medical fetishism is an umbrella term for a vast network of kinks and fetishes that reflect medical themes.
Kink lovers with a medical fetish may experience sexual arousal in specific or general medical situations, or enjoy the sight of nurse uniforms or medical clothing.
Medical fetishists may experience attraction or arousal sexually at the idea or enacting of medical procedures.
Medical fetish, (sometimes called Medfet), can also involve sexual attraction to the objects and devices of specific or general medical care. A medical kink can get extremely specific—arousal at enclosure inside a metal lung, for example, or attraction to vintage anesthesiology equipment.
Why Do People Have Medical Fetish?
There are many reasons why medical fetishism could be so common. At the mildest end of the spectrum, such as thinking nurse uniforms are hot or "playing doctor," it is nearly universal in some sense or another.
Since fear, vulnerability, and strange physical sensations are all varieties of sexual experiences or feelings, it is not that surprising that a trip to the doctor's could trigger a variety of medical kinks and fetishes. Others note that medical care is also associated with nurturing.
Control and power as doctor, patient, or nurse are other triggers and popular themes in medical fetish play. Restraint and helplessness come into play in real life medical situations, such as weakness during cancer treatment or restraint during mental illness episodes, and more.
Medical Fetishism is Wide and Varied
Some medical fetishists are attracted to people and some to the equipment or procedure. For example, there is an entire spectrum of amputee fetishists. Some are simply attracted to people with one leg while others are attracted to the stump or the missing leg itself. Some are attracted to the treatment and recovery—bandages, casts, the physiotherapy process.
Read: Cast Fetish Kinks and Roleplay Ideas
Medical kinks can be about respiratory therapy and arousal happens from seeing the lover with nasal cannula or ventilators.
It can be attraction to specific or many kinds of medical workers—nurses, doctors, ER staff, anesthesiologists, orderlies, or psychiatrists. It can be about the medical examination—rectal, gynecological, eyes, ears, nose and throat—doing the exam or receiving it, or both.
It can be about the outfits—hospital gowns, coats, booties, nurse uniforms. It can be about needle play, diaper care, temperature taking, dental hygiene or braces, about deformities and disability fetishes, or attraction to people who have a specific illness or broad condition.
Read: Dental Fetish: BDSM and Dental Torture
There is a wide variety of medical-themed pornography, from general scenarios that can appeal to a wide base of kink lovers, to very specific fetish pornography.
6 Medical Kinks and Fetishes
There are many types of medical fetish and particular kinks. Here are some of them.
1. Medical Exam Fetish
A very common client request or submissive request to dominants is an erotic medical exam. Helpless submissives everywhere are excited by kinky medical exams. They want to be restrained, examined, and have various devices like thermometers and speculums inserted into orifices.
Read: 4 Doctor-Patient Role Play Ideas
2. Medical Enema Fetish
Many people find the process of having an enema to be extremely arousing. Both men and women are sexually aroused during enemas because of stimulation of nerves and the bulbospongiosus muscle, which affects male erections and female vaginal contractions.
The strange sensation of fullness and of vulnerability, along with the mess taboo and the medical connotations all contribute toward the fetish. For many klismaphiliacs, the rubber device itself and the idea of the insertion is arousing.
Read: All About the Erotic Enema
3. Medical Amputation Fetish
Acrotomophilia is a taboo kink better known as amputee fetishism. Some people are attracted to amputees. They may be excited by the perceived bravery and independence of the amputee, or they may relish the idea of dependence and taking care of him or her. Many are attracted to the amputation itself—the stump limb. They want to rub it, touch it, or even fuck it.
Apotemnophilia is sexual arousal at the idea of or the act of being amputated oneself. It is often mixed up sexually with body integrity disorder, a psychological condition where someone longs to be disabled. They may feel as if the limb is not there and want to be rid of it in order to make sense of that feeling.
Read: Amputee Fetish Facts
4. Medical Anesthesia Fetish
Anesthesia roleplay is so popular that the vintage anesthesiology black rubber mask is now a fetish item colloquially referred to as Black Beauty.
This medical fetish may include arousal from the equipment, substance, effect, atmosphere, procedure, or scenario.
While lots of people indulge this medical kink in a general way, actual anesthesiology for fetishism is dangerous and illegal. It is considered edge play but can also be considered "beyond consent" even with consent. This is because it is not legal for an amateur to administer anesthesiology drugs, to take them oneself, and it is not legal for a licensed anesthesiologist to give them outside of medical assignment.
While the idea of giving your dominant consent to do with you sexually whatever he or she wants, and being put under can be incredibly exciting, it is not safe or legal.
5. Medical Restraint Fetish
Just as there is an entire genre of horror movies that deal with old asylums and their creepy, invasive, torture equipment, there is a fetish for psychiatric restraint devices.
Fetishists into medical bondage might enjoy limb cuffs, straight jackets, stretchers, syringes, head restraints, mouth guards or gags, and the entire scene of vulnerability and power and control that go with it.
Read: BDSM Restraints: 15 Types of Bondage Gear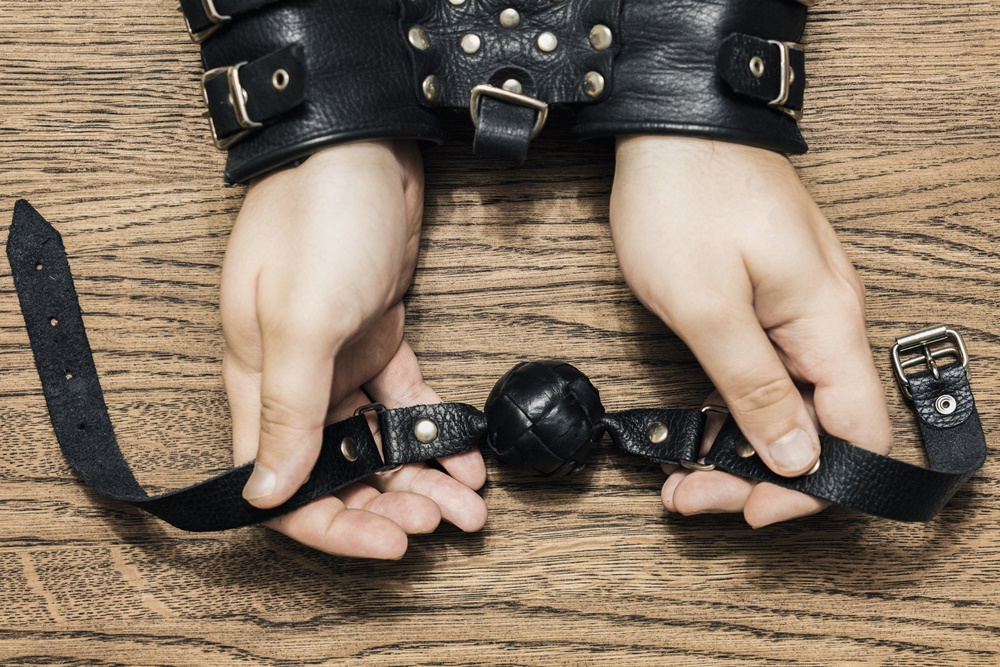 6. Medical BDSM
Not all medical fetishes are related to bondage and discipline or sadomasochism, but the power dynamics inherent in many medical treatments are definitely important to a large number of fetishists. To those who have experienced medical treatment as a form of torture rather than nurture, the giving and receiving of pain can be essential.
Read: Medical BDSM: Kinky Medical Play Ideas
Do you have a medical fetish? Dare to share in the comments.