Incorporate spanking into your BDSM play to keep things fresh and feisty.
There are plenty of twists to add to this classic favorite. Try out some BDSM spanking positions that add the spice.
Spanking and BDSM
Spanking is often seen as an entry-level BDSM activity, but it's great for both newbies and experts because it can easily go from light to hard, in the hands of an experienced dominant. Spanking can also be a gateway to other forms of impact play like flogging, caning, and paddling.
Read: Best Spanking Tools to Use in BDSM
The light pain of a lover's spanking hand can release glorious endorphins into the body, making the submissive feel great. The harder the spanking, the more the sub goes into "sub space," i.e. that dreamy luscious feeling a sub gets from hard play. The top too, gets a rush of hormones that make them feel good in a BDSM spanking scene as well.
"I first got into BDSM when I realized how much I loved when my boyfriend spanked me," my friend Ellen shared. "It was something he was just doing for fun, but it really got me going. I wanted more! It was definitely spanking that first helped me discover my kinky side."
Want to find your own BDSM spanking partner? Be sure to read:
Spanking Dating Sites that Work
Classic BDSM Spanking Positions
Get your spank on with these hot spanking positions.
1. Over the Lap
We often hear about spanking "over the knee", but that's really not practical or comfortable for either the dom/me or sub. Over the lap works better, with the submissive laying across the Dom's lap. This position is also the one favored when there is any kind of age role-play in effect.
Read: 4  Spanking Roleplay Ideas
2. On all Fours
Not so great on a hard floor as it can be hard on the knees but works very well on a bed or padded surface. The only issue is that the sub has a range of motion where they can move either away from the Dom's hand or push back towards it. Probably both some negatives and positives to this possibility.
3. Lying Face Down
This one is great for longer erotic spanking sessions and is one of my favorites. It works best when a pillow is placed under the sub's hips so that the ass is raised up slightly and presented to her dom.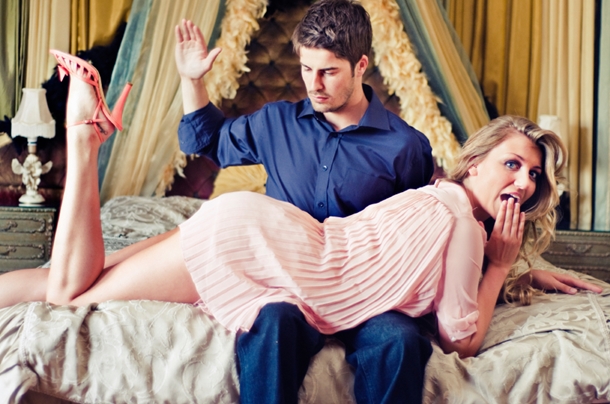 Spicier Spanking Positions
Not that a BDSM spanking isn't already erotic as hell, but why not try these positions that will take it to the next level. You can even throw in a little role playing. The over-the-desk position is great for a naughty secretary scenario!
4. Over the Desk/Table
This is self-explanatory, but you'll find the height of the table is what will make the difference. For example, the kitchen counter is often to high for this, but perhaps the dining room table works perfectly! The sub bends over at the hips, lying their body flat on the surface. Feel like adding a little bondage? Try tying your sub's ankles to the table legs for extra excitement.
5. Standing with Arms Down
I think that standing while getting an erotic spanking definitely adds a new dimension, because the sub cannot be as passive as they have to balance themselves. This can work with the sub standing and bending forward while balancing themselves with hands on the edge of the bed or a chair. Another options is standing with the hands on the ankles, but this takes flexibility and balance!
6. The Splits
The spanker sits on the bed with their legs crossed and the spankee faces away from her spanking partner, straddling them while laying face down on the bed. This puts you in close proximity which can make for some interesting play between spanks. The spanker could even go for a two-handed approach.
This article should give you some good ideas but remember: the only limit is your imagination!
BDSM Spanking Safety
Any corporal punisher should aim for safety first.
Focus the slaps on the meaty part of the ass and thighs. Be sure to avoid going too high on the ass as you need to avoid the lower back.
Tops should always observe their sub carefully. Follow a particularly hard slap with an observation of the bottom's reaction, and give them a break from spanking with some sweet caresses or even light tickling on their red bum if it seems the spanking is getting to be too much for them.
Always make sure you have a good idea of how far your sub wants to go. Ask them if they are okay with receiving marks, and of course, remove any rings or other jewellery that might cause any unintentional pain.
Read: Spanking Fetish: How to Give a Kinky Spanking
Got any erotic spanking positions you can share with our readers?