In this week's kinky confession, a male reader shares his fantasy of becoming a woman named Cindy, a submissive sex slave who does what she's told.
(Disclosure: Our confessor's opposite gender fantasy is a bit graphic!)
My fantasy is to have a man discover I am wearing panties and pantyhose under my clothes at a club. To keep him from making a scene and exposing me, I agree to go home with him.
Once there, he strips me to my pantyhose. He ties me to his bed with my head halfway down facing the footboard. He then covers all my body with heavy comforters leaving only my face exposed. He gets on the bed, and in my position my mouth is just where a woman's pussy would be.
He rams his hard cock in my mouth. Being I am facing downwards, it makes its way into my throat. He begins pumping, and saying the name Cindy. My mouth is taking the place of Cindy's pussy. After several minutes of having my mouth fucked he comes, his warm semen pumped directly into my tummy.
This scenario was repeated twice more before morning arrived. After releasing me I was put over his lap and spanked. He did not stop until I gave myself to him by submitting on video.
I now have become his girlfriend. He calls me Cindy and I am being taught how to behave. He even takes me back to the lounge where he caught me in my panties and pantyhose. He makes me wear them with short skirts and high heels. My D-cup prosthetic breasts give me a nice feminine form along with my curly permanent hairdo. At the lounge I am introduced as Cindy.
He has his sister training me so I can find work as a woman. I will become Cindy, his live-in girlfriend working alongside other women as a secretary. Through his wishes I have become a woman in a man's bed. And I love it.
~Anonymous
Oooh, this is a dark and juicy confession about an opposite gender fantasy, one of total submission.
It may seem to have come about spontaneously and happening at a club unexpectedly, but since it is a fantasy, that shows the fantasy was planned that way. "Cindy" fantasizes about losing herself completely and becoming a kind of submissive sex doll and finding sexual and personal fulfillment through satisfying her kinky man.
Opposite Gender Kinks and Fetishes
There are a few different kinks going on here, under the submissive umbrella, which is often the case. We might have an overarching predilection toward submission as a turn on, but then there are a variety of fetishes and kinks that go with that, for how we might envision it playing itself out.
Read: Why BDSM Submission is So Satisfying
Pantyhose Fetish
The pantyhose kink is a big part of this. Cindy's outfit could have been a red rubber dress, thigh-high boots, a Catholic school girl skirt, leather pants, or a puppy outfit! But this particular choice says something about how important the pantyhose are in the fantasy.
Pantyhose are a very common, very popular fetish, especially but not limited to older men who came of age when nylons were popular. Just like now you see a lot of porn about "yoga pants." Long after women start wearing other garments, a certain subset will always find yoga pants to be super hot!
Bondage Kinks
Cindy's fantasy also involves extreme restraint, showing herself being cocooned with numerous blankets in a submissive position.
To be completely immobile can be very comforting, and to be at the beck and call of your dominant's desires can be a real turn on. Make sure if you are practicing mummification and not just fantasizing about it that you get educated on BDSM safety. A submissive can overheat or suffocate. Some materials don't even let the skin breathe and unexpected death or injury can result. Make sure the face is uncovered for breathing purposes, just as Cindy expresses in her fantasy.
Read: Bondage Ideas: Types of Bondage Play
Blowjob Fantasy
The oral fixation is also part of this opposite gender fantasy. Substituting her mouth for the first Cindy's pussy, turning her mouth into a vagina to receive his cock whenever he wants to feed her! There is also the cum kink because she wants to feel his jizz pulsating down her throat.
A Spanking to Top it Off
And that's not all—there's the spanking, another widespread kink. Almost everyone finds a degree of spanking or some spanking play to be exciting at some point in their lives.
It can be a bona fide fetish, often part of submission and domination. It can stem as well from a fascination with butts and handling buttocks, and involve massage or playful swipes rather than serious spanking. It can be light hearted and just part of the wonderful variety of lovemaking we experience with different partners or over a lifetime.
It doesn't matter how—spanking gives us fun ways to experiment with power, with age play, with asses, with different kinds of touching and impact. Delicious!
Read: How to Find Spanking Play Partners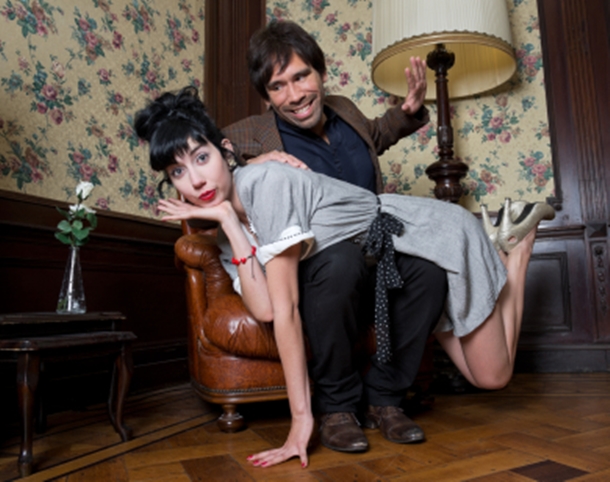 Submission and Transition
Ultimately, Cindy's submission fantasy comes full circle, as she becomes Cindy and becomes fully owned by the mystery man who found her in the club.
She gets silicone implants (or maybe had them already, but it sounds to me like she gets a curly hairdo and new breasts to please her master). She replaces the original Cindy. "Through his wishes, I have become a woman in a man's bed." The fantasy is complete, as her true essence or real identity as a woman, a female submissive to a man, is realized. "And I love it."
The Fantasy of Becoming a Woman
All the sexy and submissive details in this opposite gender fantasy really got me hot and bothered reading through it.
It's just my guess that there's another layer here, making it even more mysterious and sexy. Call it women's intuition and maybe I'm way off, but I don't think "Cindy" is real, at least not in the way she presents herself. I think this is the fantasy of the mystery man, that he gets turned on imagining himself in pantyhose and women's clothes, perhaps even getting excited by the idea of turning into his girlfriend or ex-girlfriend Cindy, transforming through a wig, prosthetic breasts, and submission to a virile man, to experience what a woman might experience.
The pantyhose and cum kinks are more often than not male fantasies, and then the substitution of the mouth for a vagina, my guess being it is a body part he doesn't have. Transformative fantasies where a guy turns into a woman, literally enters into her as fully as possible, symbolically, to be in touch with the goddess and the essence of life, are very common.
Autogynephilia
Some guys fantasize about turning into a woman and having sex with themselves, essentially inhabiting a space beyond gender in their minds and culminating genders through the sexual fantasy. It is not enough to be surrounded by her clothes, perfume, and skin—he wants to get even closer, and then become submissive in order to experience what she experiences when she gets fucked.
This is a common enough kink, and it can be an occasional fantasy or an all-consuming fetish. The technical word is "autogynephilia." Milder versions are even more common—most guys who like to wear female panties, bras, or skirts—or pantyhose—are straight men. I've had quite a list of crossdressing lovers who asked to wear my clothes before, during or after sex!
I for one totally get it—it's amazing to inhabit my body as a woman and I understand the desire to "crawl inside" and experience womanhood completely.
And sometimes it works the other way around, too—sometimes when I masturbate I get off by imagining I have a cock. It would be great to have one! Strap-on sex is amazing, but I can fantasize anytime, about penetrating a woman, or pegging a guy. It's perfectly normal to picture ourselves in a variety of ways in our minds.
Kinky Confessions is a bi-weekly feature at Kink Lovers. We want readers to share their tantalizing tales of kink, fetish, and fantasy. SUBMIT YOUR STORY HERE! These stories don't have to be real, they can be fiction that you'd like turned into reality.