Does the idea of being slapped in the face arouse you? Do you want to slap your partner?
Face slapping for most is something that happens during conflict and is seen as unacceptable behavior that is both violent and abusive. But what if it turns you on and is consensual?
Face Slapping and BDSM
The face slapping kink or fetish is the practice of slapping a partner in the face with the palm of your hand or having your cheek slapped. This is a consensual BDSM practice.
Face slapping may only be done from one partner to the other, Dom to sub, or it may be a back-and-forth practice that rises in intensity one slap at a time.
BDSM face slapping can take place anywhere—indoors or outdoors, in the bedroom or outside the bedroom, at home or on vacation. This kink requires no props or gear, just your hand and a willing partner.
Read: How to Find a BDSM Partner
Why Is Face Slapping a Turn On?
Face slapping is arousing for fetishists for a number of reasons. It has an inherent shock value for most, even when you know it's about to happen.
The sting and heat that comes from face slapping is also a turn on, the way it feels. For the slapper the turn on can come from the visual red cheek of the slapped partner.
There is the theatrical element of face slapping that is also arousing. How many times have you watched a movie, where all of a sudden someone is slapped followed by audible gasps from onlookers. Face slapping for this reason is often part of a dom-sub scene or role play.
Read: Sexual Roleplay: A Guide for Roleplay Beginners
Face slapping can also be part of a BDSM relationship where punishment is administered. For some the punishment is pleasurable.
5 Face Slapping Tips
1. Talk about Face Slapping before You Slap
Slapping someone in the face is very intimate and personal. It's not something to just try with a new hookup while naked to see how they react.
Face slapping must be consensual and is best brought up outside the bedroom first to see what your partner thinks about the practice.
Read: How and When to Share Your Kinks
2. Discuss Boundaries
Like most BDSM practices, just saying "yes" to face slapping isn't enough. Talk about who is going to be slapping, if it's just one of you or mutual.
Is face slapping something you want to do during sex or as foreplay? Are you only slapping the face, or other parts of the body as well? Is slapping a form of punishment or is it a playful exchange?
3. Practice on the Butt
Because the face is delicate and less meaty, the best place to practice your slapping technique is on a juicy butt.
Who knows, you may learn that you love spanking and never leave. If you've been spanking for years, you may proceed to face slapping but still begin gently.
Read: How to Give a Kinky Spanking
4. Slap Safely
You always want to slap gently to begin, and check in between slaps to know how the slappee is feeling, physically and emotionally. It may not hurt, but feel humiliating, which may not be okay for your partner.
You can hold one side of their face while you slap the other cheek, as a way to stabilize their head to prevent whiplash. Stay away from the eye and ear area to avoid any serious damage. Also, some people bruise very easily, and that's the last thing a sub needs when they go into the office the next day.
Read: Impact Play Tips, Tools, and Safety
5. Learn from Professionals
If you want to incorporate face slapping into your BDSM relationship, but feel apprehensive about jumping in, you can always hire a professional dom or dominatrix to show you the ropes, or sign up for a face-slapping workshop for kinky couples at a local sex club or expo.
Read: How to Find a Dominatrix Near You
Other Slapping Kinks
Ball Slapping
This can be a fun way to play for a dominant woman, but the ball sac is extremely sensitive, perhaps THE most sensitive place one can slap, so play oh so gently, checking in with your partner who hopefully isn't wearing a ball gag!
Read: Ballbusting Ideas for BDSM Testicle Torture
Breast Slapping
Even the largest of breasts are sensitive, so again, play with care and ask her how she and her breasts are feeling during the experience. Breast slapping can be combined with breast bondage and other breast kinks.
Read: 6 Kinky Breast Play Tips and Ideas
Hand Spanking
Hand slapping or spanking is essentially kinky spanking with your lover during sex or over-the-knee in a role play. Spanking is very arousing and can turn up the heat quickly.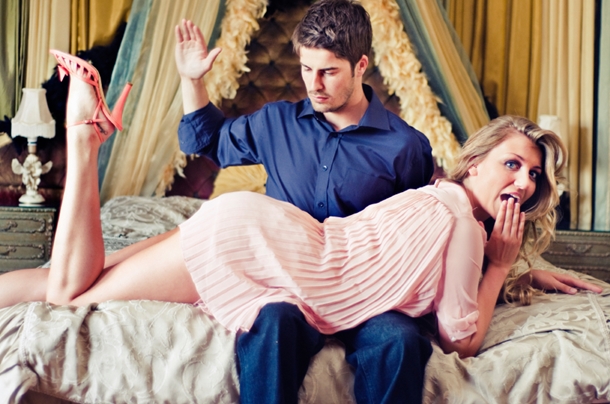 Dick Slapping
Dick slapping can go two ways. You can use your dick to slap her across the face,—the bigger the better in this instance. A big hard cock across the face before letting it slide into one's mouth is super sexy.
If she's a Domme, she may want to slap your dick a to get you hard or slap it between gulps of oral pleasure. She may also slap it after you come for a little post-orgasm torture.
Vulva Slapping
Pat the puss to make a woman wet with excitement. Vulva slapping is a little more like patting, as it is a very sensitive area and becomes more so the more a woman is aroused.
If you want to slap harder to enter the pussy torture realm , do so with check-ins.
Read: Pussy Torture: 14 BDSM Pussy Play Ideas
Do you engage in BDSM face slapping or other kinds of slapping kinks?