Are you a female submissive looking for a Dom?
Like anyone looking for the right lover or a love connection, meeting a Dom or finding a dominant BDSM lover can be challenging but ultimately rewarding.
You're in a good position for the odds if you're a woman seeking a Dom. There are many male submissives looking for femdoms, but the ratio of female submissives and male dominants is even higher.
The catch is that not all naturally dominant men are kinky, so they enjoy the alpha role in daily life or taking charge in the bedroom, but aren't specifically into BDSM. What's a kinky girl to do?
How to Find a Local Dom for BDSM Play
There are many ways a woman has to go about finding a dom. Here are my tips and suggestions for meeting a BDSM dom.
1. Make yourself available.
This one seems obvious, but it's not obvious. You encounter many kinky people and meet Dom guys every day, and neither of you knows.
It's easier for women who are openly kinky and submissive to find a Dom and like-minded lovers. How do you present in everyday life? Do your circles know you want to find a Dom? Do your dates even know?
Not everyone chooses to be open and out about their kinks. Some prefer to keep their private life discreet. Some don't want their sexuality to be part of their workplace. Some fear their family's reactions or have other reasons.
Consider how you can show your tastes and in what circles to widen the pool if you want to meet a Dom. Perhaps it's inappropriate to talk about finding a Daddy Dom in the boardroom or at the nurse's station where you work. But can you wear something edgier when you get drinks with co-workers?
You can show subtle signs or express your tastes so that like-minded lovers can see you.
Read: 10 Ways to Express Your Kinks Every Day
2. Meet a Dom on BDSM dating sites.
If you are hoping to meet a Dom, using a niche dating site where other kinky people are looking for lovers makes more sense than a profile on a vanilla or mainstream site.
You can use regular dating sites, add your kink and fetish interests to your profile, and make sure potential lovers know you are a submissive looking to find a Dom.
However, a profile at a kinky BDSM dating site is your most essential asset!
Read: Best BDSM Dating Sites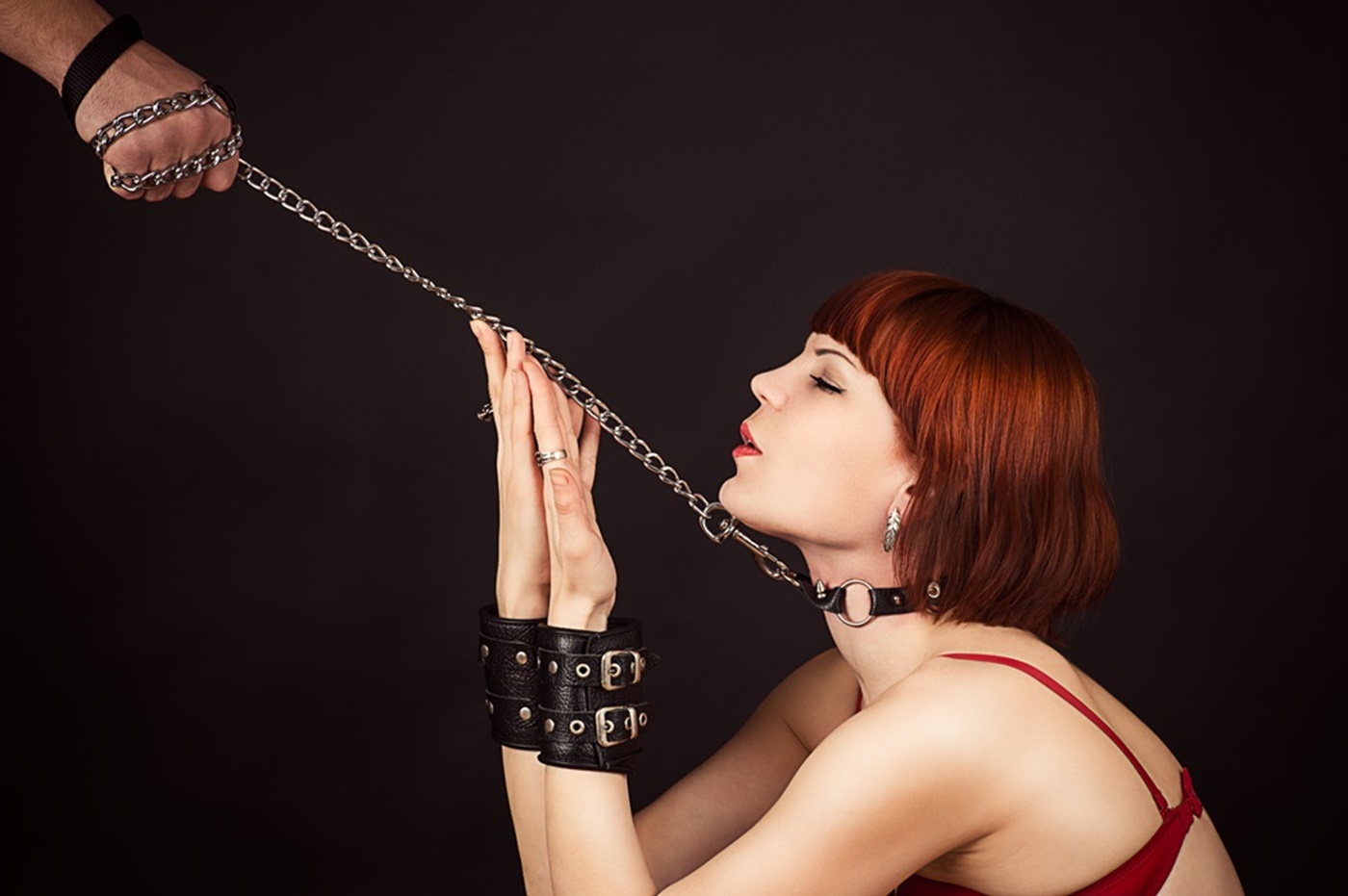 3. Pick up on signs.
Just as women are experts in honing in on subtle body language cues or just "feeling" when a man is interested, you can become adept at noticing which guys in your everyday world might be into BDSM, and whether they are dominant or submissive.
When you notice a kinky object, a reference to BDSM, or a smoldering look that puts you in your place, let him know you've noticed.
A good icebreaker to let someone know that you're picking up on their secret codes is to politely point to whatever caught your eye—a piece of jewelry, a book, a phrase—and ask, "Does this mean you're in the same club that I'm in?" or something along those lines. You may be able to find a dominant man among people you already know or people you continue to meet just by noticing these clues.
4. Find a Dom at kinky parties and nightclub events.
Nightclubs and bars are the classic hookup spot where people meet potential lovers. It makes sense to go to BDSM-themed parties and dances if you're hoping to meet the Dom of your dreams.
Read: BDSM Clubs: First Time Tips and Inspiration
5. Attend BDSM events in your local kink community.
You can meet a Dom at yoga, chess club, church, or the library! But you amplify your odds of finding a BDSM Dom at kinky events.
Not all BDSM events are fetish parties, nightclub events, or sex clubs. Kinky people also play sports, eat brunch, and do their taxes, and there are lots of kink community events designed to meet each other, support each other's businesses, and enjoy hobbies and tasks of daily life with like-minded neighbors.
Look for meetups and BDSM munches online and through social media, and through anyone you already know is kinky. BDSM munches are casual meetups for people to talk—they aren't about dating, but about building community.
Getting involved in the broader kink community will make it easier to meet a Dom, and increase your visibility.
Read: 8 Tips to Find Your Kink Community
6. Transform a current relationship into what you need.
Sometimes when we have a sexual need or a fetish, we forget that our lovers often want to satisfy and please us.
A whole lot of sexual exploration, kink, and BDSM happens because one partner is into something and the other goes on a journey. Even hardcore fetishists relate how dating broadly opened them to new kinks and sexual interests. So don't assume that just because someone you're dating or someone you love is not a Dom that they can't be.
Read: Reasons to Share Kinks Early in a Relationship
Of course, if someone says they aren't open to or interested in power dynamics, kink, or BDSM, you should respect that. But lots of vanilla guys or uninitiated guys are dying to get kinky. They may have raging BDSM fantasies already, or someone like you might invite them down the path to orgasmic adventures.
People aren't really kinky or vanilla. Like most things in life, BDSM is a spectrum. Basic sex is filled with power dynamics, submission and mastery, on a subtler—or not so subtle—level. My own kinks and favorite fetishes were both ones I pursued from my own fantasies as well as from ones that I was introduced to by my lovers.
So take inventory of your current casual sex partners, love affairs, and relationships. See if there is a relationship you already have wherein you can both explore the BDSM sub-Dom relationship together.
Read: How to Find a BDSM Partner
Are you looking for a Dom? Are you already in a relationship with a Dom? Share what works for you!