There are many places and spaces where BDSM hand signals can be used for extra kinky fun or more practical purposes.
What Are BDSM Hand Signals?
BDSM hand signals are specific shapes, signs, or movements created by the hand or hands to signal commands, intentions, demands, requests, or any non-verbal communication from one person to another.
BDSM hand signals are used more often by a dominant to his or her submissive, but the sub may also use similar or different hand signals to silently communicate.
Hand signals may be used strictly in private as part of a code used between a Dom and sub in different kinds of BDSM relationships, or signals may be used only when in vanilla settings, as a way to communicate intentions or directions in a covert manner.
Read: 11 BDSM Symbols, Signs, and Signals
BDSM Hand Signals Are Not Universal
There is no universal BDSM hand signal language used in the world of kink by all those who practice BDSM. Some Doms share their hand signals in workshops, on websites, or in blogs, and these hand signals may be picked up and used by others who may find them useful. 
Read: BDSM Education: How to Learn BDSM Online
The most important thing about BDSM hand signals is that both Dom and sub understand the meaning of each signal, that there has been training, discussion, and agreement upon the chosen hand signals before using (after all, the point is not to have to speak, for whatever reason).
Read: Should Sexual Consent be Implied or Expressed?
When Are BDSM Hand Signals Useful?
At Loud BDSM Parties and Events
Most sex clubs and parties, fetish nights and BDSM events play music, and it is often loud enough that it can interfere with verbal communication.
You may be involved in a sexual scene where you want your sub on their hands and knees, but the thumping bass is preventing them from hearing your command. A quick hand signal will have them drop to their knees instantly.
Read: Sex Party Tips and Etiquette
When Using Aural Sensory Deprivation
Dominants use all kinds of sensory deprivation for BDSM scenes that can include aural. In this particular type of play, you will need another way to communicate besides verbal, and this may be a combination of hand signals and lip reading. 
Aural deprivation is a way for Dom's to command their sub's absolute attention, lest they look away and miss an important signal.
Read: Sensory Deprivation Kink: Tips for Couples
In Public or Settings Needing Discretion
Some Doms and subs keep their BDSM practices completely behind closed doors, but many like to take their "show" on the road.
BDSM hand signals can enable kinky communication in vanilla settings, even sitting around a family dinner table. A Dom's hand signal may command their sub to start rubbing their genitals under the table. Another hand sign could be a gesture to interacting or talking.
To Emphasize or Clarify a Verbal Command
Not all BDSM hand signals are used on their own. A hand signal may also be used in tandem with a verbal command as an exclamation point.
A Dom may say stop in a cold and measured way, but holding one hand in a fist at the same time may help to emphasize how strongly the message he is sending or indicate the level of displeasure.
Read: How to Be a Good Dom (or Domme) for Your Sub
As a Safe Signal (when Safe Words Aren't Possible)
Not all BDSM hand signals come from the dominant. There are many scenes where a submissive may be wearing some kind of gear, like a ball gag, that prevents them from verbally communicating.
Safe words are extremely important to have in place between Doms and subs where pain and punishment is administered. But if verbal communication is impeded, a sub must be able to use some kind of signal if they want the scene or action to slow down or stop completely.
Read: Safe Words: A Guide to Choosing and Using Them
5 Ways BDSM Partners Can Use Hand Signals
1. Number of Fingers for Predetermined Actions
Holding up one to five fingers that represent specific rules set by the Dom is probably the most widely used hand signals in BDSM. One finger may command a sub "to be silent" whereas holding up two may mean "come here." 
Holding up all five fingers often represents "stop," as this is universally used in many groups and cultures, but it may have an altogether meaning that only a particular Dom and sub understand.
Read: Submissive Rules and Tasks for Subs
2. Hand Signals Representing Submissive Positions
Quietly commanding a sub through an understood secret language can really intensify a scene. Many Doms have several BDSM hand signals that will have their subs instantly moving into a desired position—kneeling with head down and hands behind back, lying prone, on all fours, or in kneeling prayer position. 
Hand signals are often a part of slave and master relationships, as the extreme subservience is observed through followed BDSM hand signals. A Dom merely need to hold up fingers or make a slight movement with his hand to control his sub.
Read: 23 Submissive Poses and BDSM Slave Positions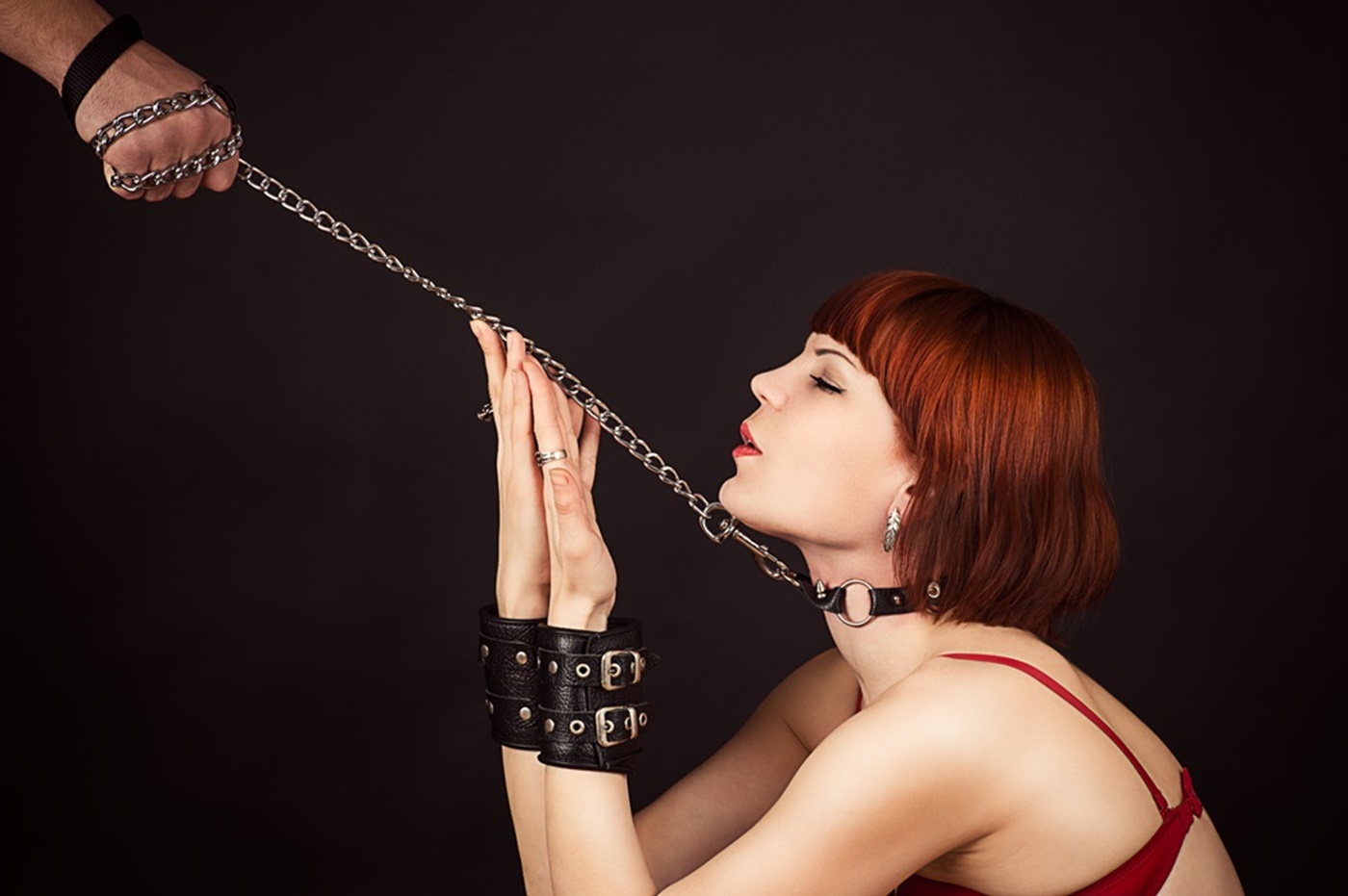 3. Squeezing Your Partner's Hand or Fingers
BDSM hand signals need not be through one individual but include a specific touch between Dom and sub. 
The Dom may have a way that he holds his sub's hands that signal a change of scene or change of pace in a scene. He may lightly pinch a specific part of his sub's body that only she can understand its meaning. A sub may squeeze a Dom's hand to share that she is in pain or wants to stop.
Read: How to Be a Good Submissive for a Dom
4. Submissive Holding then Dropping an Object
BDSM hand signals can include objects that are dropped in accordance with previous negotiations.
A sub may be given a small ball to hold before being punished, and the ball is used to represent their pain threshold. When the pain from flogging or spanking or some other kinds of punishment hits its tipping point, the sub can drop the ball.
Many Dom's prefer silence, apart from sounds of pain, while administering punishment, because it adds to the mood.
5. A Simple Thumbs Up or Thumbs Down
Sometimes BDSM signals are just common hand signs that are used by most people and don't need to be learned or remembered. Something like a thumbs up or down is especially good for Doms and subs who are new to one another or just meeting for a kinky hookup.
The thumbs-up hand signal can mean "let's go" or "I'm ready" or "keep going" or "I'm okay." The thumbs down can indicate "hold on" or "I'm not ready" or "stop" or "this doesn't feel great."
What's most important when using BDSM hand signals is that they are understood to mean the same thing by both Dom and sub. It may take some time, depending on how elaborate the hand gesture or signal is, and also on how many hand signals you have in your shared language. 
Read: BDSM Limits and Boundaries to Discuss
To start, keep it simple, until you find your flow. You may come up with some that just don't work for whatever reason, and that's okay too.
What kinds of BDSM hand signals and signs do you use with kinky partners?