What Is a BDSM Relationship?
A BDSM relationship is an erotic, consensual exchange of power between two or more people.
Just like any other relationship, there are countless variations and manifestations of how those involved define their relationship and what their expectations, needs, and desires are.
The defining characteristics in BDSM relationships are negotiated roles for each person. Perhaps this is where BDSM relationships differ from other kinds of romantic or erotic relationships. BDSM actively assumes consent and agreement, with clearly defined and negotiated roles of power.
Arguably, every relationship involves various power balances, but many of those are set, defined by, dictated, or assumed by society, culture, religion, or personality.
In BDSM relationships, roles and power in sex and romance are consciously acknowledged and consensually negotiated.
Read: Boundaries to Discuss in BDSM Relationships
15 Types of BDSM Relationships
1. Master and Slave Relationship
The master and slave relationship, sometimes called master and servant, is the classic dominant and submissive, or dom and sub, BDSM relationship style.
Some people prefer to use D/S terminology rather than use the politically and culturally charged "master and slave."
Essentially, in this kind of BDSM relationship, one person controls and dominates the other sexually and in other areas of living, and one person submits or surrenders to the dominant's control.
Read: How to Find a BDSM Slave or Master
2. Total Power Exchange Relationship (24/7)
While many or most BDSM relationships involve dominance and submission in sexual situations and other aspects of the relationship, some are total power exchange relationships.
These relationships are sometimes referred to as 24/7 BDSM relationships. What this means is that the negotiated, consensual agreement involves the whole relationship or lifestyle, around the clock.
In other words, the submissive authorizes control of their life to their dominant or master/mistress. This includes sex, finance, family, friendship, work, how time is spent, education, leisure, and other aspects of life.
Read: BDSM and Total Power Exchange Relationships
3. Female-Led Relationship
There are many specific styles of female-led relationships in BDSM relationships, which generally refers to the female as dominant or leader of the relationship.
In female-led relationships, traditional gender roles are inverted or resisted, and the female is the "head of the household." This can be in the bedroom or in any or all aspects of the relationship and living.
Read: Femdom Relationships: 8 Examples
4. Long-Distance BDSM Relationship
Any relationship, marriage, friendship, or sexual connection can involve people who live far apart, including a BDSM relationship.
Sometimes a long-distance BDSM relationship involves two people who have never met in person but who carry out a power exchange relationship through technology and verbal command.
Read: Can Long-Distance Love Work For You?
5. Domestic Discipline Relationship
DD relationships, short for domestic-discipline relationships, are a kind of BDSM relationship where the man is positioned as the head of the household and the woman submits to his authority and leadership. Corporal punishment is used to discipline disobedience.
This BDSM relationship is sometimes dubbed "Christian BDSM" because it borrows its philosophy from authoritarian interpretations of Christian marriage traditions, and many religious, monogamous couples (including Jewish, Christian, Muslim and others) are proponents.
Some religious couples see it as a way of incorporating BDSM and kink into their perception of Biblical or patriarchal relationships structures.
Corporal punishment is used simply because spanking is a very common power exchange in BDSM relationships. They may choose this relationship because they get off on spanking in particular so this works for them.
Read: BDSM Spanking: 6 Erotic Spanking Positions
7. Cuckold BDSM Relationship
Cuckolding is a kind of relationship where a submissive male enjoys the humiliation of his wife or girlfriend having sex with other men and rubbing his face in it, psychologically or literally.
Read: How to Find Cuckold Couples & Bulls Online
8. Brat BDSM Relationship
A brat is a personality type of submissive, who is impish, disobedient, and rebellious, and needs nurture, discipline, attention, and stimulation from their dominant.
Read: Brat BDSM and the Brat Kink Explained
9. Owner and Pet Relationship
Owner and pet is a kind of BDSM relationship where the master and slave or dominant and submissive are pet and trainer, handler, or owner.
The pet is most often a puppy or a pony, but can be any kind of pet. Pup play, pony play, or kitten play are not always D/S kinks, but where someone enjoys assuming the characteristics of a puppy or pony, and is also a submissive or dominant.
Read: Pet Play: All About Animal Roleplay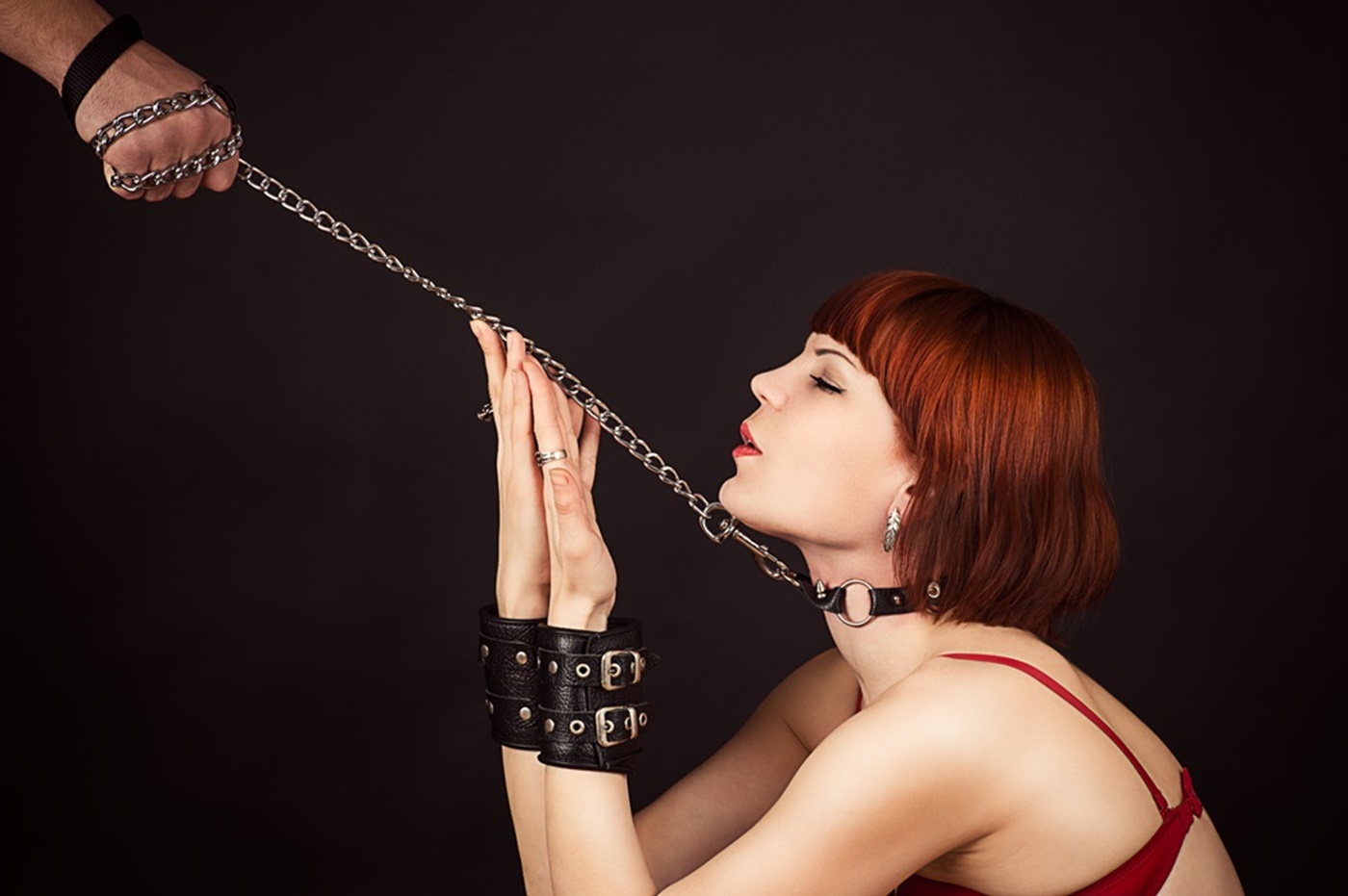 10. BDSM Switch Relationship
Most but not all kinky people identify strongly as submissive or dominant. In BDSM relationships where these roles switch between partners, sexually or in all aspects of the relationship, it is called switching.

Couples where one person is not really submissive or dominant but plays willingly to fulfill their partner may switch to give time off. Couples sometimes switch so that each better understands the other's role and needs.
Read: Ways You Can Benefit by Being a Switch
Some people are equally turned on or fulfilled by dominance and submission. Still others switch occasionally because they view it as politically egalitarian and more equitable.
11. Keyholder Relationships
In BDSM chastity relationships, the dominant who "owns" or dictates the submissive's chastity and sexual expression may be a literal or figurative keyholder.
Read: Chastity Kink Tips and Advice
12. Poly BDSM Relationship
Some BDSM relationships are monogamous, and both partners have sex only with each other. Other kinky people and relationships are polyamorous, with involved parties in the BDSM relationship open to sexual relationships outside.
Read: Why Polyamory Works for Kinky People
13. ABDL Relationship
Adult Baby Diaper Lovers (ABDL) are BDSM relationships within the adult baby and diaper play fetish community.
The adult baby or diaper lover is submissive and requires nurturing and babysitting, as well as punishment and discipline from a mommy, guardian, or babysitter.
14. DDLG Relationship
Daddy Dom Little Girl (DDLG) s a specific kind of BDSM relationship where the dominant is a daddy figure, and the submissive is a little girl character who requires discipline, love, playtime, and protection from her daddy dom.
Other kinds of little relationships involve mommy or different genders, but each would have the dominant figure in the caregiver role, and the submissive in the little role.
Read: Introduction to Daddy Doms and DDLG Relationships
15. Financial Domination or Findom
Some BDSM relationships are purely financial, with the mistress or femdom dominating the submissive's financial realm.
The submissive may work to make sure his femdom gets the lavish life she deserves, or simply send a specific amount of cash. Subs are often called cash pigs or human ATM machines.
Read: Findoms and Financial Domination Relationships
Are you in a BDSM relationship? Please share!