Are you a submissive man looking to do whatever your domme wants you to? Are you a dominant woman who wants to know more about kinks and fetishes to explore with submissive men?
BDSM play has a vast repertoire of kinks for submissive men and dominant women. The only limits are your erotic imagination!
Here are some ideas for the sub male dom female dynamic that you might want to experiment with.
Ideas for Sexually Submissive Men
1. Pussy Worship
One way that male submissives can show their mistress true devotion is through pussy worship.
It's really important to show reverence, gratitude, and adoration to your domme. Every man (and other genders) should worship any pussy they touch.
Pussy worship is a natural act for everyone, as well as a fetish. It's also an ancient pagan practice and that's why you'll find pussy worship in spiritual and meditation contexts online as well as in BDSM kink literature.
Pussy worship involves watching, smelling, complimenting, licking, and touching, whichever your goddess allows. Pussy gazing is when you simply look without touching. It can be a long session where you just watch her pussy as if you were praying to a holy icon, because it is.
Depending what your domme allows, the male submissive may adore, touch, or lick the pussy he is worshipping. He may only do what she commands.
Read: Pussy Worship: How to Serve a Woman's Vagina
2. Facesitting
Submissive males may be commanded to perform oral sex, and a queen's favored position is often face sitting.
Male subs love being smothered by their dominant's pussy and thighs while they lap and lick.
There are special devices for facesitting, such as the queening stool, and the smotherbox which is also a restraint.
Read: The Fine Art of Facesitting
3. Pegging
A very popular kink for submissive men is pegging, where she wears a dildo in a strap-on harness, and penetrates you anally.
Read: Pegging Positions that Feel Amazing for Both
4. Chastity Play
Forget the key to your heart—she's got the key to your cock. In chastity play, your female dominant holds control over not only when, where, why, and if you have sex or even jerk off. She tells you when you can use your dick if ever.
Chastity play is exciting for all kinds of kinky people, because restraint and uncertainty ratchet up sexual excitement and arousal. Too much of a good thing, or too familiar or easily given, is something we end up taking for granted.
Chastity play is especially exciting as part of a power exchange relationship, because the submissive male gives up control over his own cock and she takes full ownership.
This is often something meted out by the honor system or with punishment and reward, but using a chastity cage for guys completely removes the option to cheat. For many couples, a chastity device ramps up the arousal to a fever pitch for both the male sub and his dominatrix.
Read: Male Chastity Play and Cock Locking Devices
5. Cock and Ball Torture
Cock and ball torture is sometimes called cock and ball play, or CBT.
It can be "lite" and involve sensation play on the cock and balls, but most submissive men into cock and ball torture crave punishing pain from their mistress.
CBT can involve impact sensations like flogging and spanking, hot wax, or crushing and clamping. It can involve weights and stretching, needle play or piercing, cock cages, urethral sounding, or e-stim.
Read: Cock and Ball Torture Techniques
6. Foot Worship
Extremely common among men is the foot fetish, and this works on many levels for submissive men. Do you worship the ground she walks on? Maybe your dominant woman will let you worship her feet!
Foot worship involves looking at her feet, smelling them, touching them, using your body as a foot rest, pampering her tired feet, performing pedicures, washing her feet, massaging her feet, licking her feet or shoes, and so on.
Read: 8 Types of Foot Worship & How to Worship Feet
7. Trampling
Male submissives may get off on the idea of being "walked all over." When you just can't get enough of her, being trampled by her is a uniquely satisfying experience.
Submissive men with a trampling fetish literally want to be trampled on. A dominant female may walk in stockings or shoes or bare feet. Or she may stomp or jump on you.
Read: Trample Fetish: The Kink of Stepping & Stomping
8. Clothed Female Naked Male
The CFNM or clothed female naked male is a power-exchange kink that has become hot hot hot. Because of its dynamic, it is popular with dominant women and submissive men, but the idea can be enjoyed by anyone.
Basically, the male is totally naked and she is totally clothed. This emphasizes a male sub's vulnerability which is a huge turn on for many.
Read: CFNM: The Clothed Female Naked Male Kink
9. Sissification
In femdom fetishes, sissification is a humiliation kink that uses emasculation as the source of humiliation. This appeals to men who like to dress in women's clothing or be treated like a little girl as part of their desire to please their femdom.
Read: Sissy Boy Submissives and Dominant Women
10. Impact Play
For submissive men, impact play is a BDSM classic. There is arguably nothing hotter than the idea of being taken over her knee for a good spanking. It's cute and campy for those who are vanilla with a twist (kink lite), or it can be an intensive practice with a full range of paraphernalia—caning equipment, leather paddles, whips, and floggers.
Read: Impact Play Tips and Tools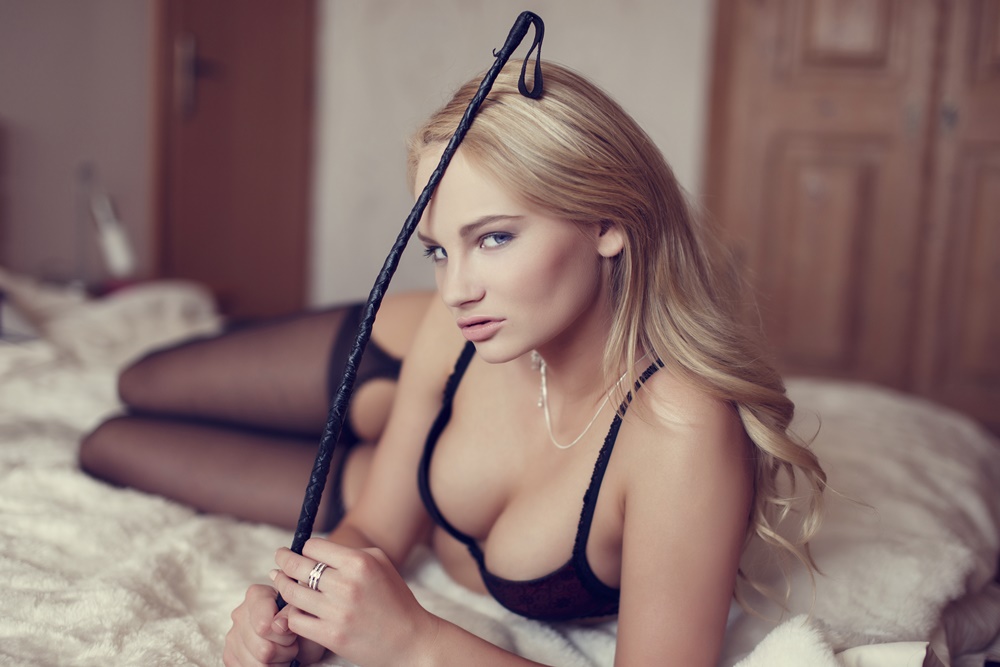 11. Cuckolding
The hotwifing and the cuckold lifestyles are also popular right now because female-led relationships and female-led sexual lifestyles are supremely satisfying and fulfilling.
Hotwifing is a polyamorous lifestyle where she plays, and he is satisfied by her alone. Hotwifing is usually driven by an egalitarian male who gets off on the idea of her getting fucked by other guys.
Cuckolding is a humiliation kink where the male submissive is degraded or humiliated by her fucking around. The psychology behind the kinks is different, but she rules the roost in both.
Read: Cuckold Humiliation Ideas: How to Humiliate a Cuck
12. Small Penis Humiliation
Some submissive guys get off on cock mockery. Most guys into small penis humiliation don't have a particularly small dick but get excited when their femdom makes fun of his penis size, virility, and ability to satisfy. It's another exciting tool in the psychological repertoire of BDSM.
Read: SPH Kink: 6 Small Penis Humiliation Ideas
Are you a submissive man? What are your favorite kinks and BDSM play ideas?