Those of you into cock and ball torture or curious about CBT may wonder about the array of CBT sex toys and paraphernalia.
Cock and Ball Torture is a BDSM practice that involves the use of painful techniques to stimulate, constrain, or punish the penis and testicles of the receiving party.
Whether CBT is your focus or part of a broad practice of BDSM kinks, cock and ball torture toys can provide a range of sensations to explore.
Please note, CBT carries significant risks. Before getting started with CBT toys, educate yourself on ways to play that minimize the risks while maximizing your pleasure!
Read: BDSM Education: How to Learn BDSM Online
13 Cock and Ball Torture Toys
1. Cock and Ball Harness
A popular CBT toy is the cock and ball harness. The harness can be a simple stainless steel device that fits around the penis and testicles, or it can be a beautifully crafted leather device. Most are designed to showcase and maintain your erection. Some are a basic fit and some are a tight squeeze.
Read: 3 Role Plays for Cock and Ball Torture Play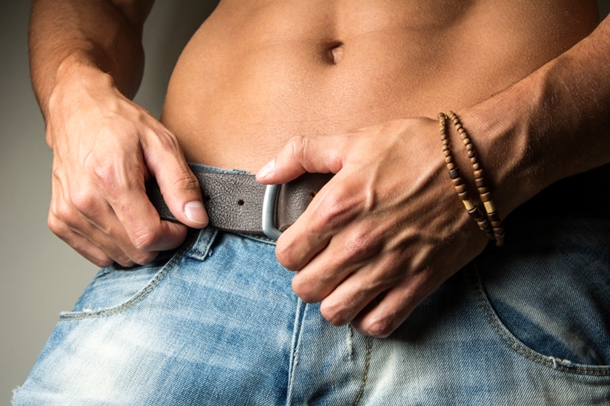 2. Chastity Cages
An important aspect of many BDSM power exchange relationships is the control and use of the submissive's cock by their dominant. A chastity cage is essential to chastity play kinks, but it is also a form of torture, isn't it? Chastity cages are widely used as cock and ball torture toys.
There are a range of chastity devices in different styles, sizes, and materials. You can use a variety for the tactile experience—leather or rubber will feel different in constraint against your cock than stainless steel, and different sizes will deliver changing sensations of constriction.
Some chastity cages are specific cock and ball torture toys because they have spikes or textures that will cause pain or friction to punish the cock if it starts to get an erection.
Read: Male Chastity Play and Cock Locking Devices
3. Ball Stretching Cuffs
Ball stretching cuffs are ball busting gear meant to gently, or not so gently, pull the balls and stretch them while being worn. Ball stretching cuffs are most often fetish wear made from leather, latex, or PVC.
4. Magnetic Ball Stretcher
A magnetic ball stretcher is an innovative cock and ball torture toy that connects with magnets. Usually made with heavy metal that separates magnetically, it fits around the testicles to create a pulling sensation and stretching.
Read: Essential Femdom Toys and Gear
5. Parachute with Weights
A parachute ball stretcher fits around the testicles and looks like a tent or parachute. They are often crafted with leather fetishes in mind, but do vary in materials. Encircling the parachute are chains or leather strips where various weights can be attached.
The parachute ball stretcher is a CBT toy that is versatile because it can be worn with different weights. The dominant can decide how heavy to make them. It is an excellent CBT toy for testicle weight training.
6. Humbler
The humbler is a cock and ball torture toy for the serious submissive. It is an elaborate device that clamps the testicles from behind, often worn when a submissive is on hands and knees with ass in the air.
The humbler is a BDSM device and often has connectors for ankle restraints. The dominant can easily torture the submissive's testicles from behind.
Read: 23 Submissive Poses and BDSM Slave Positions
7. Acrylic Ball Crusher
The ball crusher is a cock and ball torture device that crushes the testicles. It can be made of acrylic or stainless steel. Sometimes this ball busting toy includes metal spikes or other textures for torture, and is designed to clamp and crush.
Read: Ballbusting Ideas for BDSM Testicle Torture
8. Clamps and Vices
There are also cock and ball torture toys designed to clamp and constrict the cock itself. Clamps and vices apply various levels of pressure to the penis, usually determined by the dominant.
9. Sounds and Dilators
For those who desire an intense cock and ball torture experience, the practice of sounding means penetration of the urethra. Special instruments designed for urethral insertion come in a range of sizes for dilating the opening.
Read: Sounding – You Want to Put What Where?
10. Cock Rings
The classic cock ring is a simple, effective and versatile CBT toy. Wearing it enhances all sensations.
Read: Cock Ring – The Perfect Toy for Dominant or Submissive Men
11. Cock Ring with Leash
Why lead your sub around with a BDSM collar and leash when you can show who's the boss of his cock? This cock ring comes with a leash. Often made with leather, it is a BDSM cock and ball torture toy that is also aesthetically beautiful.
12. Floggers
Floggers are impact play CBT toys with multiple strands. The impact has a heavier and duller sensation than a sharp single strand whip and can be safely incorporated into cock and ball torture.
Read: Flogging for Beginners
13. Stilettos and Femdom Footwear
While kinky thigh-high, latex boots with a spike heel don't exactly qualify as ball busting gear or CBT toys, foot fetishists, trampling aficionados, latex lovers, and femdom subs may beg to differ.
A popular method of cock and ball torture is trampling. A bare foot can be used, but a more extreme pleasure is cock and ball trampling in your fetish footwear of choice.
Read: Trample Fetish: The Kink of Stepping & Stomping
Do you enjoy cock and ball torture? What CBT gear turns you on the most?